Muthaiga's Timbe Leads Kenyan Pack In Entebbe, Chinhoi Rules Leader-Board
31st October 2019 - by Erick Ochieng
His decent 5-under par score saw him end round one of the contest tied in second alongside Ugandan Silvia Opiyo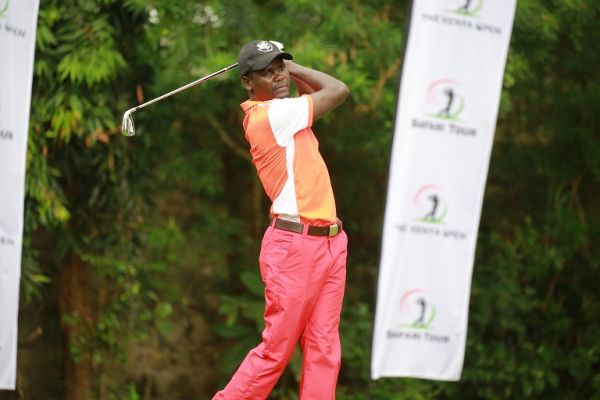 SUMMARY
Timbe had a bogey-free first nine, holing consecutive birdies at the par-3 sixth and the par-5 seventh to card a total of 33
Bollo finished ahead of Great Rift Valley Golf Resort's Justas Madoya who is tied in fifth – alongside Ugandan Herman Mutaawe – at 1-under par 70
The trio of Royal Nairobi Golf Club's Safari Tour winner Tony Omuli, Sigona Golf Club's C J Wangai and Johnnie-Walker Sponsored Greg Snow are all tied in seventh at level-par 71 scores
ENTEBBE, Uganda- Muthaiga Golf Club hard hitter Kopan Timbe shot an impressive round of 66 on par 71 Entebbe Golf Club to lead the Kenyan contingent at the ongoing fourth leg of Safari Tour Golf Series in Entebbe, Uganda.

His decent 5-under par score saw him end round one of the contest tied in second alongside Ugandan Silvia Opiyo.
Timbe had a bogey-free first nine, holing consecutive birdies at the par-3 sixth and the par-5 seventh to card a total of 33.
READ ALSO: American Dream: Lewis Hamilton Set For Sixth World Title At United States GP
On the back nine, he dropped a lone shot at the par-3 12th but birdies at the par-5 11th and the par-5 15th, as well as an excellent eagle at the par 5 18th, saw him card an identical 33.
Kenneth Bollo is currently the second-highest ranked Kenyan in fourth with a 2-under par 61 score. He holed birdies at the 10th and 12th without dropping a single shot.
Bollo finished ahead of Great Rift Valley Golf Resort's Justas Madoya who is tied in fifth – alongside Ugandan Herman Mutaawe – at 1-under par 70.
On the first nine, Madoya carded a total of 37 courtesy of a double bogey at the second; and bogeys at the fourth and ninth holes – having made birdie at the first and seventh holes.
On the back nine, he made amends with four birdies at the 13th, 14th, 15th and 18th; and only dropping a shot at the 17th hole.
The trio of Royal Nairobi Golf Club's Safari Tour winner Tony Omuli, Sigona Golf Club's C J Wangai and Johnnie-Walker Sponsored Greg Snow are all tied in seventh at level-par 71 scores.
The trio are just ahead of the duo of Jeff Kubwa and David Wakhu who are tied in 11th alongside Ugandan Deo Akope at 1-over par 72 scores.
Meanwhile, Robson Chinhoi from Zimbabwe commands leader-board on 64, two shots clear of Timbe.
The Zimbabwean played blemish-free, holing birdies at the first, third, seventh, eighth and ninth for 30.
He dropped a lone shot at the 12th; but holed birdies at the 11th, 15th and 18th for a total of 34.
Safari Tour Calendar 2019/20
Event 1 Nyali Golf and Country Club 24th – 28th August 2019 (Winner: Greg Snow)
Event 2 Uganda Open (Lake Victoria Serena) 10th - 14th Sept 2019 (Winner: Madalitso Muthiya)
Event 3 Royal Nairobi Golf Club 12th – 16th October 2019 (Winner: Tony Omuli)
Event 4 Entebbe Open (Entebbe Golf Club) 30th Oct – 2nd Nov 2019
Event 5 Lake Serena Golf Resort Open (Lake Serena Golf Resort) 6th – 9th November 2019
Event 6 Great Rift Valley Golf Club 23rd – 27th November 2019
Event 7 Muthaiga Golf Club 14th – 18th December 2019
Event 8 Thika Greens 4th – 8th January 2020
Event 9 Sigona Golf Club 25th – 29th January 2020
Event 10 Kitante Open (Uganda Golf Club) 12th – 15th February 2020
Event 11 Karen Country Club 22nd -26th February 2020
Event 12 Tanzania Open (Kiligolf) TBC
2019 Magical Kenya Open, Karen Country Club, 12th – 15th March 2020.