Ruthless Fiji Strike Late To Break Shujaa Hearts In London 7s Opener
25th May 2019 - by Mutwiri Mutuota
Relegation-threatened Kenya had hauled themselves level twice before title chasing favourites prevailed 24-17 in Pool B clash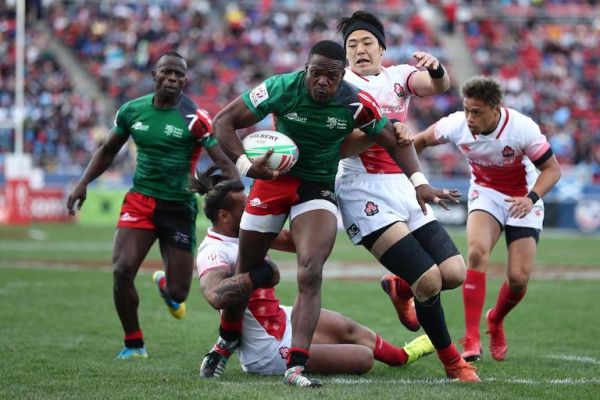 SUMMARY
The HSBC World Sevens Series title chasing Pacific Islanders were forced to a 12-12 draw at the break when a Bush Mwale brace of tries gave the underdogs hopes of causing a huge aspect in their desperate fight to retain their Core Status
With the penultimate round of the season already one, Shujaa are hoping to have a deep run in London since they sit 13th with 26 points, one above Wales while Japan occupies the red zone, the last and relegation spot on 22
Paul Murunga's men will be back in action later Saturday when they play Samoa (3.20pm Kenyan time +3GMT) and France (6.26pm) in their remaining Pool B fixtures as they attempt to haul themselves back from the dispiriting Fiji loss and make the Main Cup quarters for the first time this season

LONDON, England- Fiji broke the hearts of relegation threatened Shujaa in the opening Pool B clash of the London 7s by leaving it late to seal a 24-17 victory over Kenya at Twickenham on Saturday,
The HSBC World Sevens Series title chasing Pacific Islanders were forced to a 12-12 draw at the break when a Bush Mwale brace of tries gave the underdogs hopes of causing a huge aspect in their desperate fight to retain their Core Status.
Aminiasi Tuimaba wasted no time from kick off to get Fiji on the board but if they thought this developing Kenya side were going to give them an easy ride then they were very much mistaken.
DO NOT MISS: London 7s: Limping Shujaa Running Out Time To Save Core Status
Mwale strained every muscle to touch down as Shujaa hit back but Meli Derenalagi struck again for Fiji. Mwale raced to cross the whitewash a second time to leave the sides deadlocked at the change over.
At the start of the second stanza, Aminiasi Tuimaba got the Fijian noses back in front only for a rare mistake from the winners to be punished when Jeff Oluoch levelled the contest again.
Squeezed home
The key moment of the game came when Brian Wandera was sent to the bin with two minutes remaining and Fiji are ruthless. Paula Dranisinukula quickly crossed the chalk to squeeze Fiji have squeezed home.
With the penultimate round of the season already one, Shujaa are hoping to have a deep run in London since they sit 13th with 26 points, one above Wales while Japan occupies the red zone, the last and relegation spot on 22.
DO NOT MISS: Favourite Murigi Delivers Decisive Mountain Victory In Annecy
Paul Murunga's men will be back in action later Saturday when they play Samoa (3.20pm Kenyan time +3GMT) and France (6.26pm) in their remaining Pool B fixtures as they attempt to haul themselves back from the dispiriting Fiji loss and make the Main Cup quarters for the first time this season.