London 7s: Limping Shujaa Running Out Time To Save Core Status
23rd May 2019 - by Mutwiri Mutuota
Kenya 7s head coach Paul Murunga and his wounded side will take on to the iconic Twickenham Stadium with the solo mission of averting relegation with two series rounds to go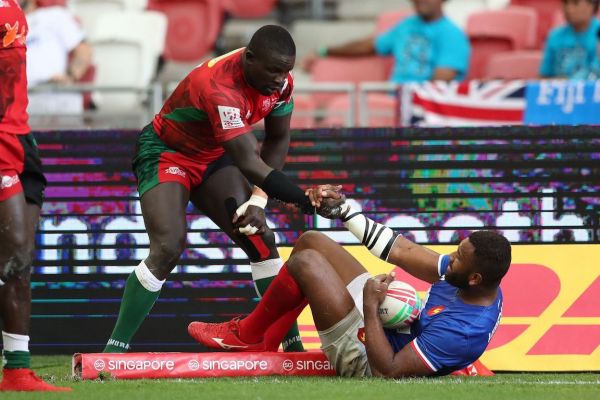 SUMMARY
His captain Jacob Ojee posed alongside 15 of his peers at the iconic Kensington Palace in central London for the customary group photo with the trophy they will be playing for on Thursday but far from challenging for the London 7s Main Cup, of paramount importance to Shujaa is the battle to avoid the embarassing chop
However, he should not shoulder much of the blame as authorities failed to put in place a transition mechanism to seamlessly replace aging or retired stars such as Humphery Kayange, his younger brother and record try scorer, Collins Injera and long-serving former skipper, Andrew Amonde among others
After a second place finish in Singapore, Fiji sit just three points below USA in the current standings and will be looking to replicate their performance in London last year where they defeated South Africa in a thrilling Cup final
LONDON, England- With two tournaments left to close the 2018/19 HSBC World Rugby Sevens Series Kenya Shujaa are in thick of the fight to avoid relegation from Core Status.
Head coach Paul Murunga is running out of time to rally his troops starting with this weekend's penultimate London 7s round at the famous Twickenham Stadium in England.
His captain Jacob Ojee posed alongside 15 of his peers at the iconic Kensington Palace in central London for the customary group photo with the trophy they will be playing for on Thursday but far from challenging for the London 7s Main Cup, of paramount importance to Shujaa is the battle to avoid the embarassing chop.
Only four points separate Kenya, Wales and Japan in the bottom three and so, there is everything to play for at spiritual home of rugby.
The relegated team will be replaced by invitational team Ireland who secured core team status for the HSBC World Rugby Sevens Series 2020 by winning the qualifier event in Hong Kong in April with 13th placed Kenya who have a misery 26 points from eight tournaments ahead of Wales (25) and Japan (22) in that order.
When respected coach and decorated former international Murunga took over at the helm of Shujaa following the end of the 2017/18 season, his immediate task was to mould a group of exciting youngsters to take over the mantle from aging veterans who established Kenya as a global force in the elite rugby sevens circuit.
DO NOT MISS: Homeboyz Trio Recalled As Shujaa Head To Europe To Battle Relegation
However, he should not shoulder much of the blame as authorities failed to put in place a transition mechanism to seamlessly replace aging or retired stars such as Humphery Kayange, his younger brother and record try scorer, Collins Injera and long-serving former skipper, Andrew Amonde among others.
At the start of the season, another debilitating pay dispute between the players and Kenya Rugby Union (KRU) sparked an implosion in the side with Murunga calling for a truce amongst the feuding parties in February when reports that some call-ups had declined the shirt unless they were assured of their dues.
A wretched start to the season that saw Shujaa collect only 12 points from the opening four rounds of Dubai, Cape Town, Hamilton and Sydney before the escalation of the dispute laid the platform for a wretched run that has yielded a further 14 from the subsequent outings of Las Vegas, Vancouver, Hong Kong and Singapore ahead of the season-concluding tour of Europe.
Sporting radar
"Yes, we need experienced players in international matches like the HSBC World Rugby Sevens Series but I'm confident we will not be relegated," charged Murunga in February in an attempt to marshal a response from his charges at the height of the pay bickering.
"We have good young players but if the officials at KRU can get us a few more experienced players we would get better results as before, because we need them in the team," Murunga urged before the dispute was eventually resolved.
Two months later, there was a change of guard at the governing body when Otieno Gangla took over from Richard Omwela as chairman with the hopes of a fresh beginning sweeping among the rank and file of the sport's best know product.
DO NOT MISS: Gay Kenyan Rugby Player In 'Limbo' Over Deportation From UK
Faltering fortunes have however, seen the team slip out of the national sporting radar, gone are they heady days of that Singapore 7s triumph in 2016 that saw the team welcomed back like heroes, with every Kenyan led by President Uhuru Kenyatta, celebrities and ordinary folk falling over each other to hail the side.
With every poor outing, with Shujaa returning from Singapore this term with only three points in the bag, local fans have lost interest and ahead of their do-or-die tour to Europe with the season concluding with the Scotland 7s next weekend, only few are keenly following their progress.
Kenya's Charles Omondi charges through the Australia defense on day two of the HSBC World Rugby Sevens Series in Vancouver on 10 March, 2019. PHOTO/Mike Lee/KLC fotos for World Rugby

In a bit to save a season that is on course to end in relegation heartbreak for the two-time Rugby Sevens World Cup semi finalists Murunga made three changes to the team that will conclude the campaign with Cyprian Kuto, Brian Wandera and Charles Omondi who missed out on a chunk of the season with injuries brought back to the team.
Murunga retained the rest of his regulars, Vincent Onyala, Andrew Amonde, Bush Mwale, Daniel Sikuta, Eden Agero, Daniel Taabu, Jefferey Oluoch, Nelson Oyoo and Johnstone Olindi with Ojee who missed the Asian tour to Hong Kong and Singapore due to academic commitments back to lead the charge.
Having not made to the last eight of the Main Cup this season, the first time in living memory they have missed out on the quarters, the error-strewn Shujaa face the daunting challenge of qualifying out of a daunting Pool B that has series-title chasing Fiji, Samoa and France.
DO NOT MISS: Mighty Champ18ons! Gor Seal Third Successive SPL Title In Vihiga Draw
Ireland, who are waiting in the wings to take up the coveted Core Status slot on the other hand will be on the hunt for another podium finish after stunning hosts England to the bronze medal at Twickenham last year.
"Last year in London was brilliant – we caught a few teams on the hop and no one really expected it and we got lucky with a few good results in what turned out to be a great weekend. We have good memories from last year.
"Obviously getting onto the world series next season is great for the whole programme but it's important to acknowledge that we're still an invitational side and we've got a lot of work to do this weekend as we've got a hard group.
"We're excited and we're building towards the Olympic qualifiers in July so these are an important two weeks for us," their captain Billy Dardis commented.
At the summit of the standings, the battle for the 2018/19 series title involves the enticing showdown between leaders USA (145) and hard-chasing Fiji (142) with third-placed New Zealand (130) with a fighting chance of gatecrashing the party.
Olympic qualification
Should any of the top teams finish the London event with a margin of 22 or more points ahead of the fifth placed team in the standings – currently England – they will have achieved Olympic qualification for Tokyo 2020 with one round to spare.
DO NOT MISS: Champion Murigi Tipped For Mountain Running World Cup Glory
"We're not really looking at is as pressure but more as an opportunity, and an opportunity that we have earned over the course of the season through consistent results and through performing well.
"Now here we are in London with two tournaments to go. Before this season I think you would have said it was a dream so we're just going to do everything we can to perform in each game and do the best that we can this weekend," USA 7s captain, Madison Hughes remarked as he hopes to steer the former Shujaa head coach, Mike Friday's side to the promised land.
After a second place finish in Singapore, Fiji sit just three points below USA in the current standings and will be looking to replicate their performance in London last year where they defeated South Africa in a thrilling Cup final.
-Additional material sourced from World Rugby
New Zealand's Andrew Knewstubb drives through the Kenya defense on day two of the Cathay Pacific/ HSBC Hong Kong Sevens in Hong Kong on 6 April 2019. PHOTO/World Rugby