Pochettino Angered By Spurs Attitude In Olympiakos Stalemate
19th September 2019 - by Louis Kalinga
Despite a slow start, two goals in four first-half minutes from Harry Kane and Lucas Moura put last season's Champions League finalists on course for what would have been a vital win in Group B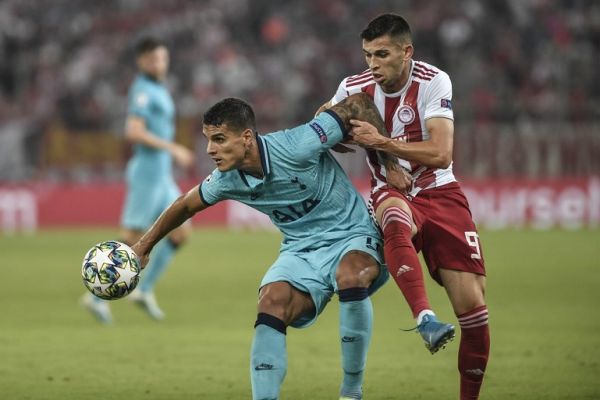 SUMMARY
Tottenham manager Mauricio Pochettino questioned his side's attitude after letting a two-goal lead slip to draw 2-2 away to Olympiakos in their Champions League opener on Wednesday
However, Olympiakos and are now unbeaten in their last 18 games in all competitions stretching back to February and showed why as Daniel Podence and Mathieu Valbuena struck either side of half-time to secure a well-deserved point.
A point away in front of a passionate crowd in Piraeus is not a disastrous start for Pochettino's men, who took just one point from their opening three group games last season before an improbable run to the final
PIRAEUS, Greece- Tottenham manager Mauricio Pochettino questioned his side's attitude after letting a two-goal lead slip to draw 2-2 away to Olympiakos in their Champions League opener on Wednesday.
Despite a slow start, two goals in four first-half minutes from Harry Kane and Lucas Moura put last season's Champions League finalists on course for what would have been a vital win in Group B.
However, Olympiakos and are now unbeaten in their last 18 games in all competitions stretching back to February and showed why as Daniel Podence and Mathieu Valbuena struck either side of half-time to secure a well-deserved point.
A point away in front of a passionate crowd in Piraeus is not a disastrous start for Pochettino's men, who took just one point from their opening three group games last season before an improbable run to the final.
However, Pochettino is concerned that Spurs have won just two of their opening six games this season and face the might of Bayern Munich next in the Champions League.
MUST READ: Bandari Stage Mighty Comeback To Edge Zoo In Five-Goal Thriller
"I think it's easy to explain. When we are not showing that intensity that the competition demands, we struggle," said the Argentine.
"It's not about tactics, it's not about quality players, it's about the quality of preparing yourself to be ready to fight.
"At this type of level you need to match the opponent in terms of intensity, aggression, in excitement and motivation and then is going to appear your quality when you are connected with the game."
Olympiakos started brightly and were inches away from the opener when Miguel Angel Guerrero struck the inside of the post and Guilherme's follow-up effort bounced over the bar.
But the hosts gifted Spurs the lead when Kane was needlessly taken out by Yassine Meriah.
Kane saw a rare penalty saved on international duty last week, but the England captain made no mistake from the spot for his 15th goal in 20 Champions League appearances.