Old Is Gold: 'El Tigre' Serves Warning To Tanzania Hot Shot Mwakinyo
21st March 2019 - by Mutwiri Mutuota
Veteran Argentina professional promises main undercard of Nairobi Fight Night on Saturday will not have a dull moment in his six round showdown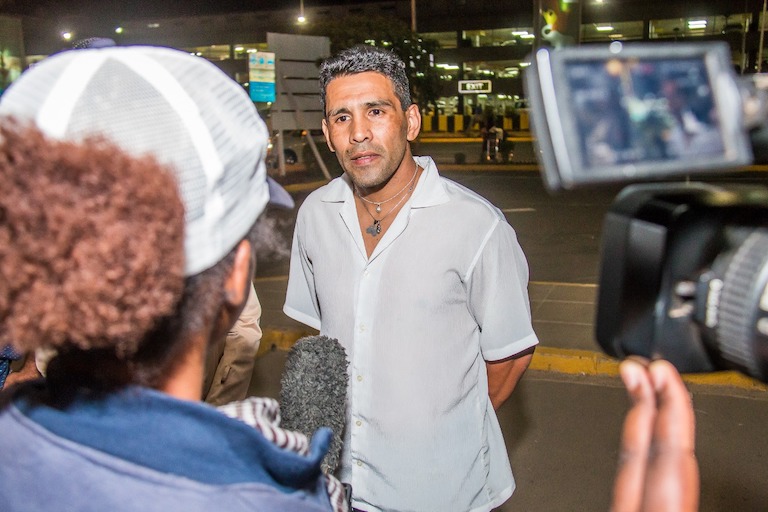 SUMMARY
Speaking upon arrival at the Jomo Kenyatta International Airport on Wednesday night, Gonzalez told of how he is relishing his first ever fight in Africa having chalked an almost even career record of 31 wins, 23 loses and four draws with 15 of his victories coming via knockout
Earlier in the day, Mwakinyo who has fought as a professional for only four years promised to knock the daylights out of the aging tiger and when this was put to him, Gonzalez declined to bite the bait
Tickets are on sale on mookh.com with regular going for Kshs 1,000 (USD10) and KSHs 3,000 (USD30) for VIP
NAIROBI, Kenya- Seasoned Argentine Sergio Eduardo 'El Tigre' Gonzalez is ready to give his all against Tanzanian rising boxing star Hassan Mwakinyo when experience comes up against youth in the Nairobi Fight Night eight-round main undercard slugfest on Saturday.
A veteran of 20 years in the ring, Gonzalez who was born in Tigre, Buenos Aires, a small town north of the Greater Buenos area of the Argentina capital.
Speaking upon arrival at the Jomo Kenyatta International Airport on Wednesday night, Gonzalez told of how he is relishing his first ever fight in Africa having chalked an almost even career record of 31 wins, 23 loses and four draws with 15 of his victories coming via knockout.
"It feels great to be here in Kenya and I'm really looking forward to the fight. I've fought against boxers from all five continents and Africa was the only one missing, I'm pretty excited to be honest," El Tigre (the tiger) who was in high spirits told SportPesa News.
RECOMMENDED READ: England Boxing Star Tony Bellew Lands For Nairobi Fight Night
Earlier in the day, Mwakinyo who has fought as a professional for only four years promised to knock the daylights out of the aging tiger and when this was put to him, Gonzalez declined to bite the bait.
Bruising fight
"Everyone will prove himself in the ring but I'm very respectful of my opponent," the fighter who has lost his last four fights maintained.
However, he is not here to roll with the punches either.
"I'm always looking out for a knockout and if I get the opportunity, I will go for it. Experience favours me and youth works well for him, so it will be a great fight," the 40 year-old tiger roared.
With his professional career now entering the homestretch, Gonzalez who is also registered as a boxing agent and promoter is seeking to go out on top.
"Unfortunately, it will be one of my last fights. I will give it my all and leave the ring with my head held high no matter the result. I guarantee all fans who will come and the ones back home that this will be a fight to remember, there will not be a dull moment," he pledged.
RECOMMENDED READ: Mwakinyo To Gonzalez: I Will Knock You Out Cold
His bout with Mwakinyo will curtain raise the highly anticipated women World Boxing Council Super bantamweight title fight where Kenyan boxing queen Fatuma 'Iron Fist' Zarika will put her belt on the line against Zambian Catherine Phiri in a rematch of their bruising encounter in December 2017 won by unanimous decision by the former.
Tickets are on sale on mookh.com with regular going for Kshs 1,000 (USD10) and KSHs 3,000 (USD30) for VIP.