Chemutai, Chelimo Targeting Half Marathon World Record In Valencia
26th October 2019 - by IAAF
The two fastest women will be up in arms against Dutch star Sifan Hassan who is also mounting an assault on the 1:04:51 mark set by Kenya's Joyciline Jepkosgei at the venue two years ago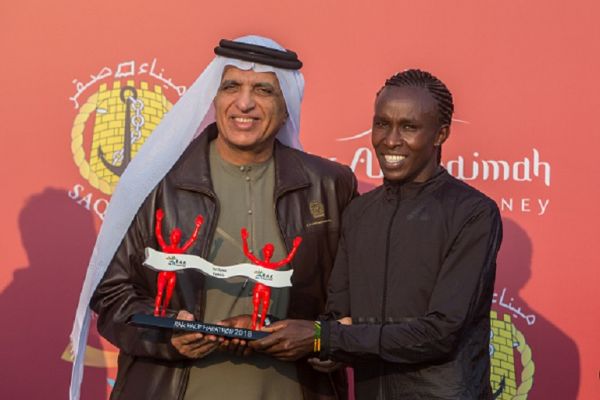 SUMMARY
The 24-year-old Chemutai came just one second shy of the world record in February 2018 when she won in Ras Al Khaimah in a stunning 1:04:52. She also finished runner-up in Valencia two years ago behind Jepkorir's world record run
Hassan, who managed an unprecedented 1500 and 10,000m double at the recent World Championships, broke the world record in the mile in Monaco on 12 July clocking 4:12:33 as well as the road 5km record in February, illustrating her incredible versatility
Hassan will be paced by Morocco's Yakoub Labquira and Dutchman Roy Hoornweg who have been tasked with a 3:04-kilometre tempo, on schedule for a 30:40 opening 10km. That would put her well inside world record pace
MONACO, France- Kenyan duo of Fancy Chemutai and Joan Chelimo are targeting half marathon record at the Media Maratón de Valencia Trinidad Alfonso, an IAAF Gold Label road race, on Sunday.

The two fastest women will be up in arms against Dutch star Sifan Hassan who is also mounting an assault on the world record of 1:04:51 set by Kenya's Joyciline Jepkosgei in Valencia two years ago.
The 24-year-old Chemutai came just one second shy of the world record in February 2018 when she won in Ras Al Khaimah in a stunning 1:04:52. She also finished runner-up in Valencia two years ago behind Jepkorir's world record run.
READ MORE: Kenyan Duo Kimutai, Cherop Favourites For Venice Marathon
Chelimo boasts a 1:05:04 clocking set in Prague last year but hasn't shown similar form this year, with a season's best of 1:08:01 and a 2:26:24 performnce in her marathon debut in Tokyo last March.
The third Kenyan in contention will be Dorcas Tutoek, author of a couple of solid performances earlier this year in Istanbul (1:06:33) and Copenhagen (1:06:36).
Hassan, who managed an unprecedented 1500 and 10,000m double at the recent World Championships, broke the world record in the mile in Monaco on 12 July clocking 4:12:33 as well as the road 5km record in February, illustrating her incredible versatility.
She broke the European record in the half marathon in Copenhagen last year clocking 1:05:15.
Hassan will be paced by Morocco's Yakoub Labquira and Dutchman Roy Hoornweg who have been tasked with a 3:04-kilometre tempo, on schedule for a 30:40 opening 10km. That would put her well inside world record pace.
The 26-year-old, now training under the guidance of Charles Van Commenee, faces a field that includes ten runners who have dipped under the 1:08 barrier.
Those include the Ethiopian tandem of Gudeta Kebede and Senberi Teferi. The former is the reigning world champion for the distance, an accolade she managed in Valencia last year in 1:06:11 to set a women-only world record performance.
READ MORE: KVF: Invincible GSU End Season Unbeaten, DCI For Play-Offs
The 28-year-old Teferi holds a lifetime best of 1:05:45 set in Ras Al Khaimah earlier this year. Her last appearance was in Doha where she failed to finish the 10,000m.
Teferi meanwhile produced the fastest half marathon debut in history in Ras Al Khaimah when she led the Ethiopian 1-2 finish just ahead of Kebede where both clocked 1:05:45. The 24-year-old finished sixth in the Doha 10,000m on her last competition.
Further notable entrants include United Arab Emirates' Alia Mohamed Saeed, runner-up last year in a lifetime best of 1:06:13, Ethiopians Genet Ayalew (1:06:26) and Meseret Belete, who holds the world U20 best courtesy of her 1:07:51 set last year in Copenhagen.