Zarika: I Have No More Business Left With Phiri
26th March 2019 - by Louis Kalinga
It was the third time that the Kenyan pugilist was successfully defending the belt she first won in the US in 2016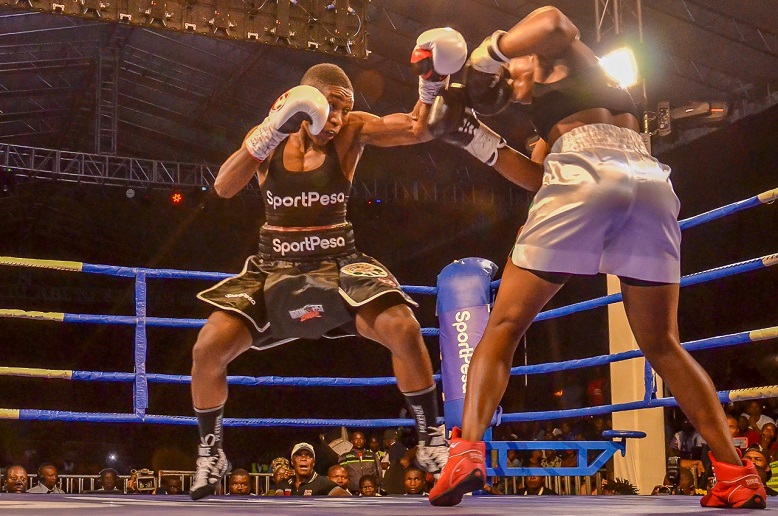 SUMMARY
World Boxing Council (WBC) Women Super Bantamweight champion Fatuma 'Iron Fist' Zarika has ruled out any possible rematch with her fiercest rival Catherine Phiri of Zambia in the near future
Zarika beat Phiri on points, scoring 3-0 (98-92 99-91 and 97-93) from the three international judges namely Michael Neequaye (Ghana), Fillemon Mweya (South Africa) and Irene Semakula (Uganda) who presided over the 10-round duel
Zarika explained she did her training meticulously, sharpening her punches and moves that helped her gained control of the ring on the D-Day
NAIROBI, Kenya- World Boxing Council (WBC) Women Super Bantamweight champion Fatuma 'Iron Fist' Zarika has ruled out a rematch with her fierce rival Catherine Phiri of Zambia.

Zarika who successfully defended the crown for the third time in a row after she defeated the Zambian at Kenyatta International Convention Center in Nairobi on Saturday night, said she will now go for unifying her crown with International Boxing Federation and the World Boxing Association belts.
"I gave Phiri a second chance but she failed to prove herself. Right now I have no business with her unless we will be contesting in other weights but not this one," Zarika underlined after her victory.
RECOMMENDED READ: This Is How Nairobi Fight Night 2 Brought Las Vegas To Kenya
Zarika beat Phiri on points, scoring 3-0 (98-92 99-91 and 97-93) from the three international judges Michael Neequaye (Ghana), Fillemon Mweya (South Africa) and Irene Semakula (Uganda) who presided over the 10-round duel.
" I knew the battle will be hard, so I trained harder for it and I'm glad it paid off," highlighted Zarika.
The Kenyan pugilist did her practice at Rotunda Gymnasium in Liverpool, United Kingdom under former WBC Cruiserweight champion , Tony 'The Bomber' Bellew and renowned coaches John McNally and Declan O'Rourke ahead of the fight.
"Part of our game plan was to focus punches on Phiri's stomach, this earned us points and made her gasp for breath.
RECOMMENDED READ: Gor Battle Zoo Aiming For SPL Top Spot, Vihiga Host Leopards
"I also knew she was looking for a knock out, so I was really cautious not to be send to the canvas by her. It's the reason I would hit her then retreat. This left her hooks and upper cuts she was throwing to melt into thin air," Zarika noted.
The mother of two has already planned to hang her gloves after two more fights upon which she will be eager to give back to the community as a coach or mentor in the sport that has made her a revered global boxing icon.
When asked about the fight, Phiri admitted Zarika was well prepared for her this time round compared to the 2017 when they fought at the Carnivore Grounds which was also won by the Kenyan.
" I don't know how I lost but I believe the fight was really fair. I will still challenge for the belt as I have not given up on it," Phiri stated.
"I have a long way to go but I believe age is on my side as I am still young. I will one day have this belt in my cabinet," Phiri emphasised.
RECOMMENDED READ: Mick Schumacher Set To Make Test Debut With Ferrari F1 Car In Bahrain