Withdrawals See Nandwa, Odhiambo Realise Magical Kenya Open Dream
12th March 2019 - by Mutwiri Mutuota
The duo join 12 other local professionals to vie for honours in the European Challenge Tour signature event that kicks off on Thursday at Karen Country Club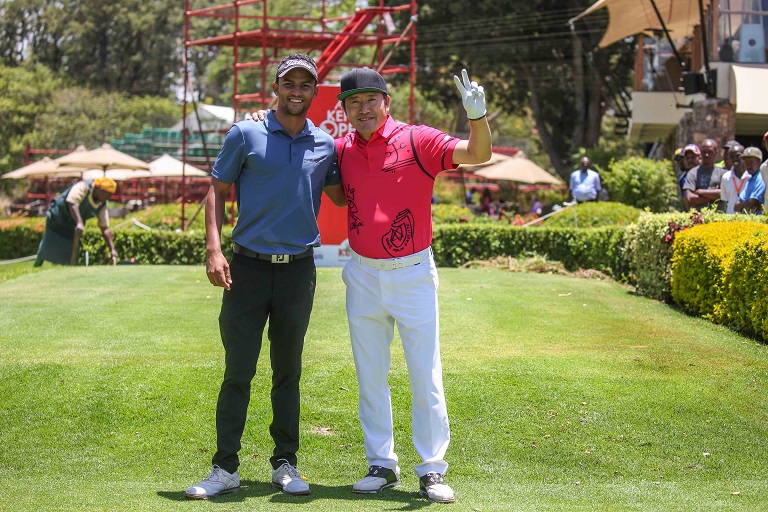 SUMMARY
Nandwa and Odhiambo will grab the opportunity to make it count at the European Challenge Tour signature golfing showpiece when they were added to the deep field of 144 following late withdraws from the championship
Odhiambo and Nandwa finished 12th and 13th in the 2018/19 Safari Tour Golf Series with 43.5 and 43 points in that order
Other star players including Thomas Bjorn from Denmark and Shubhankar Sharma from India are already in the country ahead of the contest
NAIROBI, Kenya- One man ills is another man's fortune, so the saying goes. The adage ran true for Alfred Nandwa of Railways Golf Club and David Odhiambo of Nyanza who will tee off in the prestigious 2019 Magical Kenya Open on Thursday.
Nandwa and Odhiambo will grab the opportunity to make it count at the European Challenge Tour signature golfing showpiece when they were added to the deep field of 144 following late withdraws from the championship.
Indeed, the duo will bolster Kenya's presence at the second round of the Challenge Tour following last week's Dubai Dessert Classic with the host nation that is yet to produce a winner at its blue riband extravaganza now parading 12 local professionals.
"The two were picked to play in the championship based on their 2018/19 Safari Tour Golf Series ranking," the organisers said on Monday.

MUST READ: Ryder Cup Star Bjorn Gets To The Magical Kenya Open Swing
"The European Tour and the Kenya Open Golf Limited have an arrangement whereby if a player drops out or is a no show, the slots are divided out among the next available European Tour or Kenyan pro golfers."
Odhiambo and Nandwa finished 12th and 13th in the 2018/19 Safari Tour Golf Series with 43.5 and 43 points in that order.
Nandwa's best record in the tour was in the Nyali leg where he amassed 14 points while Odhiambo had 12.5 in the Muthaiga showdown which was his impressive result.
MUST READ: Harambee Stars Blow: Olunga Out, Were In For Ghana AFCON Qualifier
Nandwa also made history in the series for being the only player to hole out in one at the par three hole 16 in the Limuru leg.
Chances of additional locals getting slots for the tournament might increase since they are the only nearest available replacements for any foreign entry that pulls out.
Meanwhile, Greg Snow of Muthaiga Golf Club partnered with South Korean internet sensation, Ho-Sung Choi, for a practice round at the Karen Country Club to feel the course as the countdown to the 2019 Kenya Open neared its conclusion.
MUST READ: The Shirt With: AFC Leopards Winger Eugene Mukangula
Snow is currently the highest-ranked Kenyan Pro, based on his top finish in the 2018/19 Safari Tour Golf Series, while the South Korean will be making his debut in the Kenya Open.
Other star players including Thomas Bjorn from Denmark and Shubhankar Sharma from India are already in the country ahead of the contest.
The tournament that tees off on Thursday will be preceded by Pro-Am event at the venue on Wednesday.
MUST READ: Resurgent AFC Leopards Sign Kenya International 'Cheche' Ochieng'