WBF Welterweight Champ Onyango To End 2-Year Exile With Luanja Bout
7th May 2019 - by Mutwiri Mutuota
The hard-hitting pugilist is set to return to the ring in Nairobi on May 27 in non-title affair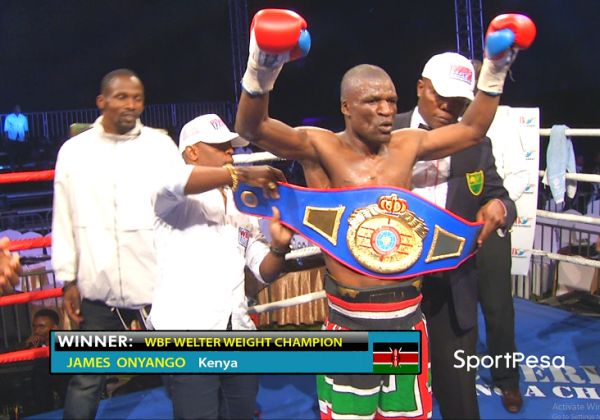 SUMMARY
Onyango is already stepping up training for the bout at the Kariobangi Social Hall Gymnasium as he seeks to start the year on a positive note
Onyango was to fight Chikondi Makawa of Malawi on July 14, 2018 but the Malawian failed to show up at the Carnivore Grounds that night
He later traveled to South Africa to challenge Jason Bedeman in Sun City on September 23, but the latter failed to step into the ring prompting officials to cancel the fight
NAIROBI, Kenya- World Boxing Foundation (WBF) welterweight champion James Onyango is set to return to the ring against Tanzanian Abdallah Luanja in Nairobi on May 27 after a two-year absence.

Onyango is already stepping up training for the bout at the Kariobangi Social Hall Gymnasium as he seeks to make a winning return to the sport.
"As you know I have not fought since 2017 due to lack of opponents, I keep on training well but they withdraw from the fights in the last minute.
MUST READ: Kenya's Onyango Getting Fist-Ready For Pialari Showdown In Dar
"It's my hope that this fixture will materialise as I want to use it to gauge myself. I'm looking for bigger and better fights later in the year," he underlined.
The dreaded hard-hitter is relying on the internet to study Luanja as he has neither met nor seen the pugilist in action.
"I have been using YouTube videos to establish his fighting pattern and my conclusion is that he is not a complicated boxer. I believe I will stop him in the third round.
MUST READ: G.O.A.T Eliud Kipchoge Set To Attempt Sub 2-Hour Marathon In INEOS159
"Currently, my schedule is very light. I do pad work and punches on Monday. Tuesdays are reserved for sparring.
"I do a lot of skipping on Wednesdays which I combine with more pad work and punches while Thursdays and Fridays are reserved for sparring," he underlined.
Onyango was to fight Chikondi Makawa of Malawi on July 14, 2018 but the Malawian failed to show up at the Carnivore Grounds that night.
He later traveled to South Africa to challenge Jason Bedeman in Sun City on September 23, but the latter failed to step into the ring prompting officials to cancel the fight.
MUST READ: Man City's Man Of Men Kompany Stunner Sinks Leicester
Decorated Tanzanian pugilist Idd Pialari also cancelled their fight which was slated for Kinesi Stadium in Dar-es-Salaam on November 3 for unknown reasons.
Pialari is also the Universal Boxing Organization (UBO) International Welterweight titleholder.
Tanzanian boxing sensation, Hassan 'Champez' Mwakinyo also cancelled his match with Onyango which was to be held at the Kenyatta International Convention Center in Nairobi on March 23 stating the former needed to improve on his ranking in the category.
Mwakinyo later fought seasoned Argentine Sergion Eduardo 'El Tigre' Gonzalez who he sent to retirement with a fifth round technical knockout.
MUST READ: Gor Mahia Star Forward Dennis Oliech Out For The Season
TALE OF THE TAPE
Abdallah Said Luanja
Country: Tanzania
Weight: Welter
Fights: 21
Wins: 12 (Knock-Outs 8)
Losses: 7 (Knock-Outs 2)
Draws: 2
James Onyango
Country: Kenya
Weight: Welter
Fights: 37
Wins: 24 (Knock-Outs 19)
Losses: 11 (Knock-Outs 3)
Draws: 2