This Is Why Wanga, Slum Derby Set Social Media Alight
Jan 31 - by Erick Ochieng for SportPesa News
Seasoned striker selected himself for Homeboyz and notched a brace, Mathare and Sharks played to a barren stalemate with more action on social media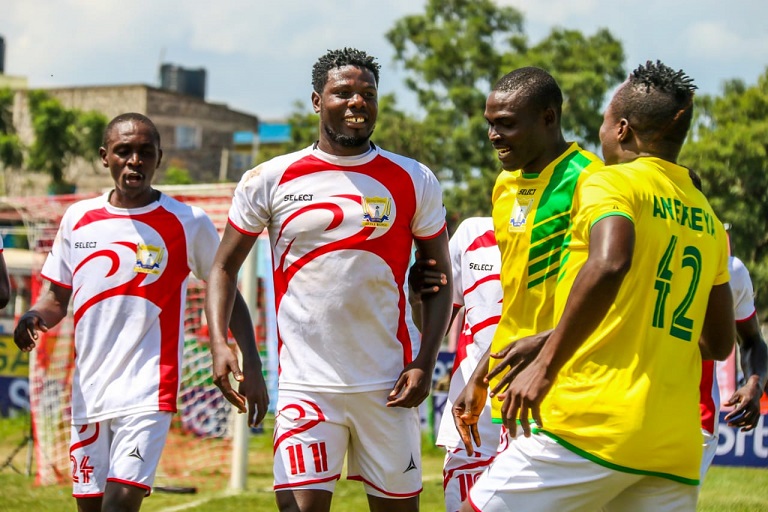 The Internet was abuzz after Wanga selected himself to start for Kakamega Homeboyz FC before scoring a brace in their 4-0 thumping of SportPesa Cup losing finalists Bandari FC at Bukhungu Stadium, Kakamega otherwise nicknamed on social media Estadio de Bukhungu
Elsewhere, the social media exchanges ahead of the fifth 'Slum Derby' between SP Cup champions Kariobangi Sharks FC and SPL leaders Mathare United FC saw more action than what happened on the pitch in a barren stalemate at the MISC Kasarani
In what is becoming the latest fads, club social media accounts admins have stepped up their game, sometimes at a higher notch than the players involved with SPL banter dominating platforms and chatrooms before, during and after the games
NAIROBI, Kenya- Allan Wanga and the 'Slum Derby' were trending topics on social media and online chatrooms following Wednesday's round of the SportPesa Premier League (SPL) action.
The Internet was abuzz after Wanga selected himself to start for Kakamega Homeboyz FC before scoring a brace in their 4-0 thumping of SportPesa Cup losing finalists Bandari FC at Bukhungu Stadium, Kakamega otherwise nicknamed on social media Estadio de Bukhungu.
Following the handsome win that handed the Dockers their first SPL defeat of the season, Kenyans poured on social media to hail the striker who has notched 22 goals in 44 appearances for Harambee Stars.
MUST READ: Homeboyz Thrash SportPesa Cup Finalists Bandari, Leopards Fall
"Homeboyz player coach Allan Wanga starts himself against Bandari and goes ahead to score a brace in a 4-0 home win on his debut as coach," Big Mwangi posted on Twitter in one of the conversational starters of the feat that ended up as a trending topic.
"Player/Coach Wanga on a brace as Homeboyz ends Bandari's unbeaten run. Hand him the contract already," Zax Oguda screamed on the same platform.
Wanga sunk his brace in the 26th and 65th minutes and speaking on Wednesday, he stated he was a 'leader' not a coach after he was given the interim role by club chairman, Cleophas Shimanyula following their parting of ways with Ugandan Paul Nkata.
Elsewhere, the social media exchanges ahead of the fifth 'Slum Derby' between SP Cup champions Kariobangi Sharks FC and SPL leaders Mathare United FC saw more action than what happened on the pitch in a barren stalemate at the MISC Kasarani.
MUST READ: Bandari, Sharks Spark Online SportPesa Cup Final Battle
In what is becoming the latest fads, club social media accounts admins have stepped up their game, sometimes at a higher notch than the players involved with SPL banter dominating platforms and chatrooms before, during and after the games.
In the 'Slum Derby' case Mathare threw the first salvo early in the week telling Sharks to expect a tough show ahead of the SportPesa Premier League tie.
"Hello Sharks, polite reminder! You might have triumphed in the region but back home in the ghetto there is only one King, the Mighty Mathare United FC," Mathare wrote on their social media to applaud Sharks after the latter beat Bandari FC 1-0 to win SportPesa Cup in Tanzania last Sunday.
MUST READ: SportPesa Cup Kings Sharks, Log Leaders Mathare Battle To Stalemate
"Thank you Mathare for sending us your congratulatory message after we conquered beyond borders. May you also work hard to be a winning ghetto ambassador like yours truly," Sharks replied.
"This is how Sharks FC will be dismantled at Kasarani tomorrow," Mathare hit back with an image of a dead shark swept ashore and being dismembered by fishermen.
MUST READ: Nyakeya Tops Scoring Chart, Mathare Consolidate SPL Lead
Sharks immediately reminded the rivals of their head-to-head count, showing statistics of their previous four meetings.
"Our form against Mathare in the league: Matches played – 4-Sharks Win – 2,Mathare Win – 1,Draw – 1. We do this again tomorrow!" Sharks glowed.
"Sharks you've started getting facts wrong very early. But are we surprised? This is how you'll be on the wrong end of the result tomorrow. For your information, while you were away we picked our seventh win of the season," Mathare countered.
If only the game itself failed to produce fireworks with conversation online bordering on whether the SPL club social admins are taking it too far or spicing proceedings.
MUST READ: Tuyisenge Brace Lifts Gor To Fourth, Equals Legendary Dawo Feat
Following the game, Homeboyz joined the banter with a zinger of their own on Twitter.
"Oya Bandari,hiyo sanduku ya mabao tumewapea mweke safe tutaikujia next season mtoi wa assistant coach akijoin Form One. Safari njema.
(Please Bandari, keep that suitcase of goals safe we will come for it next season when our assistant coach's son would need it when joining high school.Safe journey back to Mombasa," Homeboyz chided their wounded opponents.