Champions Sharks, Leopards Highlight Opening SportPesa Shield Weekend
Mar 14 - by Erick Ochieng for SportPesa News
Hosts Elim FC of Trans Nzoia have warned Kariobangi to expect a tough battle at Kwa Muthoni Grounds as they are out to dethrone the title holders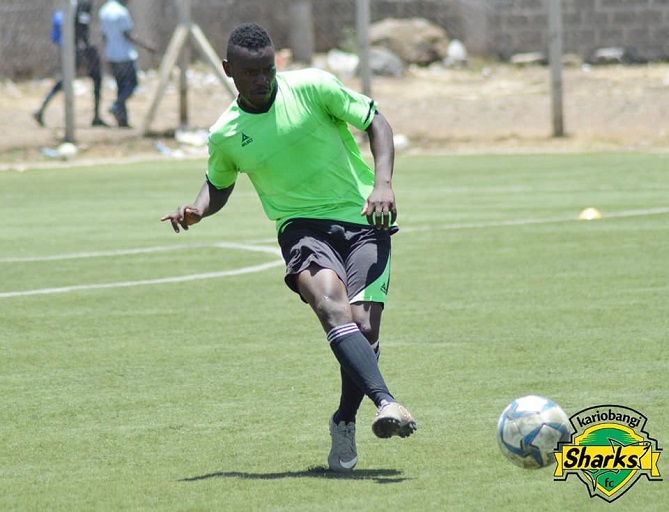 SportPesa Shield holders, Kariobangi Sharks FC and 2017 champions AFC Leopards SC will be in action  as round 32 of the domestic cup kick off from a cross the country this weekend
Gor Mahia FC clash against Kenpoly has been moved to next Wednesday, at the MISC Kasarani as the former have a date with Petro Atletico de Luanda of Angola in the Confederation Cup at the venue on Sunday
Sharks, who are also the 2019 SportPesa Cup champions, felled Sofapaka FC 3-2 in last years Shield final held at Kasarani to qualify for the Confederation Cup where they thrashed Arta Solar 7 of Djibouti both home and away before being edged out by Asante Kotoko FC of Ghana in the play-offs
NAIROBI, Kenya- SportPesa Shield holders, Kariobangi Sharks FC and 2017 champions AFC Leopards SC will be in action  as round 32 of the domestic cup kick off from a cross the country this weekend.

Sharks will launch their defence at Kwa Muthoni Grounds in Trans Nzoia against hosts Elim FC while Leopards will be engaged by Kitale based Transfoc FC at Bukhungu Stadium in Kakamega.

"Sharks should expect a tough battle. We are going to play like its our last day on earth. To us this is like a final so we are ready to create history by dethroning the champions," Elim Team Manager Boniface Oduor underlined.
READ ALSO: SportPesa Shield: Holders Sharks Take On Elim, Giants Tusker Pull Out
" Our aim is to win the tournament so we can represent Kenya in the Confederation Cup," he added.
Gor Mahia FC clash against Kenpoly has been moved to next Wednesday at the MISC Kasarani as the former have a date with Petro Atletico de Luanda of Angola in the Confederation Cup at the venue on Sunday. 
Round 32 will involve 15 matches of which 11 will be played on Saturday where Moi Stadium in Kisumu and Bukhungu in Kakamega will  host doubleheaders.
READ ALSO: SportPesa Racing Point Team Revved Up For 2019 F1 Season
Four more  games will be staged on Sunday with a doubleheader on the cards at Camp Toyoyo Grounds in Nairobi.
Sharks, who are also the 2019 SportPesa Cup champions, felled Sofapaka FC 3-2 in last years Shield final held at Kasarani to qualify for the Confederation Cup where they thrashed Arta Solar 7 of Djibouti both home and away before being edged out by Asante Kotoko FC of Ghana in the play-offs.
Round of 32 Fixtures
Saturday
Uprising vs Western Stima (Ruaraka Grounds, 3pm)
Congo Boys vs Kenya Police (Serani Sports Grounds, 3pm)
SS Assad vs Ulinzi Stars (Ukunda Show Grounds, 3pm)
Bungoma Superstars vs Sofapaka (Sudi Stadium, 3pm)
Muranga Seal vs Kisumu All Stars (Kiharu Stadium, 3pm)
Transmara Sugar vs Bidco United (Gusii Stadium, 3pm)
Dero vs FC Talanta (Moi Stadium Kisumu, 1 pm)
Sindo United vs KCB (Moi Stadium Kisumu, 3.15pm)
Vihiga Sportiff vs Ushuru (Mumias Sports Complex, 3pm)
Elim vs Kariobangi Sharks (Bukhungu Stadium, 1pm)
Transfoc vs AFC Leopards (Bukhungu Stadium, 3.15pm)
Sunday
Fortune Sacco vs Wazito (Thika Stadium, 3 pm)
Emmausians vs Mwatate United (Serani Sports Ground, 3pm)
Naivas vs Equity (Camp Toyoyo, 1pm)
Kayo vs Bandari (Camp Toyoyo, 3.15pm)
Wednesday
Kenpoly vs Gor Mahia (MISC Kasarani Stadium, 3pm)