SportPesa Shield: Holders Sharks Take On Elim, Giants Tusker Pull Out
7th March 2019 - by Erick Ochieng
Joint record holders, Gor and Leopards to take on minnows Kenpoly, Transfoc in the round of 32 as draw and launch of 2019 edition goes down in Nairobi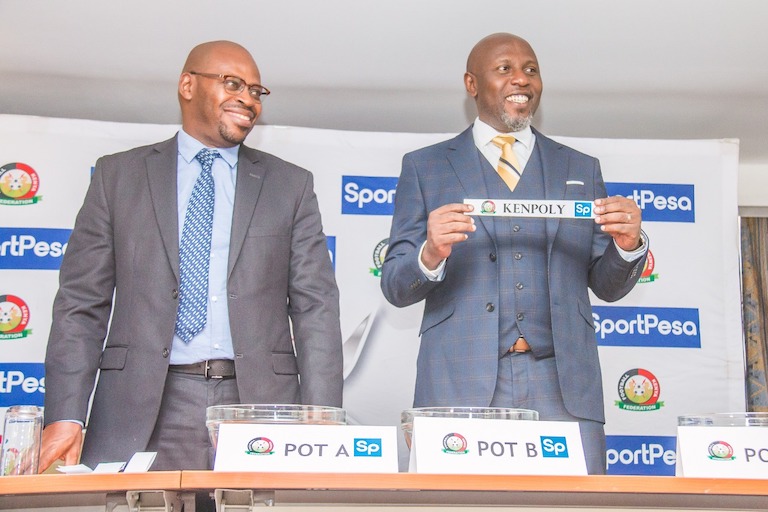 SUMMARY
Joint 10-time record cup winners, SPL titleholders Gor Mahia FC and arch rivals AFC Leopards SC are up against Kenpoly FC and Transfoc FC in that order
Earlier before the draw, Tusker who last won the Shield in their 2016 double-winning campaign declared they had pulled out of the cup to focus on wresting back the SPL crown

Elim Team Manager Boniface Oduor said their aim is to win the tournament so they can represent Kenya in the Confederation Cup

The finals will be played on June 1 in Nairobi with the champions rewarded with KSh2 million prize money
NAIROBI, Kenya- SportPesa Shield holders, Kariobangi Sharks FC will launch their defence of the crown away to Elim FC on Trans Nzoia as four-time domestic champions, Tusker FC announced their withdrawal from the knockout competition on Thursday.
During the draw and launch of the 2019 edition in Nairobi, SportPesa Premier League (SPL) leaders, Bandari FC were handed a relatively easy home tie in the round of 32 when they welcome Kayo FC from Marsabit at the Mbaraki Stadium, Mombasa.
Joint 10-time record cup winners, SPL titleholders Gor Mahia FC and arch rivals AFC Leopards SC are up against Kenpoly FC and Transfoc FC in that order.
The winner of the 32-team tournament earns a direct ticket to represent Kenya in the CAF Confederations Cup
MUST READ: Kenyan Mourns Another Fallen Track Legend, Daniel Rudisha, Father To David Rudisha
Earlier before the draw, Tusker who last won the Shield in their 2016 double-winning campaign declared they had pulled out of the cup to focus on wresting back the SPL crown.
"It was not an easy decision to make but we want to help the team concentrate on the league. We have a target of winning the title and want to focus on that," Daniel Aduda, the brewers' chairman was quoted on the club website.
Tusker are fifth in the league table with 25 points, seven adrift of Bandari and play Leopards on Saturday at Kenyatta Stadium, Machakos in the next SPL clash.
MUST READ: VAR Storm: There Was No Logic To Award That Penalty- PSG Boss Tuchel
"We expect more upsets like last season. We urge teams to prepare well since the prize money in the Confed Cup has been increased," organisers, Football Kenya Federation (FKF) chief executive and general secretary Robert Muthomi said.
Elim Team Manager Boniface Oduor said their aim is to win the tournament so they can represent Kenya in the Confederation Cup.
"Sharks should expect a tough battle at Kwa Muthoni Grounds in Trans Nzoia. We will battle in the match like its our last day on earth. We will play this game like a final, we are ready to create history by dethroning the champions," Oduor underlined.
SportPesa Chief Marketing Officer, Kelvin Twissa makes a point during the launch of 2019 SportPesa Shield in Nairobi on March 7, 2019. PHOTO/SPN
MUST READ: LeBron Overtakes Boyhood Idol Jordan, Shoot To 4th On All Time NBA List
Sharks, who are also the 2019 SportPesa Cup champions, felled Sofapaka FC 3-2 in last years final held at Moi International Sports Centre Kasarani to qualify for the Confederation Cup where they thrashed Arta Solar 7 of Djibouti both home and away before being edged out by Asante Kotoko FC of Ghana in the play-offs.
"We look forward to an exciting competition as SportPesa is focused to grow grassroots talent," SportPesa Chief Marketing Officer, Kelvin Twissa who graced the draw highlighted.
Muthomi said FKF will engage Ministry of Sports to ensure that the side to represent Kenya at the continental level will be supported well in their bid to conquer Africa.
MUST READ: Tokyo 2020 Tickets Up For Grabs In Beyond Zero Half Marathon

The Shield finals will be played on June 1 in Nairobi with the champions rewarded with KSh2 million prize money.
Full round of 32 Draw
1. Fortune Sacco vs Wazito
2. Uprising vs Western Stima
3. Kenpoly vs Gor Mahia
4. Kayo FC vs Bandari
5. Congo Boys vs Kenya Police
6. Emmausians vs Mwatate United
7. Naivas vs Tusker
8. SS Asad vs Ulinzi Stars
9. Bungoma Super Stars vs Sofapaka
10. Transfoc vs AFC Leopards
11. Muranga Seal vs Kisumu All Stars
12. Elim FC vs Kariobangi Sharks
13. Trans Mara Sugar vs Bidco United
14. Dero FC vs FC Talanta
15. Vihiga Sportiff vs Ushuru
16. Sindo United vs KCB
Kariobangi Sharks FC players and staff celebrate with the 2018 SportPesa Shield trophy and KSh2m dummy cheque following their 3-2 victory over Sofapaka FC at the MISC, Kasarani on Saturday, October 20, 2018. PHOTO/Stafford Ondego/www.sportpicha.com