South Africa, Tunisia Express 2022 Sevens World Cup Interest
7th May 2019 - by Mutwiri Mutuota
They confirmed their expression of interest to the international federation by the March 31 deadline having reviewed the detailed bid guide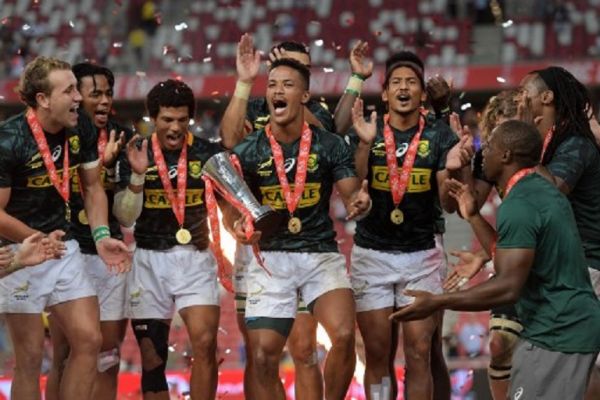 SUMMARY
World Rugby has confirmed that a record number of unions including South Africa and Tunisia have formally expressed their interest in hosting Rugby World Cup Sevens 2022
The eleven unions are Argentina, Cayman Islands, France, Germany, India, Jamaica, Malaysia, Qatar, Scotland, South Africa and Tunisia
The record level of interest is a strong endorsement of the sevens format, which is the driving force behind record rugby fan growth, particularly among young people in emerging rugby markets

NAIROBI, Kenya- World Rugby has confirmed that a record number of unions including South Africa and Tunisia have formally expressed their interest in hosting Rugby World Cup Sevens 2022.
The eleven unions are Argentina, Cayman Islands, France, Germany, India, Jamaica, Malaysia, Qatar, Scotland, South Africa and Tunisia.
They confirmed their expression of interest to the international federation by the March 31 deadline having reviewed the detailed bid guide.
The record level of interest is a strong endorsement of the sevens format, which is the driving force behind record rugby fan growth, particularly among young people in emerging rugby markets.
The success and spectacle of the event, which puts teams and fans first, was a major factor behind sevens' inclusion in the Olympic Games programme, debuting in style at Rio 2016.
READ ALSO: One Game At A Time: KCB Coach Ouna Urges Players Ahead Of Vital Tests
"Rugby World Cup Sevens is a major event on the global sporting calendar, a fan and team favourite and is an attractive proposition for unions and cities as a low-investment, high-return event that is great for the city and great for rugby.

"We are delighted with the record level of interest. With a core objective of growing the global rugby fan and participation footprint, it is superb to see new interest from emerging rugby nations, which is great for the sport," World Rugby Chairman Sir Bill Beaumont said.

"We now move forward to a detailed phase of consultation and evaluation against set operational, team, fan and legacy criteria before the World Rugby Council selects the 2022 host at the interim meeting in Tokyo in October", he continued.
READ ALSO: Trump Awards Presidential Medal Of Freedom To Tiger Woods

The 2018 edition in San Francisco was a resounding success, delivering extensive sporting, social and economic benefits for the wider Bay Area and showcasing the world's best men's and women's sevens players to an unprecedented domestic and global audience.
"Rugby World Cup Sevens 2018 attracted a record attendance for a rugby event in the USA of 100,000, generated a record domestic broadcast audience of more than nine million and showcased the very best of San Francisco and rugby to a global broadcast audience in 224 territories.
"Research conducted by Nielsen Sport confirmed that the tournament generated a US$90.5 million economic contribution to San Francisco, so it was ground-breaking on every level," Beaumont continued.
Rugby World Cup Sevens 2022 will be played during the September and October 2022 window considering the international calendar, including the HSBC World Rugby Sevens Series and the Commonwealth Games that will take place in July 2022.
READ ALSO: Harden Leads Rockets In Leveling Warriors Series, Bucks Sink Celtics
The event will again comprise 24 men's and 16 women's teams and will be played over three days in one venue.
The unions have been issued the formal bid application documents and now have until 16 July, 2019 to submit their responses.