Six Things You Did Not Know About Bandari Sensation Abdallah Hassan
6th March 2019 - by Erick Ochieng
SportPesa News caught up with the domestic league Player of the Month for January in Mombasa to peel off his mask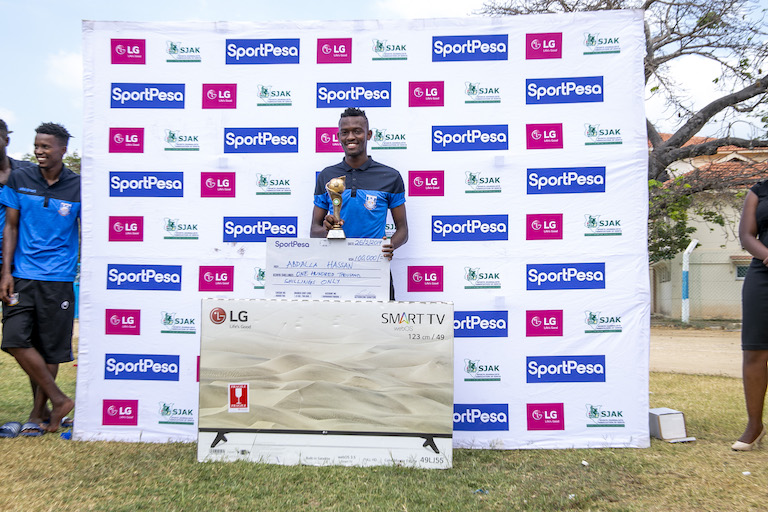 SUMMARY
Hassan Since joining the Dockers last year from Posta Rangers Youth FC, the midfielder has continued turning in impressive performance that saw him recognised as the SportPesa/SJAK Player of the Month for January
SportPesa News caught up with Hassan at Mbaraki Stadium in Mombasa and brings you the six things you did not know about this football sensation
MOMBASA, Kenya – Abdallah Hassan is fast becoming one of the hottest properties in domestic football having played a crucial role in helping Bandari FC to scale to the top of the SportPesa Premier League (SPL).
Since joining the Dockers last year from Posta Rangers Youth FC, the midfielder has continued turning in impressive performance that saw him recognised as the SportPesa/SJAK Player of the Month for January.
SportPesa News caught up with Hassan at Mbaraki Stadium in Mombasa and brings you the six things you did not know about this football sensation.

1. Being the first born is challenging for him
As a first born in a family of five, Hassan has taken up the huge responsibility of taking care of parents as well as his siblings.
At only 22, Hassan is the sole bread winner for his family of humble means as well as a mentor to his younger siblings.
"Sometimes I wish I was the last born so that someone could take up the responsibilities. Being a first born is not a joke especially when everyone depends on you," he underlined.
READ ALSO: Five Things You Did Not Know About Rising SPL Star Peter Thiong'o
2. He survived on a football scholarship
After completing his Kenya Certificate of Primary Education in 2010, Hassan joined Tononoka Secondary where he was unable to stay in school after being forced to drop for lack of school fees.
But lady luck was on his side when Green Palm Academy, located in Bamburi, came to his rescue in 2013 after noticing his football talent.
Green Palm offered him a football scholarship that saw him successfully complete his Kenya Certificate of Secondary Education with ease the following year.
READ ALSO: Bandari Hot Shot Hassan Eager To Nail Harambee Stars First XI Place
3. He has already scored the same number of SPL goals as he did the whole of last season
Hassan notched three goals including a brace against Nakumatt FC (currently Mt. Kenya United FC) in his SPL debut last season.
He took only a month of the new campaign to match that tally when he netted against Sony Sugar FC (2-1), Mt. Kenya (2-1) and Posta Rangers (1-0) in January.
READ ALSO: Real End Of An Era: Champions League Holders Crash Out To Sleek Ajax
4. PSG teenage wonder Kylian Mbappe is his role model
Hassan is not interested in signing for any other SPL side after his stint at Bandari. His focus is to head abroad in Europe preferably France where he idolises France and PSG forward Kylian Mbappe.
"Mbappe is young like me, we both have speed. I admire his game. He is the reason I support PSG in the UEFA Champions League," he underscored.
READ ALSO: Formula One Under Pressure Over Rights Ahead Of Bahrain GP
5. His first flight was to Ethiopia
The first time Hassan got into a plane was four months ago when he was given a call up by Harambee Stars head coach Sébastien Migne for the 2019 Africa Cup of Nations (AFCON) qualifier against Walya Antelopes of Ethiopia in Bahir Dar.
Hassan did not play in the encounter that ended in a barren draw but he was nonetheless grateful to have earned his first national team capping as well as a maiden flight outside the country.
READ ALSO: Stan Is Back! Ex-Harambee Stars Coach Okumbi Set To Take Over At Wazito
6. He is not getting married any time soon
With his family to support, Hassan says he is not in a rush to tie the knot out of the fear of taking in more responsibilities to his already burdened young shoulders.
He admits that the few relationships he has had have been stressful and he is not ready to commit to anyone at the moment.
"I want to build a career in and outside football first. I will only think of marriage when I feel I'm economically stable," he quipped.