Six Talking Points Ahead Of Huge Gor, Leopards SPL Mashemeji Derby
7th February 2019 - by Mutwiri Mutuota
SportPesa News explores the potential highlights as domestic champions clash with struggling eternal rivals on Saturday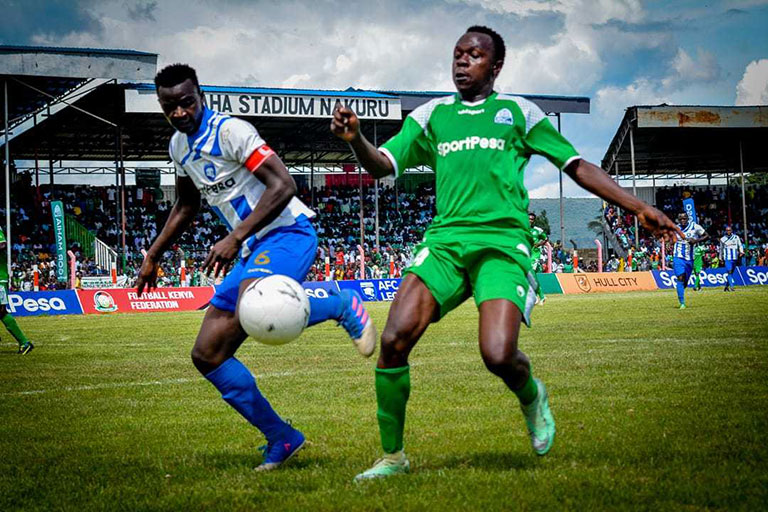 SUMMARY
In their latest showdown at the Moi International Sports Centre, Kasarani in a SportPesa Premier League (SPL) showdown, much more than three points will be at stake
Having already lost thrice in the league this season, it appeared initially as if the champions had priorities elsewhere, having won the competition in five of the last six seasons
Rwandese head coach, Andre Casa Mbungo, must have wondered what he got himself into when Leopards lost 1-2 on his first day in charge at the Den on Wednesday
NAIROBI, Kenya- Eternal rivals, champions Gor Mahia FC and AFC Leopards SC clash on Saturday in the biggest football game in Kenya- the 85th meeting of the fixture christened Mashemeji Derby.
As the name suggests, this is a clash of in-laws, but that how far the pleasantries end.
In their latest showdown at the Moi International Sports Centre, Kasarani in a SportPesa Premier League (SPL) showdown, much more than three points will be at stake.
SportPesa News highlights the six huge talking points ahead of the latest meeting of the most and second most decorated football clubs in local history.
MUST READ: Change Of Ingwe Guard: Leopards Hire Rwandese Cassa Mbungo To Lead Revival Hunt
1. Gor can gain title momentum by pressing in their recent good form
After a stuttering start to the campaign, record 17-time domestic titleholders, Gor are finding their local mojo once more, winning their last two SPL fixtures, 2-0 over Sony Sugar FC and 1-0 against Vihiga United FC.
That was sandwiched by the resounding 4-2 crushing of five-time African champions and Egypt league leaders, Zamalek FC in a CAF Confederations Cup Group D opener last Sunday.
Having already lost thrice in the league this season, it appeared initially as if the champions had priorities elsewhere, having won the competition in five of the last six seasons.
However, log leaders Mathare United FC (24) and second-placed Bandari FC (21) have failed to take full advantage, leaving Gor within touching distance on 19 with a game in hand over the Slum Boys.
Beat Leopards and K'Ogalo could finish the weekend in second place on 22 if other results go their way, enough motivation to win the derby.
MUST READ: Five Things You Did Not Know About Rising SPL Star Peter Thiong'o
2. Leopards have the chance to mug Gor yet again
The last time Leopards tasted victory over Gor in the SPL or any other competition for that matter was March 6, 2016, a 1-0 win that left Ingwe top of the log and dreaming of a first league title since 1998.
That Gor team had gone the entire 2015 campaign unbeaten in the top flight as they swept to the crown and it took their bitter rivals to puncture their pride at Nairobi's Nyayo National Stadium in a match where Lamine Diallo came off the bench to score and 83rd minute winner. It was truly a shocking result.
The fallout at Gor was swift, with Scottish head coach, Frank Nutall, defecting to Zamalek and at the end of it all; Tusker FC dethroned the then champions from the SPL throne.
Unfortunately, Leopards then under Belgian Ivan Minnaert, failed to build on the momentum and their season unravelled in the second leg as they slumped to a seventh finish. Minnaert did not even end the season in charge.
MUST READ: Gor Mahia, Stima Record Slim SPL Wins As Mt. Kenya Slay Leopards
3. Cassa Mbungo gifted the platform to become an instant hero
Rwandese head coach, Andre Casa Mbungo, must have wondered what he got himself into when Leopards lost 1-2 on his first day in charge at the Den on Wednesday.
The defeat was the last straw for many an Ingwe fan since it left their beloved team languishing 15th on 10 points, two above the drop zone and what is unimaginable at the Den, relegation talk gained currency.
Mbungo is the 26th man to take charge of Leopards since 2009 when the club bounced to the Premier League and in just over 72 hours, he has the onerous task of beating their fiercest opponents in a Mashemeji Derby.
Having worked with feared Gor striker, Jacques Tuyisenge and his strike partner, Burundian Francis Mustapha at Police and AS Kigali, Mbungo perhaps has an idea what to expect on Saturday.
And just like Minnaert, he can become a huge hit in only second game in charge if he masterminds victory against the team every Leopards fans loves to beat.
4. Oktay has the opportunity to bed in with the Green Army
Turkish-Cypriot Hassan Oktay has found earning universal approval among the passionate Gor supporters, the Green Army, hard to come buy following their aforementioned patchy start to the season.
Victory against Zamalek brought him closer to receiving the all round affection any coach in a big club craves and his stock will rise considerably should he find a way of piling on the misery on the in-laws on Saturday.
MUST READ: I'm Ready For AFCON: Thiong'o Declares After Scooping December SportPesa Award
Since Nutall lost to Leopards, former Brazilian international, Jose Marcelo 'Ze Maria' Ferreira and Briton Dylan Kerr have taken the hot seat and gone seven without defeat against the auld enemy.
It is too early in what is largely a transition season at Gor for Oktay to countenance losing the derby, especially, just when his methods seem to be striking a cord with his players.
5. Defensive shambles provide the prospect of a thriller
The last eight Mashemeji derbies in all competitions have produced 17 goals that is an average of just over two per game.
That compares favourably with other big derbies in Africa but this season alone, the champions have already soaked in seven in 10 league games and put in 17 at the other end having let in only five for the entire first leg of the SPL.
Leopards on the other hand have an embarrassing goal difference of –six, having conceded 16 and scored only 10 in a crisis that prompted club captain, Robinson Kamura, to protest in a video widely shared on social media that Ingwe have no strikers.
MUST READ: Simba Cage Leopards, Book Bandari SportPesa Cup Semi Date
However, Gor showed in their much-hailed victory over Zamalek that their once super glue solid defence could be the architects of their own downfall whilst Leopards can shudder at the thought of facing a team with the firepower K'Ogalo possesses.
This raises the prospects of a goal-fest on Saturday.
6. The Dennis Oliech Mashemeji Derby debut factor adds spice to the occasion
There is only one place to finish this wrap.
When he came out of a two-year break from the game to sign for Gor, Kenya record goal-scorer Dennis Oguta 'Kajole' Oliech has been a man on a solo mission to set and break his own barriers.
MUST READ: Simba Cage Leopards, Book Bandari SportPesa Cup Semi Date
To him, playing with the green of Gor is a personal tribute to his family, having joined the SPL champions to honour his late mother Mary Auma and on Sunday, reprised the feat of his elder brother, the late Steve Okumu, in scoring against Zamalek 21 years after his sibling achieved the feat.
Okumu, who formed a deadly strike partnership with Steve Odiaga in the late 90s and one of the games the duo enjoyed finding the net was you guessed it, the Mashemeji Derby.
On Kenyatta Day (now renamed Heroes Day) October 20, 1997, Okumu scored a last minute winner for Gor against Leopards in a 1-0 victory having been set up by Bramwell Mwololo, now a presenter at Radio Jambo who out-jumped former Kenya international midfielder, Tom Juma.
MUST READ: Plucky Mbao Depose Mighty Gor From SportPesa Cup Throne
"Defeat was too hard to swallow for heartbroken AFC Leopards who after the match were baying for the blood of Tom Juma. 
"They wanted to beat him up for, according to them, betraying the team because being Luo, he was bound to have a soft spot for Gor Mahia," Mwololo recalled.
What are the chances of Oliech doing the same 21 years later on his Mashemeji debut?
Dennis Oliech in action for Gor at the MISC, Kasarani. PHOTO/File