Shujaa Stuff Spain For Singapore 7s 13th Place Play-Off Reward
14th April 2019 - by Mutwiri Mutuota
Onyala, Taabu and Mwale dot down as Kenya beat Los Leones 21-5 to finish their campaign on a high on Sunday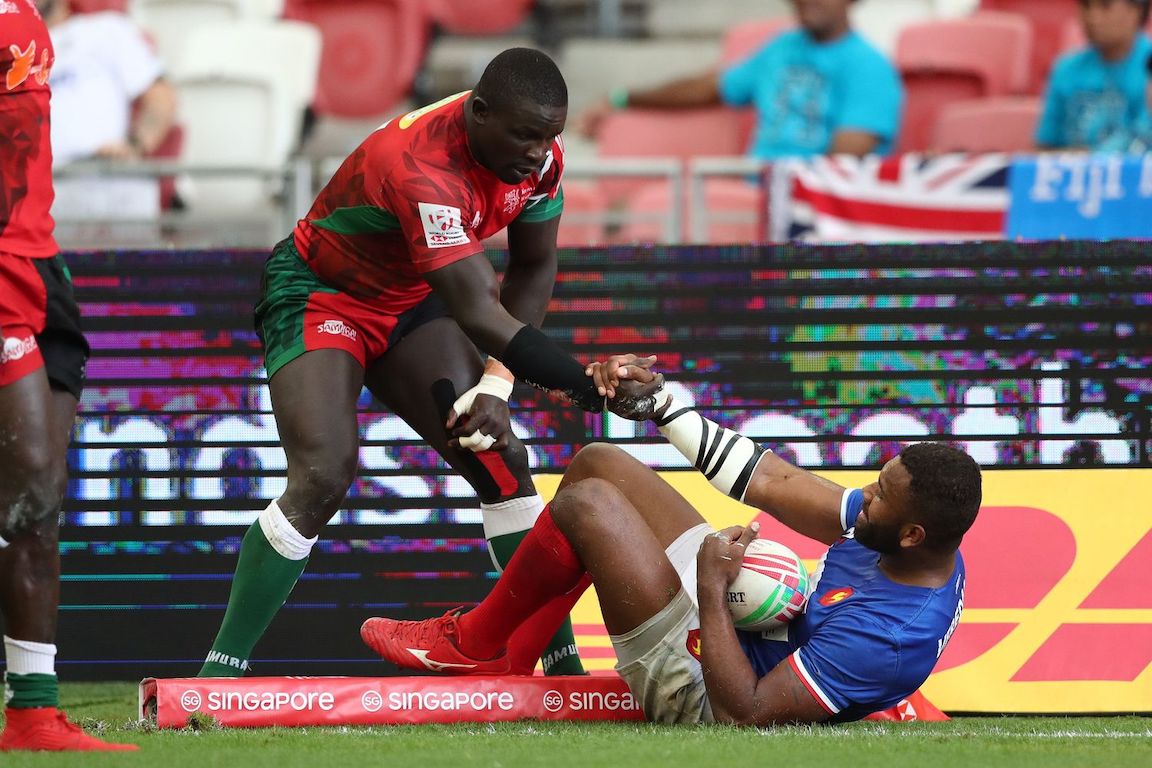 SUMMARY
The crowd certainly enjoyed Kenya's try-scoring celebrations where the selfie and a spot of dancing added to the spectacle of victory in a game where Los Leones made five errors in comparison to Shujaa's zero
Having lost the Challenge Trophy quarterfinal 14-24 to France, Shujaa saw off Japan 31-24 in the place semifinal to set up a showdown with Spain
The scrum to Kenya saw Eden Agero set up Oscar Dennis to go over for his first career try in the Shujaa jersey extending their lead to 14-7 at half time
SINGAPORE, Singapore- Kenya Shujaa got just reward for building in confidence and stature when they beat Spain 21-5 in the 13th play-off final of the Singapore 7s on Sunday.
Vincent Onyala, Daniel Taabu and Bush Mwale crossed the whitewash for Shujaa with Taabu kicking over the conversion to propel Shujaa to victory over Spain who responded with a second half try from Alejandro Alonso.
The crowd certainly enjoyed Kenya's try-scoring celebrations where the selfie and a spot of dancing added to the spectacle of victory in a game where Los Leones made five errors in comparison to Shujaa's zero.
Having lost the Challenge Trophy quarterfinal 14-24 to France, Shujaa saw off Japan 31-24 in the place semifinal to set up a showdown with Spain.
RECOMMENDED READ: England, USA Dent Shujaa Singapore 7s Main Cup Quarters Hopes
Andrew Amonde was first on the scoreboard giving Shujaa an early 5-0 lead that was quickly extended by Taabu's 14 points in the first half as he exploited the gaps in the Japanese defense to score two quick tries.
Japan's Katsuyuki Sakai's try was sandwiched by Taabu's brace while his counterpart Michael Tokole landed a center post try at the stroke of half time for a 19-12 half time score.
Splitting posts
Captain Jeffrey Okwacha fended off his defender to score Shujaa's fourth try, with the conversion sailing wide for a 24-12 lead. Japan responded in equal measure and within three minutes, the scores were leveled at 24 all after Siosifa Lisala went over the whitewash twice with one conversion splitting the posts.
On Saturday, Shujaa finished third in Pool C when they beat Wales 19-14 in their last group fixture having fallen 7-36 to England and 14-17 to series leaders USA, coached by former Kenya head coach Mike Friday.
RECOMMENDED READ: Wanyama, Lucas Power Tottenham Past Relegated Huddersfield
The Welsh defenders bought Vincent Onyala's dummy from Kenya's half, allowing him to swiftly cut through them and race for the try line giving Shujaa the 7 -0 lead after Taabu's conversion.
A minute later, Wales leveled up the scores as Ryan Conbeer went over the whitewash followed by a successful conversion.
With a minute left to the breather and Wales deep in Kenya's half , Oscar Dennis produced a try saving tackle denying Wales the opportunity to take the lead as the ball was lost forward.
The scrum to Kenya saw Eden Agero set up Oscar Dennis to go over for his first career try in the Shujaa jersey extending their lead to 14-7 at half time.
It was a moment of sheer joy for the team as they all huddled up together congratulating the try scorer.
RECOMMENDED READ: Formula 1 Hits 1000: Solid Perez Powers SportPesa Racing, Hamilton Rules