England, USA Dent Shujaa Singapore 7s Main Cup Quarters Hopes
13th April 2019 - by Mutwiri Mutuota
England and USA booked a berth for the quarters where they will battle Australia and Argentina in that order on Sunday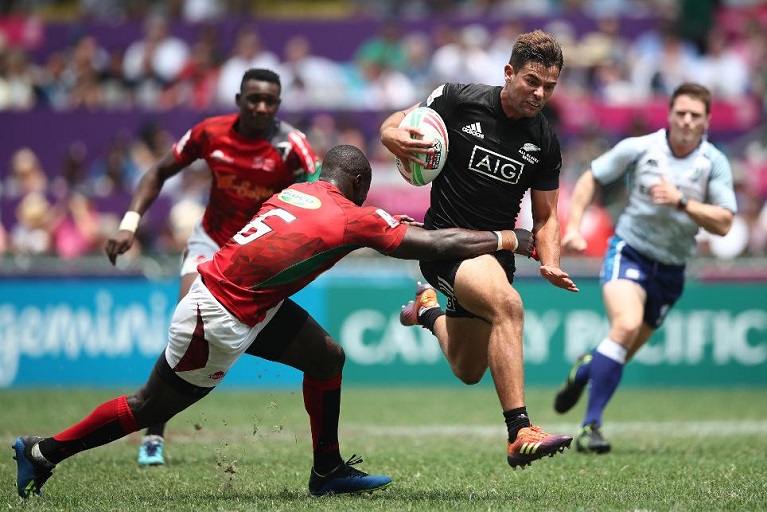 SUMMARY
Kenya Shujaa beat Wales 19-14 but failed to progress to the quarterfinals in the ongoing round eight of the 2018/2019 HSBC World Rugby Sevens in Singapore on Saturday
The lose saw Shujaa finished last in the group  on five points where they were tied with second placed England and Wales who finished third as USA topped on nine
Shujaa finished tenth in Hong Kong7s last weekend after falling 12-21 to Japan in the challenge trophy semifinal, collecting five points and bringing their total tally to 23 points
SINGAPORE, Singapore- Kenya Shujaa beat Wales 19-14 but failed to progress to the quarterfinals in the ongoing round eight of the 2018/2019 HSBC World Rugby Sevens  series in Singapore on Saturday.

Shujaa had earlier lost their Pool C encounters 7-36 and 14-17 against England and USA in that order which dented their hope of making it to the last eight this season.
The lose saw Shujaa finished last in the group on five points where they were tied with second placed England and Wales who finished third as USA topped on nine.
MUST READ: Shujaa Eye Singapore 7s Quarters In Memory Of Epic 2016 Cup Win
England and USA booked a berth for the quarters and will  face Australia and Argentina in that order on Sunday.
Kenya will tackle France in Challenge Cup quarters at 6.06am (+3 GMT) on Sunday.
Shujaa finished tenth in Hong Kong7s last weekend after falling 12-21 to Japan in the challenge trophy semifinal, collecting five points and bringing their total tally to 23 points.
MUST READ: Kenya, Tanzania Land In Group C Of 2019 AFCON Draw In Egypt
The Singapore circuit is vital as top four finishers will edge closer to sealing their Tokyo 2020 Olympics dreams.