Shujaa Eye Singapore 7s Quarters In Memory Of Epic 2016 Cup Win
10th April 2019 - by Erick Ochieng
Second placed Fiji are buoyed after Hong Kong7s victory last week and will be aiming for a back-to-back triumph this weekend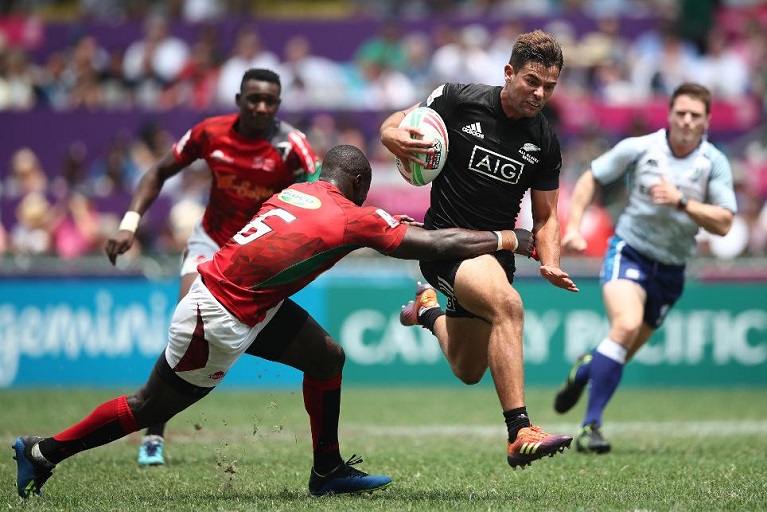 SUMMARY
Kenya Shujaa are aiming for a first quarterfinal berth as round eight of the 2018/2019 HSBC World Rugby Sevens heads to Singapore this weekend
After England, Shujaa will battle Hong Kong7s bronze medalists USA before wrapping up day one action against Wales in the tough Pool C
The Singapore circuit is vital as top four finishers including USA, Fiji and New Zealand,will edge closer to sealing their Tokyo 2020 Olympics dreams
SINGAPORE, Singapore- Kenya Shujaa are aiming for a first quarterfinal berth as round eight of the 2018/2019 HSBC World Rugby Sevens heads to Singapore this weekend.

Shujaa will kick off their campaign against England as they hope to replicate the feat which saw them lift the leg in 2016.
"I'm looking forward for the contest, I hope it's going to be a great one for us," Kenya skipper Jeffrey Oluoch underlined after the captains run at Cloud Forest Park in Singapore on Wednesday.
MUST READ: Shujaa Fall To Japan As Fiji Reign Supreme In Hong Kong
"We are currently 13th in the table and close to the other teams so we need to bag maximum points. We're aiming for the last eight to stretch our margin from other closer opponents.
"There is a lot of excitement in the camp, training has been good, the boys are psyched up and have high hopes for the challenge," Oluoch highlighted.
After England, Shujaa will battle Hong Kong7s bronze medalists USA before wrapping up day one action against Wales in the tough Pool C.
MUST READ: Here Are Three Things We Learned From Tottenham, Man City UCL Clash
The team finished tenth in Hong Kong last weekend after falling 12-21 to Japan in the challenge trophy semifinal, collecting five points and bringing their total tally to 23 points.
The Singapore circuit is vital as top four finishers will edge closer to sealing their Tokyo 2020 Olympics dreams
"We've got lots of confidence. We've just been going tournament by tournament and doing as well as we can each time.
MUST READ: On Fire McIlroy, Woods Set For Epic Battle At Augusta National
"It's another tough pool here so we will have to play our best," USA Captain Madison Hughes underscored.
"Olympic qualification would mean so much. That was our big goal coming into this season, we want to be in top four so we could book Olympic slot.
"It was a lofty goal at the time but now we're really close to it. It's a big tournament and we would love to qualify here (Singapore) but if not, we will just keep pushing and doing everything we can to make it to the Olympics," he added.
MUST READ: Advantage Spurs, Liverpool: Son Punishes Wasteful City, Porto Sunk
Second placed Fiji are buoyed after Hong Kong7s victory last week and will be aiming for a back-to-back triumph.
Third placed New Zealand and South Africa complete the top four line up in the current standings after all the seven rounds.
SATURDAY FIXTURE
1.Kenya vs England (5:44am , +3 GMT)
2.Kenya vs USA (9:34am)
3. Kenya vs Wales (12:38pm)
-Additional reporting by https://www.world.rugby