President Uhuru Fires Sports CS Rashid Echesa
Mar 01 - by Erick Ochieng for SportPesa News
Head of State moves Education Minister to take over in Friday morning reshuffle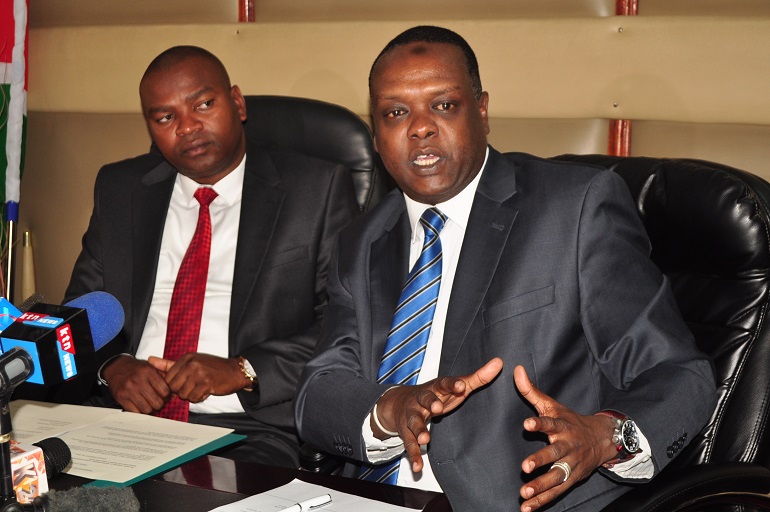 The underwhelming tenure of Sports, Culture and Heritage Cabinet Secretary, Rashid Echesa, came to an inglorious end on Friday morning when he was fired by President Uhuru Kenyatta
Echesa replaced beleaguered Dr. Hassan Wario who was fired by President Uhuru from the sport docket on January 27, 2018
Under Wario's tenure, the Sports Act of 2013 that established the Sports Fund to finance sporting activity in the country and curtailed the terms of local federation chiefs to two as well as the Anti-Doping Law of 2016 that criminalised prohibited substance abuse came to force
Little will be remembered about his tenure at a ministry with the awarding of the hosting rights for the 2020 IAAF World Under 20 Championships to Nairobi perhaps the highlight of his brief tenure
NAIROBI, Kenya- The underwhelming tenure of Sports, Culture and Heritage Cabinet Secretary, Rashid Echesa, came to an inglorious end on Friday morning when he was fired by President Uhuru Kenyatta.

In an Executive Order, the Head of State transferred Amina Mohammed from the Education docket to take over from Echesa in a Cabinet reshuffle.
" In accordance with Article 152(5) of the Constitution, as read together with Article 152(1)(d) of the Constitution, the appointment of Mr. Rashid Echesa Mohamed, as a Cabinet Secretary has been vacated," read the Order in part.
READ ALSO: No Oliech Again In Migne Provisional Harambee Squad For Ghana
Echesa replaced beleaguered Dr. Hassan Wario who was fired by President Uhuru from the sport docket on January 27, 2018.
He was among the 11 new faces brought to the Cabinet last year by the President with Wario among the seven ministers fired from government.
Wario came under fire following the Rio 2016 Olympics scandal where kit and money meant for Team Kenya athletes was stolen or embezzled by top National Olympics Committee-Kenya officials, four who were later charged with the offenses.
READ ALSO: Kenya Champion Amos Kirui Promises World Cross Medal In Denmark
Under Wario's tenure, the Sports Act of 2013 that established the Sports Fund to finance sporting activity in the country and curtailed the terms of local federation chiefs to two as well as the Anti-Doping Law of 2016 that criminalised prohibited substance abuse came to force.
Echesa is a former welterweight boxer who had a stint with the Kenya Defence Forces in the 90s before he hanged his gloves in 2001.
Little will be remembered about his tenure at a ministry with the awarding of the hosting rights for the 2020 IAAF World Under 20 Championships to Nairobi perhaps the highlight of his brief tenure.
READ ALSO: Varese Set For Bow, Onkar Rai Out To Shift Gears In Kajiado Rally