Odera Rings Seven Changes In Chipu Side To Face Hosts Brazil
13th July 2019 - by Mutwiri Mutuota
Kenya play second Pool A clash in the World Rugby Under 20 trophy seeking to bounce back from Uruguay chastening loss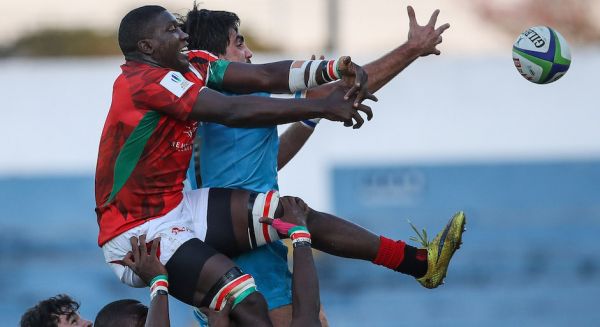 SUMMARY
Kenya will be seeking to bounce back from the chastening 11-63 to Uruguay in their opener in Brazil on Tuesday night with Ian Masheti, Samuel Were, George Kyriazi and Timothy Omela who started off the bench against elevated to the starting XV
The national under 20 side will miss the services of Douglas Kahuri and Jeff Mutuku who are nursing a knock and an injury. Rotuk Rahedi, Frank Aduda and Sheldon Kahi will start off the bench
RIO-DE-JANEIRO, Brazil- Head coach Paul Odera rang seven changes to the Chipu squad that will face Brazil on Sunday in their second Pool A fixture of the World Rugby Under 20 trophy in Brazil.
Kenya will be seeking to bounce back from the chastening 11-63 to Uruguay in their opener in Brazil on Tuesday night with Ian Masheti, Samuel Were, George Kyriazi and Timothy Omela who started off the bench against elevated to the starting XV.
Assistant captain, Dominic Coulson moves back to the fly-half, Andrew Matoka starts as the full back while James Mcgreevy links up with John Okoth at the center.
RECOMMENDED READ: Chastened Chipus To Draw Lessons From Uruguay World U20 Trophy Defeat
The national under 20 side will miss the services of Douglas Kahuri and Jeff Mutuku who are nursing a knock and an injury. Rotuk Rahedi, Frank Aduda and Sheldon Kahi will start off the bench.
The match kicks off at 1:00am EAT (+3GMT).
Chipu squad vs Brazil
1. Andrew Siminyu, 2. Bonface Ochieng, 3. Ian Masheti, 4. Emanuel Silungi, 5. Hibrahim Ayoo, 6. Samuel Were, 7. Brian Amaitsa, 8. George Kyriazi, 9. Samuel Asati, 10. Dominic Coulson, 11. Timothy Omela, 12. John Okoth, 13. James Mcgreevy, 14. Geofrey Okwach, 15. Andrew Matoka.
Finishers: 16. Wilfred Waswa, 17. Ian Njenga, 18. Collins Obure, 19. Rotuk Rahedi, 20. Frank Aduda, 21. Sheldon Kahi, 22. Barry Robinson, 23. Owain Ashley, 24. Michele Brighetti