Chastened Chipus To Draw Lessons From Uruguay World U20 Trophy Defeat
10th July 2019 - by Mutwiri Mutuota
Kenya were crushed 11-63 in their opening Group A in Brazil with head coach Odera, vice-captain Coulson geared up for Sunday clash against hosts Brazil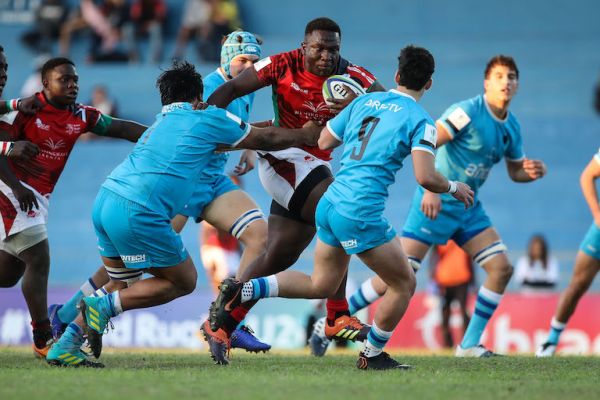 SUMMARY
Chipus as the national under 20 rugby 15s outfit is known found themselves under the cosh from early on when Uruguay dotted down for the first of their nine tries in the second minute of the match with Sonneveld Malleret crossing the whitewash
Chipu meet hosts Brazil on Sunday (July 14) at 1:00am EAT (+3GMT) in the second Pool A match

Odera who is also in charge of the senior Simbas side outlined set-pieces, tackling technique, Chipu's depth in attack and the team's self-belief as the areas to work on ahead of their next match against hosts Brazil
NAIROBI, Kenya- Head coach Paul Odera has identified the areas his side needs to work on following Kenya's chastening 11-63 loss to Uruguay in their World Rugby Under 20 Trophy opener in Brazil on Tuesday night at the Estadio Martins Pereira in Sao Jose Dos Campos.
Chipus as the national under 20 rugby 15s outfit is known found themselves under the cosh from early on when Uruguay dotted down for the first of their nine tries in the second minute of the match with Sonneveld Malleret crossing the whitewash.
The winners ran four more tries with Amaya kicking the only points for Chipu in first half that ended 2-39 before Samuel Were's charge down on Uruguay's kick resulted in him pouncing on the ball and landing Chipu's solitary try.
Dominic Coulson who had earlier kicked in two penalties missed this conversion for the score to read 11-63 at full time in a rather improved second half display.
MUST READ: World Rugby U20 Trophy: Odera Reinforces Chipu Squad Ahead Of Brazil
Odera who is also in charge of the senior Simbas side outlined set-pieces, tackling technique, Chipu's depth in attack and the team's self-belief as the areas to work on ahead of their next match against hosts Brazil
"Of all these areas, we shall prioritize what we feel we can tweak as we prepare for the next matches.
Powerful bench
"We always want to finish stronger in the second half and this was evident from today's (Tuesday) match, our bench has proved to be as powerful as the starters. Most importantly, this exposure for the players in this stage is very important," the former sevens and 15s international stated.
Vice-Captain Coulson hailed Uruguay's performance and also echoed his coach in the areas they need to improve on.
MUST READ: Safari Long-Awaited WRC Return Set To Be Confirmed This Week
"It was tough, Uruguay have big strong forwards and they exposed us in that part of the pitch. We diverted from our game plan a bit which was to suck them in and try to get them out wide.
"Their line people were too quick, put under a too much pressure and exposed our weaknesses, their forwards were really, really good," Coulson remarked.
He underlined their mission was to win the next game against the hosts.
"We have to stay a bit deeper, we got quick wingers and we need to use the width and try to get over the advantage line more than we did. We need to take each game as it comes," the vice-skipper added.
Chipu meet hosts Brazil on Sunday (July 14) at 1:00am EAT (+3GMT) in the second Pool A match.