Mourning Hussein Swaleh: 'A Football Administrator Par Excellence'
11th March 2019 - by Mutwiri Mutuota
Former Harambee Stars head coach, Jacob 'Ghost' Mulee hails the fallen official who perished in the ET302 air crash as instrumental to AFCON 2004 charge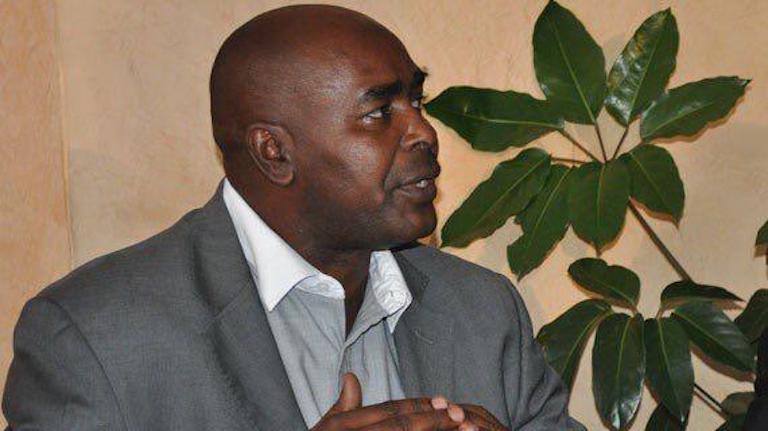 SUMMARY
That is how former Harambee Stars head coach turned radio personality, Jacob 'Ghost' Mulee eulogised the man who was instrumental in crafting his finest hour with the national senior men's football team following the tragic demise of Hussein Swaleh, who was the secretary general of the Kenya Football Federation (KFF) from 2000 to 2004
Having left his high office, Swaleh went on executing his grassroots football projects in his native Embu until he bounced back to administration when he was elected the chairman of the Football Kenya Federation (FKF) Lower Eastern Branch
During that period, the precocious talent of one Mathare United FC striker, Dennis 'The Menace' Oliech became too hot for local football to handle and up stepped Swaleh to play a pivotal role that saw the young striker who had fired his country to the 2002 Cecafa title move to Al Arabi in Qatar in a deal that was the most lucrative ever for a Kenyan footballer at the time
NAIROBI, Kenya- "He was a football administrator par excellence."
That is how former Harambee Stars head coach turned radio personality, Jacob 'Ghost' Mulee eulogised the man who was instrumental in crafting his finest hour with the national senior men's football team following the tragic demise of Hussein Swaleh, who was the secretary general of the Kenya Football Federation (KFF) from 2000 to 2004.
Fished from relative obscurity in Embu- 130km east of the Kenyan capital Nairobi- and thrust to the murky world of local football administration, Swaleh who was sadly among the 32 Kenyan fatalities in the crash of Ethiopian Airlines Flight 302/10 March on Sunday managed to navigate through the stormy waters with his reputation largely intact.
MUST READ: Two Good Arsenal Sink Man United To End Unbeaten Streak
The crowning glory of his tenure as the de facto chief executive officer at the federation was when Kenya qualified for the 2004 Africa Cup of Nations finals in Tunisia where the team went ahead to make history when they won their first ever game at the competition, beating Burkina Faso 3-0 on February 2 at the October 15 Stadium in Bizerte.
At the time, fierce splits and wrangling in KFF had split the federation into two with factions allied to world body FIFA and the other backed by the government turning local football into a farce. Parallel top flight leagues, 'KFF A' and 'KFF B' turned Kenyan football into a laughing stock but amidst all the chaos, Stars united a nation.
Having left his high office, Swaleh went on executing his grassroots football projects in his native Embu until he bounced back to administration when he was elected the chairman of the Football Kenya Federation (FKF) Lower Eastern Branch.
According to the Confederations of African Football (CAF) who mourned Swaleh in a statement, the seasoned official had been contracted as a Match Commissioner for the period between 2018 and 2020.
MUST READ: Ex-Football Kenya Secretary General Hussein Swaleh Dies In Ethiopian Air Crash
He was headed to reunite with his family for a gathering on Sunday from one of the latter's assignments- the CAF Champions League clash between Ismaily SC of Egypt and visiting TP Mazembe of the DRC- that he boarded the ill-fated flight that went down six minutes after take off from Bole International Airport in Addis Ababa en route to Nairobi, claiming the lives of all 149 passengers and eight crew.
As a nation struggled to come to terms with the tragedy, FKF President, Nick Mwendwa, was among the first to go public with the devastating news that Swaleh was gone, plunging the local football fraternity into mourning.
Biggest factors
"He was a very few administrators of football who were true to their words. It was one of the biggest factors we qualified for the 2004 AFCON," the grief-stricken 'Ghost' told SportPesa News on Monday.
According to the man who won the 2002 Cecafa Senior Challenge Cup with Stars also under the tenure of Swaleh and his chairman Maina Kariuki, the main reason that inspired the heroic performances of a team that represented the only working fabric in local football was prompt payment of their dues.
"We used to play over the weekend for our bonuses only. Allowances used to be paid the week before. This was a big boost for us. If Swaleh promised you money will be paid in a certain day and at a certain time, you were sure it would be delivered," the former Tusker FC boss maintained.
MUST READ: CAF Confed Cup: Zamalek Avenge Gor Loss To Go Top Of Group D
He last bumped to Swaleh on February 3 this year- incidentally, a day after the 15th anniversary of their victory over Burkina Faso in the AFCON- at half time when SportPesa Premier League (SPL) champions Gor Mahia FC hosted Egyptian titans, Zamalek FC at the Moi International Sports Centre, Kasarani.
"I was going up the VIP to meet Baba (former Prime Minister, Raila Odinga) when I came across him. He was a very jovial person and unlike a lot of football administrators who are full of lies, Swaleh stuck to his words," Mulee grieved.
He recalled how Swaleh used his connections at FIFA, CAF and other entities to set up training camps for Stars at the then newly established Aspire Football Academy in Qatar as well as in England where the national team was hosted by Bolton Wanderers FC- at the time, an English Premier League side.
In fact, Kenya lost 3-4 in a friendly played with a Bolton select side in a performance that set the team up for their AFCON finals charge with the side returning to the high table of African football for the first time since Senegal 92.
Pivotal role
MUST READ: In The Nick Of Time: Hazard Denies Wolves Famous Win At Chelsea
During that period, the precocious talent of one Mathare United FC striker, Dennis 'The Menace' Oliech became too hot for local football to handle and up stepped Swaleh to play a pivotal role that saw the young striker who had fired his country to the 2002 Cecafa title move to Al Arabi in Qatar in a deal that was the most lucrative ever for a Kenyan footballer at the time.
"There are so many people he could call directly. He was close to so many people in high places and even when our football would be in crisis, he would call FIFA directly.
"He was instrumental to making such moves as Oliech finding a team in Qatar because he was a real football person," Mulee who had coaching stints in Rwanda with APR and Dar giants Yanga SC in Tanzania remarked.
Perhaps it was no coincidence that the ailing local football went to its deathbed when Kariuki and Swaleh were shunted aside after the 2004 AFCON, with the country banned by FIFA three times in the next three years until the process to normalise football started in 2007.
MUST READ: Liverpool 4 Burnley 2: Title Chasers Enjoy Last Laugh At Anfield
KFF was replaced by a holdings company, Football Kenya Limited that was recognised by FIFA but after another round of bickering, a meeting at CAF headquarters in Cairo bringing the warring federations, government, CAF and FIFA reached the accord that saw the unified football elections of 2011.
Sam Nyamweya, who became the first president of the entity renamed FKF, remembered Swaleh as a prolific administrator whose loss is a huge blow to the game.
"I'm the one who brought him to football. He was a very good person, he had a love of football and we have lost one of the icons of football. We send our condolences to the family, very unfortunate. When I met him in Embu, he was helping the small clubs.
"He had talent and that is why I brought him in," Nyamweya who lost his seat in the 2014 FKF polls claimed.
SPL titleholders and record 17-time domestic football league champions, Gor who went down 0-4 to Zamalek on Sunday night also paid tribute to Swaleh.
MUST READ: Harambee Stars Line-Up Jamaica Reggae Boyz Pre-AFCON Friendly
"We send our heart felt condolences to the family and friends of FKF Lower Eastern Branch Chairman, Hussein Swaleh and all those affected by the Ethiopian Airlines Flight 302 crash. His death has occasioned a great loss," the club wrote on Twitter.
While there was a lot to be celebrated during the tenure of Kariuki/Swaleh, the age cheating scandal that saw CAF ban all Kenyan youth teams for two years in 2002 was a huge blot to their legacy in office.
More so, when it was discovered high ranking KFF officials were aware of the real ages of the squad that put the then Sports Minister and now Cabinet Secretary for Tourism, Najib Balala, in a spot of real bother.