KCB Out For Revenge As They Host Nondies In Kenya Cup Tie
15th March 2019 - by Erick Ochieng
The visitors made history when they broke the bankers 20-month unbeaten record in the first leg which they won 27-22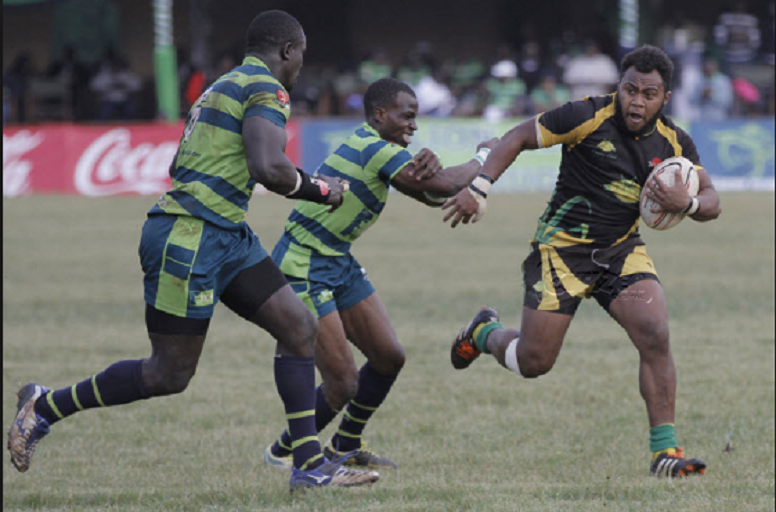 SUMMARY
Second-placed Kenya Commercial Bank (KCB)  RFC are looking for revenge as they host Nondies in a Kenya Cup match slated for KCB Sports Club in Nairobi on Saturday
It is for this reason that head coach Curtis Olago has made several changes  in the squad that will ply trade for the bankers in the expected crunch tie
Scrum-half Michael Wanjala, winger Stafford Abekah and center Peter Kilonzo have replaced  Marlin Mukolwe, Jeff Okwatch and George Maranga in that order
Nondies head coach Willis Ojal will still use Mike Mitoko as fly-half in the continued absence of Fielden Sinei as Fidel Oloo
NAIROBI, Kenya- Second-placed Kenya Commercial Bank (KCB) RFC are looking for revenge as they host Nondies in a Kenya Cup match slated for KCB Sports Club in Nairobi on Saturday.

The bankers will also be in a mission to topple Kabras Sugar RFC who have commanded the 12 team league for a while now.
It is for this reason that head coach Curtis Olago has made several changes in the squad that will ply trade for the bankers in the expected crunch tie.
Olago has replaced Francis Mwita with Davis Chenge who will pair up with Oliver Mangeni in the second row as Brian Nyikuli takes care of the open side.
READ ALSO: Kenya Cup Champs KCB End Kabras' Ten-Week Unbeaten Streak
Scrum-half Michael Wanjala, winger Stafford Abekah and center Peter Kilonzo have replaced Marlin Mukolwe, Jeff Okwatch and George Maranga in that order.
Tony Onyango will headline the fullback while Levis Ochieng and Steve Odhiambo complete the back-row as Isaac Njoroge holds the right wing.
Nondies made history when they broke KCB 20-month unbeaten run in the first leg on November 24, 2018, winning the volatile encounter 27-22.
READ ALSO: Oktay: We Need The Green Army To Turn Kasarani Into A Fortress
Nondies head coach Willis Ojal will still use Mike Mitoko as fly-half in the continued absence of Fielden Sinei as Fidel Oloo.
Ojal has noted that their mission this season is to qualify for playoffs and also avoid relegation.
Nondies are fourth with 41 points, 13-off KCB while Oilers are ninth with 20, 10 above Strathmore Leos who are already fighting relegation.
KCB RFC SQUAD
1. Oscar Sorano 2. Peter Kaaria 3. Curtis Lilako. 4. Davis Chenge 5. Oliver Mang'eni. 6. Brian Nyikuli 7. Andrew Amonde 8. Peter Waitere 9. Michael Wanjala 10. Ken Moseti 11. Stafford Abekah 12. Brian Omondi 13. Peter Kilonzo 14. Isaac Njoroge 15. Tony Onyango
Replacements
16. Griffin Musila 17. Moses Amusala 18. Nelson Nyandat. 19. Ian Indimuli 20. Rocky Aguko 21. Samuel Asati 22. Adrian Opondo 23. Billy Isabwa
NONDIES RFC SQUAD
15.Ivan Chebo 14.Daniel Okito 13.Moses Begi 12.Valentine Etyang' 11.Will Odhiambo 10.Mike Mitoko 9.Saidi Sumba 1.Ian Njenga 2.Frank Mutuku 3.Fred Muga 4.Brian Njenga 5.Brian Sinei 6.Levis Ochieng 7.Fidel Oloo 8.Steve Odhiambo
Replacements
16.B.Kola 17.O.Tambo 18.Eric Shimoli 19.Ronnie Mwenesi 20.Okoma 21.Ian Mwabwa 22.Mudi 23.Oyandoo
Kenya Cup Match Day 13 Fixtures
Saturday 16 March 2019
KCB v Nondescripts
Menengai Cream Homeboyz v Stanbic Mwamba – 2:00pm (TV Game)
Kenya Harlequin v Menengai Oilers
Kabras Sugar v Blak Blad
Resolution Impala Saracens v Top Fry Nakuru – 4:00pm (TV Game)
Strathmore Leos v Mean Machine