Jua-Kali Too Hot For Napoli In Kothbiro Quarterfinals, Masaa Through
27th July 2019 - by Erick Ochieng
The 41st edition of the tournament is dedicated to the late CEO Stephen Ogos who passed away during the initial stages of the championship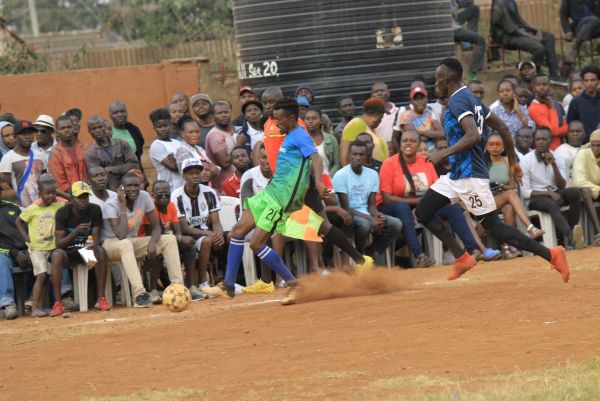 SUMMARY
Victor Ochieng  scored a brace to realise the deserved victory
The ex- Ingwe man was on the prowl again two minutes later, slotting in the second goal following a melee on Napoli's goal mouth
Over the years the tournament has evolved to be the bedrock of Kenyan football as it has brought together hundreds of teams, thousands of footballers and tens of thousands of fans from different corners of Nairobi and its environs
NAIROBI, Kenya- Allin Jua-Kali FC beat Napoli FC 2-0 to sail into the semifinals of Kothbiro football tournament at Ziwani Grounds in Nairobi.

Victor Ochieng scored a brace to realise the deserved victory.
The former AFC Leopards forward headed in the first goal in the 55th minute after receiving a neat left cross to sent the crowd into a frenzy.
READ MORE: Umeme Bees Sting Nyoi To Sail Into Kothbiro Semifinal
The ex- Ingwe man was on the prowl again two minutes later, slotting in the second goal following a melee on Napoli's goal-mouth.
At the same time, Tito Olesi headed in a late goal in the 89th to give Masaa FC a 1-0 win against
Dallas FC in a clash dubbed 'Railway Line Derby.'
Masaa dominated first half play but unlucky Dallas took control of the game on resumption.
Masaa are poised to meet Allin Jua-Kali in the second semifinals at the venue on Sunday. Kingstone FC will take on Umeme Bees FC in the first clash on Saturday.
This year's edition is dedicated to the late Kothbiro CEO Stephen Ogos who passed away during the initial stages of the tournament.
READ MORE: Kenya Morans Spear Morocco To Romp Into FIBA Afrocan Final
The contest began with 51 teams, allowing clubs that made it to the round of 16 last year to proceed automatically to the group stage.
Kothbiro has nurtured some of the greatest stars in Kenyan football including former Harambee Stars captain Mike Okoth, Jamal Mohamed, former Bandari coach Rishadi Shedu and K'Ogalo's Kevin Omondi.
Over the years the tournament has evolved to be the bedrock of Kenyan football as it has brought together hundreds of teams, thousands of footballers and tens of thousands of fans from different corners of Nairobi and its environs.