Ikpeba, Kanalelo: Harambee Stars Are 2019 AFCON Dark Horses
Apr 13 - by Erick Ochieng for SportPesa News
The former continental stars are confident Kenya will boosted in the tournament by the presence of Tottenham Hotspur FC defensive midfielder, Victor Wanyama who has a glittering profile in the English Premier League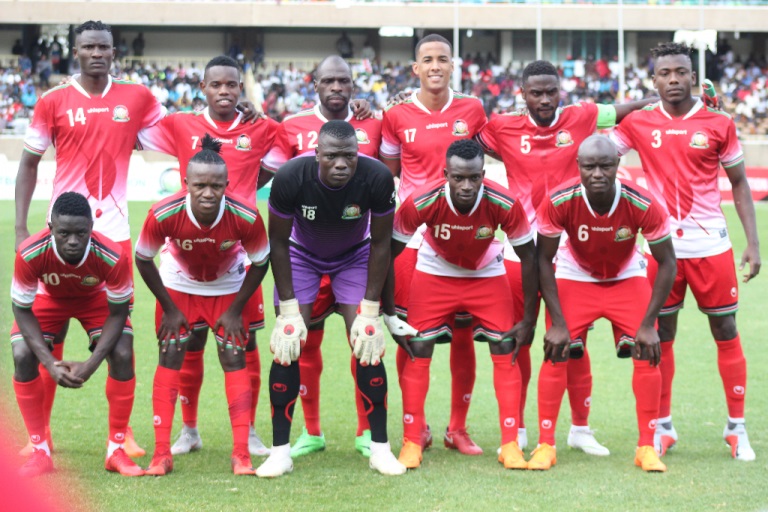 Former Namibia International, Ronnie Fillemon Kanalelo and retired Super Eagles striker, Victor Ikpeba believes Harambee Stars are the 2019 AFCON Group C dark horses
Musa Otieno who captained Kenya in the 2004 AFCON in Tunisia, has, however, warned the players not to rest on their laurels following the Friday draw
Former national head coach, Jacob 'Ghost' Mulee who led Harambee Stars to a 3-0 demolition of Burkina Faso in Tunisia says it all boils down to good preparations and right frame of mind for a team to perform in a high caliber tournament like the AFCON
CAIRO, Egypt- Former Namibia International, Ronnie Fillemon Kanalelo and retired Super Eagles striker, Victor Ikpeba believes Harambee Stars are the 2019 AFCON Group C dark horses.

The retired continental stars are confident Kenya will be boosted in the tournament to run in Cairo, Egypt on June 21 to July 19 by the presence of Tottenham Hotspur FC defensive midfielder, Victor Wanyama who has a glittering profile in the English Premier League.
"Senegal have Sadio Mane and Harambee Stars have Wanyama, I think the fear will be cancelled. I believe Wanyama's presence will be a big moral booster to Kenya in their clash with Tanzania who are their fiercest rivals," Kanalelo underlined on global television channel, SuperSport after the Friday draw.
Kanalelo famously denied Harambee Stars a chance to play in the Burkina Faso 1998 AFCON when he made a string of unbelievable saves that earned Namibia a 1-0 win at MISC Kasarani on June 21, 1997. Gevertius Uri Khob scored the winner in the 35th minute from a counter. The result saw Namibia join Cameroon in the AFCON as runners-up in Group 5 on seven points with Stars finishing bottom with five. Kenya had 35 shots on target. It was Namibia's first and only AFCON appearance until they qualified for Egypt 2019.
MUST READ: Kenya, Tanzania Land In Group C Of 2019 AFCON Draw In Egypt
Ikpeba, who was in the Nigeria Super Eagles team that was famously held to a 1-1 draw by Stars at Kasarani in the qualifiers for the 1998 World Cup, took his time to warn Algeria and Senegal not to underrate Kenya terming the latter as the group dark horse.
"Senegal and Algeria should have reasons to be afraid, from what we saw in the qualifiers Harambee Stars are no longer underdogs in Africa," he emphasised.
Musa Otieno who captained Kenya in the 2004 AFCON in Tunisia, has, however, warned the players not to rest on their laurels following the outcome of the draw.
He is of the opinion that Kenya will be under pressure to perform in Egypt owing to the continental rankings of Senegal and Algeria.
"Group C is not easy, it's actually very tough and challenging. Any team can progress to the next round.
MUST READ: No Real Madrid Move For Neymar, He's At PSG To Stay, Father
"We will play Senegal who are among the best teams in the continent. Our encounter with Tanzania will be actually a derby, so we have to be very cautious because the neighbors are out to inflict untold revenge," Otieno warned.
"Our players should prepare and focus to tackle one game at a time. I believe they can overcome the preliminaries with total support that Football Kenya Federation (FKF) is already extending to the national team," he added.
Former national head coach, Jacob 'Ghost' Mulee who led Harambee Stars to a 3-0 demolition of Burkina Faso in Tunisia says it all boils down to good preparations and right frame of mind for a team to perform in a high caliber tournament like the AFCON.
"Harambee Stars financial worries are now over, the focus is for the players to win matches. This is where we are at the moment and our focus should be on it.
"I believe we are capable of making it to the next round of the tournament," Mulee underscored.
MUST READ: Rachier Confident Gor Will Revenge On Berkane, Dispels Travelling Rumours
Stanley Okumbi who is also a former Harambee Stars tactician, says Pool C is very fair and Kenya should focus to beat Algeria in their opening game at the Air Defense Stadium located in the Egyptian capital where the group will be based.
"In a tournament like this the first game is always crucial, we should win the three points to give us a boost before we face Tanzania and Senegal who are also beatable.
"I'm happy that the team is already getting full support from FKF and the Government who recently released KSh244 million to cater for logistics.
"Camping in France ahead of the tournament will also help us to acclimatize before the competition," Okumbi noted.
Renowned football analyst, Fred Arocho believes second round is achievable at the AFCON following Harambee Stars performance in the qualifiers where the team beat continental powerhouse Ghana in the first leg in Nairobi before destroying Walywa Antelopes of Ethiopia at Kasarani to finish second in Group F on seven points behind Ghana who topped the standings on nine.
MUST READ: Inspired Ezekiel Omullo Seeks Fourth Victory In Orlen Warsaw Marathon
"It was a tough pool but we sailed through, this is a clear indication that we have come of age. All that FKF needs to do is to ensure the team prepares well and their financial needs are met," highlighted Arocho.