Inspired Ezekiel Omullo Seeks Fourth Victory In Orlen Warsaw Marathon
12th April 2019 - by Erick Ochieng
The Kenyan won the PZU Warsaw Marathon, held annually in autumn, in 2015, 2016 and 2018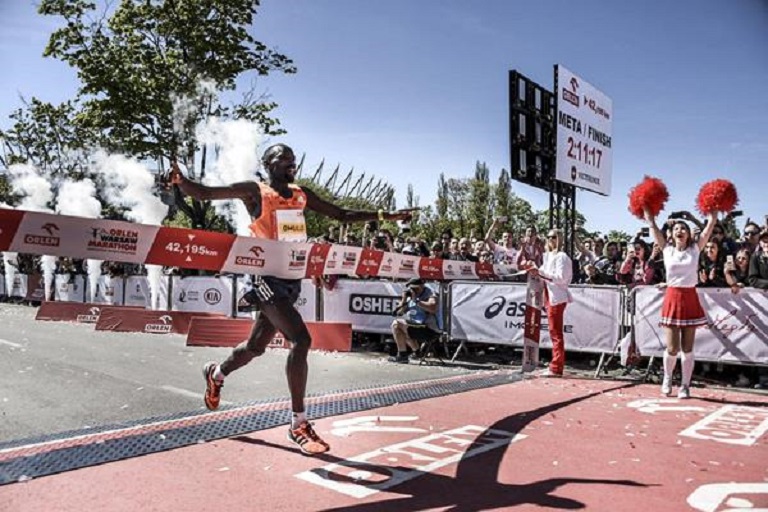 SUMMARY
Defending Orlen Warsaw Marathon champion Ezekiel Omullo will be seeking his fourth victory in the Polish capital when he contests the IAAF Silver Label road race this Sunday
Last year he contested the Orlen Warsaw Marathon but the result was the same: another victory
Jerotich won the 2017 Kosice Marathon in 2:27:34 and went on to represent Kenya at the 2018 Commonwealth Games, finishing fourth in brutally warm conditions
MONACO, France- Defending Orlen Warsaw Marathon champion Ezekiel Omullo will be seeking his fourth victory in the Polish capital when he contests the IAAF Silver Label road race this Sunday.

The Kenyan won the PZU Warsaw Marathon, held annually in autumn, in 2015 and 2016.
Last year he contested the Orlen Warsaw Marathon but the result was the same: another victory.
READ ALSO: Ramsey Strike Inspires Arsenal Past Napoli, Late Alonso Goal Lifts Chelsea
This course is generally considered to be quicker than the one used for the city's other marathon, where Omullo set his PB of 2:08:55 in 2016.
Warm conditions prevented fast times 12 months ago, but this weekend Omullo will be aiming to run quite a bit faster than his winning time of 2:11:17 last year.
"I am well prepared," he said at the pre-race press conference. "I want to retain my title and run quicker than 2:07."
READ ALSO: Kenyan Muay Thai Trio Land In Thailand To Pursue Tokyo 2020 Olympics Dream
Doing so would mean he'd challenge the course record of 2:06:55, but his main aim will be to hold off the likes of Ethiopia's Werkunesh Seyoum and Kenya's Cosmas Mutuku, who have respective PBs of 2:09:25 and 2:09:57.
Georgina Rono is the fastest in the women's field. Her 2:21:39 PB was set back in 2012, but the 34-year-old won in Riga last year in 2:28:22, a time that only one other woman in the field – Sheila Jerotich – has ever bettered.
Jerotich won the 2017 Kosice Marathon in 2:27:34 and went on to represent Kenya at the 2018 Commonwealth Games, finishing fourth in brutally warm conditions.
READ ALSO: Ronaldo On Target As Ajax Thwart Juventus Challenge
Poland's Izabela Trzaskalska will once again contest for a podium place, having finished third last year and second in 2017, clocking a PB of 2:29:56.
The 31-year-old, who finished 10th in the marathon at last year's European Championships, recently set a 10km PB of 33:38.