He Spent The Better Part Of His Adult Life Serving Football: CAF, FKF Mourn Swaleh
Mar 13 - by Mutwiri Mutuota for SportPesa News
Continental and local governing body's bosses gather in Nairobi to condole the family of fallen administrator who perished in the Ethiopian Airlines Flight 302 crash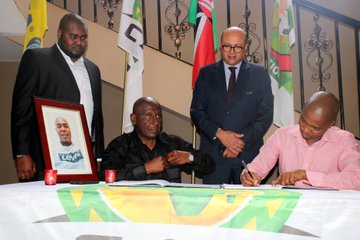 Until his sudden demise, Swaleh was the Football Kenya Federation (FKF) Lower Eastern Chairman having served as the secretary general of the national federation when it was known as Kenya Football Federation between 2000 and 2004
The delegation, led by former Tanzanian Football Federation President Leodegar Tenga, met the family of the late Swaleh at FKF House, Goal Project in Nairobi
CAF will mark a moment of silence before kick-off in all matches of Day six of the Champions League in memory of the victims of the Ethiopian Ailrines plane crash including Swaleh
NAIROBI, Kenya- Top continental and local football bosses gathered in Nairobi on Wednesday to mourn Hussein Swaleh M'tetu who perished in the Ethiopian Airlines Flight 302 disaster on Sunday.
Until his sudden demise, Swaleh was the Football Kenya Federation (FKF) Lower Eastern Chairman having served as the secretary general of the national federation when it was known as Kenya Football Federation between 2000 and 2004.
The Confederation of African Football (CAF) sent a delegation to Nairobi to grieve with the family of the fallen administrator who was engaged as a match commissioner by continental governing body for the period of 2018 to 2020.
Swaleh met his death on his way back home from duty as a match commissioner of the CAF Champions League clash between Ismaily of Egypt and TP Mazembe of Democratic Republic of Congo.
Having connected from Alexandria to Addis Ababa, he boarded the ill-fated Boeing 737 Max 8 jet that came down only six minutes after departure from Bole International Airport.
The delegation, led by former Tanzanian Football Federation President Leodegar Tenga, met the family of the late Swaleh at FKF House, Goal Project in Nairobi.
READ ALSO: Mourning Hussein Swaleh: 'A Football Administrator Par Excellence'
Adult life
"We are here, on behalf of CAF President Ahmad Ahmad, to pass our sincere condolences to the family and friends of Hussein Swaleh.
"He spent the better part of his adult life serving football, and that cannot go unnoticed," Tenga said in tribute to the official who was among the 32 Kenyans who perished in the crash.
FKF Officials, among them President Nick Mwendwa, Deputy President Doris Petra, Secretary General Robert Muthomi, and NEC Members Nabea Muriithi and Chris Amimo were also in attendance.
"I have lost, not just a branch chairman, but a personal friend, who has always supported my football development agenda.
"As a federation, we will stand with his family and will offer them support during this trying times," the FKF president who was the first to break the news of Swaleh's passing to the public on Sunday eulogised.
"I'm grateful to CAF and FKF for coming through to support us at such a time when we need that support most," one of Swaleh's son, Ashraf Hussein, who was at the gathering said.
Burial plans for Swaleh and his countrymen are on hold as authorities in Ethiopia do DNA matching of the bodies from the violent crash that happened in Bishoftu, 60km from Addis Ababa.
CAF will mark a moment of silence before kick-off in all matches of Day six of the Champions League in memory of the victims of the Ethiopian Ailrines plane crash including Swaleh.

READ ALSO: SportPesa Racing Point Team Revved Up For 2019 F1 Season