Former Bafana Bafana Star Modise Tips Senegal, Algeria To Storm AFCON Final
12th July 2019 - by Mutwiri Mutuota
Liverpool FC forward Sadio Mane is currently tied as the tournament's top scorer with three goals, alongside Nigeria's Odion Ighalo and Adam Ounas from Algeria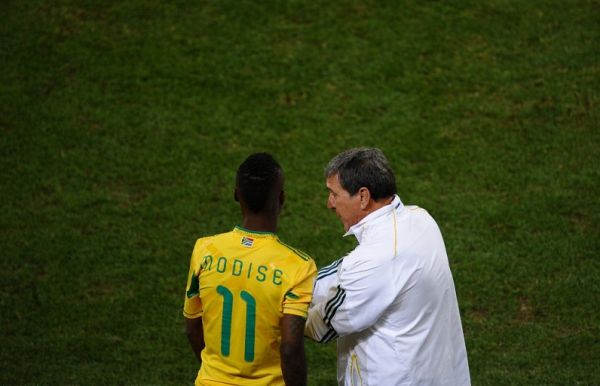 SUMMARY
Former Cape Town City FC midfielder Teko Modise has been playing a starring role as an 2019 Africa Cup of Nations analyst has tipped Sadio Mane to guide Senegal to a semi victory over Tunisia
The General, as Modise is popularly known as, also tipped the desert foxes of Algeria to engineer a win against Nigeria in the other semi-final set for Sunday, July 14
Modise reveals that though Tunisia are an unpredictable side after the 3-0 drubbing of Madagascar in the quarters, Senegal have what it takes to pip the North Africans to secure a place in the final

CAIRO, Egypt- Former Cape Town City FC midfielder Teko Modise has been playing a starring role as an 2019 Africa Cup of Nations analyst on SuperSport TV has tipped Sadio Mane to guide Senegal to a semi victory over Tunisia.
The General, as Modise is popularly known as, also tipped the desert foxes of Algeria to engineer a win against Nigeria in the other semi-final set for Sunday, July 14.
Modise reveals that though Tunisia are an unpredictable side after the 3-0 drubbing of Madagascar in the quarters, Senegal have what it takes to pip the North Africans to secure a place in the final.
"They stopped Madagascar from playing their passing game by pressing high up the pitch with aggression and making them uncomfortable in possession.
"It was the first time anyone pressed that way against this Madagascar team and it proved incredibly effective," Modise revealed.
MUST READ: Police Salute Kariobangi Sharks Heroes In Kits For Africa Drive
Liverpool FC forward Sadio Mane is currently tied as the tournament's top scorer with three goals, alongside Nigeria's Odion Ighalo and Adam Ounas from Algeria.
Modise went on to state the importance of Mane to Senegal's quest for a maiden AFCON title but insisted that he would need to rediscover his goal-scoring form if they are to achieve that.
"Mane is the driving force behind this Senegal side and looks to be the potential winner of the African Player of the Year award. He wasn't at his best in the quarter-finals, every time he was involved in play Senegal looked dangerous and he laid on the winning goal for Gueye.
"With him inspiring this team they look like they could be the hungrier outfit and I can see them winning 1-0," the former Bafana Bafana midfielder underlined.
RECOMMENDED READ: SportPesa News Transfer Juice: Arsenal Dealt Fraser Blow, Griezmann To Barca Almost Done
Algeria, who have looked a more solid outfit than Nigeria since the tournament started, remain favorites having only conceded one goal from open play throughout the duration of the continental showpiece.
"They work very hard as a team and it is very difficult to break them down. They always threaten to score more than one goal during the game and will test the Nigerian defence.
"With Nigeria we know that they are very good down the wings with Ahmed Musa down the left and the young left-footer Samuel Chukwueze down the right. Chukwueze showed his goal threat with the opener against Bafana Bafana.
"I can see Algeria coming out on top in this one with a predicted scoreline of 1-0 or 2-1," Modise added.