FKF: Stars AFCON Heroes Have Received Share Of KSh50m Ruto Pledge
10th April 2019 - by Erick Ochieng
Harambee Stars (seven points) finished second overall behind Black Stars of Ghana who topped Group F on nine as Ethiopia ended the contest last on one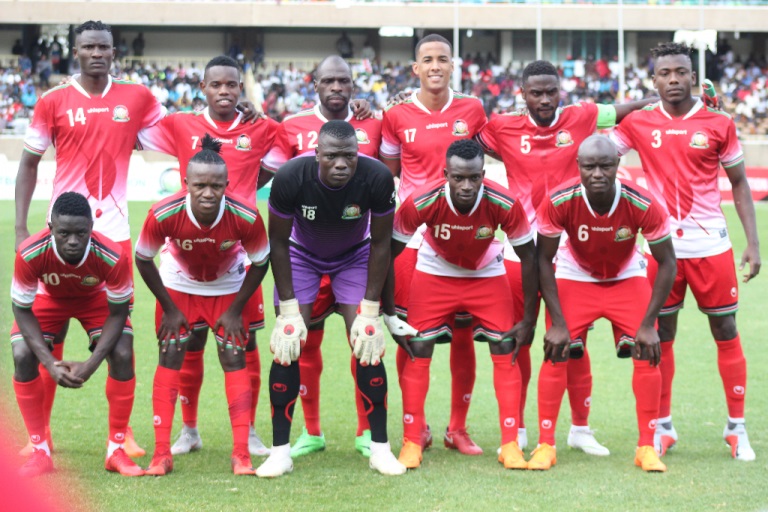 SUMMARY
Harambee Stars players who led the team to the 2019 AFCON finals can smile all the way to the bank after a KSh50m pledged to them by Government was wired to their accounts
Deputy President, William Ruto, pledged the money to the national team when he visited the players and the technical bench at Moi International Sports Center Kasarani in Nairobi on October 12 ahead of Harambee Stars AFCON qualifiers return leg against Walya Antelopes of Ethiopia
Kenya went ahead to beat Ethiopia 3-0 at the venue to qualify for the Africa football showpiece slated for Egypt, Cairo on Jun 21 to Jul 19, 2019
NAIROBI, Kenya- Harambee Stars players who led the team to the 2019 AFCON finals can smile all the way to the bank after a KSh50m pledged to them by Government was wired to their accounts.

Football Kenya Federation (FKF) confirmed on Wednesday afternoon that the money promised to them by Deputy President Dr. William Ruto ahead of their AFCON qualifier against Ethiopia had been distributed amongst the players.
"We want to sincerely thank the government not only for the release of the funds but also for the unwavering support we continue to receive around our national teams," FKF President Nick Mwendwa underlined.
MUST READ: Government Pledges KSh50 Million If Stars Dim Ethiopia
Ruto pledged the money to the national team when he visited the players and the technical bench at Moi International Sports Center Kasarani in Nairobi on October 12 ahead of Harambee Stars AFCON qualifiers return leg against Walya Antelopes of Ethiopia.
Kenya went ahead to beat Ethiopia 3-0 at the venue to qualify for the Africa football showpiece slated for Egypt, Cairo on Jun 21 to Jul 19, 2019.
Harambee Stars (seven points) finished second overall behind Black Stars of Ghana who topped Group F on nine as Ethiopia ended the contest last on one.
MUST READ: Shujaa Eye Singapore 7s Quarters In Memory Of Epic 2016 Cup Win
The government last week released KSh244 million, including the pledged funds, to cater for Harambee Stars preparation ahead of Egypt.
"FKF takes this earliest opportunity to thank the government led by His Excellency the President of the Republic of Kenya Uhuru Kenyatta, His Deputy Dr. William Ruto and Sports Cabinet Secretary Amina Mohammed for the approval and release of the funds," Mwendwa underscored.
"Additionally, the remainder of the funds will be used to cater for the team's logistics including a scheduled camp in France and player allowances all through to the final tournament.
MUST READ: Here Are Three Things We Learned From Tottenham, Man City UCL Clash
"It is our strong belief that the Ksh244 million, further demonstrates the government's commitment to supporting football and the long term growth of the sport," Mwendwa added.
Harambee Stars are scheduled to travel to France on May 23, 2019, for a three-week training camp, before heading to Egypt on June 15, for one-week acclimatization, ahead of the tournament.