Durant Number 35 Jersey Retired, Kawhi Torn Between Lakers, Clippers
2nd July 2019 - by Erick Ochieng
Toronto Raptors are trying to keep together their championship squad while the Los Angeles, in Leonard's home town, have a similar young team that would offer him a starring role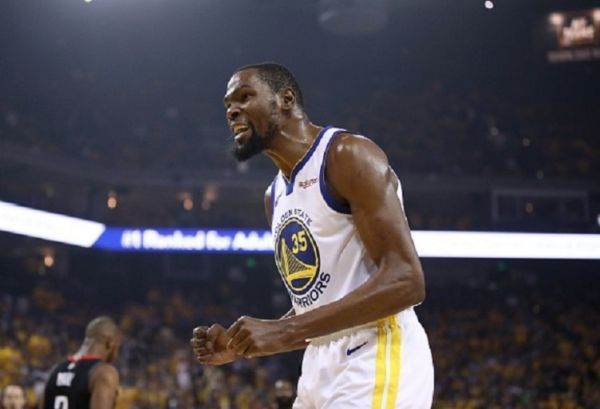 SUMMARY
At the same time, Kawhi Leonard's uncertain NBA free agency fate kept three teams in limbo Monday as players continued to make deals to shake the league landscape
The 30-year-old Durant agreed to a free agent deal with the Brooklyn Nets on Sunday, joining Kyrie Irving and DeAndre Jordan in blockbuster dealmaking moves to make the New York club a title contender once Durant recovers from a ruptured Achilles tendon
The Lakers were reportedly looking at D'Angelo Russell, who went to the Golden State Warriors for four years at $117 million after trading Andre Iguodala to Memphis
SAN FRANCISCO, United States- Golden State Warriors co-chairman and chief executive Joe Lacob said Monday that as long as he runs the NBA club, consider departing star Kevin Durant's number 35 jersey.

At the same time, Kawhi Leonard's uncertain NBA free agency fate kept three teams in limbo Monday as players continued to make deals to shake the league landscape.
Players and teams began agreeing to terms on new deals Sunday even though no contracts can be signed until next Saturday.
Leonard, who led the Toronto Raptors to the NBA title last month, was expected to meet with the Los Angeles Lakers and Los Angeles Clippers plus the Raptors this week before making a decision on where to sign a new deal.
READ MORE: Raptors NBA Title-Winning Hero Kawhi Leonard In LA Lakers Talks
The 30-year-old Durant agreed to a free agent deal with the Brooklyn Nets on Sunday, joining Kyrie Irving and DeAndre Jordan in blockbuster dealmaking moves to make the New York club a title contender once Durant recovers from a ruptured Achilles tendon.
Durant won two NBA titles in his first two seasons with Golden State in 2017 and 2018 and helped get the Warriors into last month's NBA Finals, where they lost to the Toronto Raptors.
Durant missed nine games in the playoffs with a calf injury then played only 12 minutes in game five of the NBA Finals before rupturing his right Achilles tendon, an injury that required surgery and is expected to sideline him for the entire 2019-20 season.
"Today, as he starts a new chapter in his incredible career, we thank KD for all of his contributions, for being an integral part to one of the most prolific runs in NBA history and wish him well as he continues his Hall of Fame journey," Lacob said in a statement.
"As long as I'm co-chairman of this team, no player will ever wear number 35 for the Warriors again."
That should effectively mean Durant's number will be retired long-term by the club, with Lacob's team moving to a new $1 billion home arena in San Francisco next season.
READ MORE: Matasi Heroics Fall Short In 10-Man Harambee Stars Collapse To Mane's Senegal
"Three years ago, we were thrilled with the arrival of Kevin Durant, a transformative NBA player and one of the best to ever play the game," Lacob said.
"He provided our fans and franchise with numerous highlights during his stay here -- two NBA championships, two NBA Finals MVPs, three trips to the Finals, unparalleled efficiency -- and carried himself with class and dignity both on and off the court."
Lacob also cited Durant winning the NBA's annual Community Assist Award last year for philanthropic efforts.
The Raptors are trying to keep together their championship squad while the Clippers, in Leonard's home town, have a similar young team that would offer him a starring role.
The Lakers, who have cleared enough salary cap space, to make a top offer for the two-time NBA Finals Most Valuable Player, have a chance to form a super-team with LeBron James and Anthony Davis.
The Lakers were reportedly looking at D'Angelo Russell, who went to the Golden State Warriors for four years at $117 million after trading Andre Iguodala to Memphis.
READ MORE: Giants Fall: Teenagers Auger-Aliassime, Gauff Steal Wimbledon Opening Show
Russell will partner Steph Curry in the Warriors' backcourt until Klay Thompson, who agreed to terms Monday on a five-year deal worth $190 million to stay with Golden State, returns from a torn knee ligament.
Also reportedly waiting on Leonard's decision is Toronto guard Danny Green, who is being wooed by Dallas but could figure into the plans of the Lakers and Clippers as well.
Other free agents looking for deals include Golden State center DeMarcus Cousins and Lakers point guard Rajon Rondo.
The Lakers did land their first free agent Monday, 3-point shooter Troy Daniels on a one-year deal for $2.1 million.The Clippers agreed to an extension with Patrick Beverly at three years for $40 million and got forward Mo Harkless in a deal with Miami.
READ MORE: Safari Rally 'Has Met All FIA Requirements' For WRC Return- Sport PS Kaberia
"Anybody got kawhi number??" Harkless tweeted.
In Sunday's biggest reported opening deals, Brooklyn secured two-time NBA Finals MVP Kevin Durant, who ruptured an Achilles tendon as Golden State lost in the NBA finals, and Kyrie Irving from Boston. Each accepted contracts below the maximum so the Nets could also grab center DeAndre Jordan, who was with Dallas last season.