Charging Lionesses Set Argentina Date In Hong Kong 7s Quarterfinals
4th April 2019 - by Mutwiri Mutuota
Janet Okelo second half heroics led Kenya past Papua New Guinea to land them at the top of Pool B with three wins out of three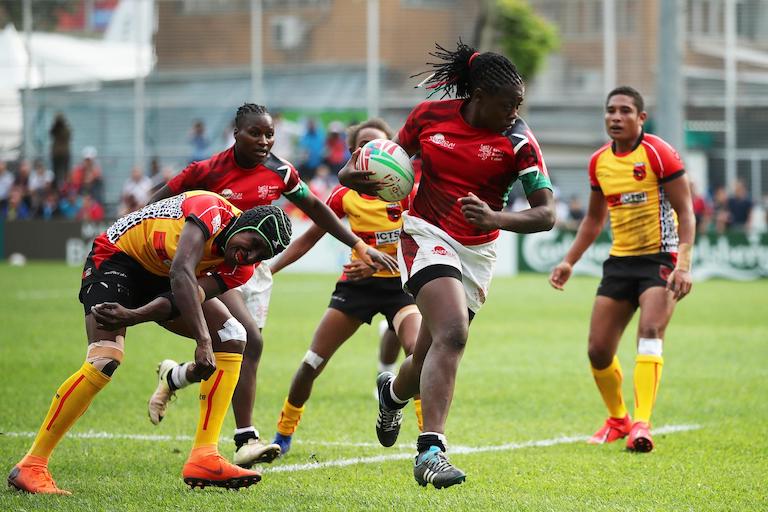 SUMMARY
Lionesses capped a memorable day by topping Pool B after edging Papua New Guinea 20-10 in their final match having prevailed over neighbours Uganda and hosts Hong Kong
Elsewhere in the pool Brazil secured top spot with three consecutive victories though their final meeting with Las Pumas went from comfortable to edge of the seat
The second day of the competition will start at 10:00 local time (GMT+8), the semi-finals will take place in the early afternoon and women's qualifier final starts at 16:54 local time (GMT+8)
HONG KONG, China- Kenya Lionesses will continue their quest to hunt down Core Status for the 2019/20 HSBC World Rugby Sevens Series on Friday when they take on Argentina in the quarterfinal of the women's qualifiers in Hong Kong.
Lionesses capped a memorable day by topping Pool B after edging Papua New Guinea 20-10 in their final match having prevailed over neighbours Uganda and hosts Hong Kong.
Papua New Guinea thus finished second and will join Kenya, Brazil, Kazakhstan, Japan, Scotland, Hong Kong and Argentina in the last eight.
Only Japan and Brazil matched the Lionesses' feat of scooping nine out nine in the group fixtures.
MUST READ: Lionesses Slap Hong Kong, Uganda To Keep World Series Dream Rolling
The bid to top Pool B went down to the final match between Kenya and Papua New Guinea. Both sides had pushed past hosts Hong Kong and Uganda in their first matches to set up the winner-takes-all clash for top spot.
They went into the pause locked at 10 points apiece before Janet Okelo struck. Okelo was their top try-scorer at the Rio 2016 Olympic Games and her late double proved to be vital in securing the 20-10 result. Tournament hosts Hong Kong outplayed Uganda in their final match, much to the delight of the home fans.
Hosting cycle
Dubai, Cape Town, New Zealand, Sydney, Hong Kong and Paris will host combined men's and women's sevens events from next season onwards as part of the next four-year world series hosting cycle.
The USA Women's Sevens will again be hosted in Glendale, with Langford in Canada also remaining as a standalone event next season.
MUST READ: Disciplined Leopards Roar Over Chemelil, Nzoia Draw Blanks With Rangers
Pool C provided a dramatic finish to the final day. First Poland, after two narrow losses, secured their maiden victory in the competition against Kazakhstan.
Despite being 5-0 up at the break, they left it late. With just seconds remaining they were 10-5 behind before Anna Klichowska's second try of the match, and Karolina Jaszczyszyn's easy conversion, clinched it.
Elsewhere in the pool Brazil secured top spot with three consecutive victories though their final meeting with Las Pumas went from comfortable to edge of the seat.
Reuben Samuel's side just had enough to end up as 26-24 victors despite holding a 26-5 cushion at one point.
The second day of the competition will start at 10:00 local time (GMT+8), the semi-finals will take place in the early afternoon and women's qualifier final starts at 16:54 local time (GMT+8).
MUST READ: SPL Wrap: Vihiga Dent Sofapaka's Chase Of Gor, Sharks Blow Lead