Aussie Open: Nadal Hyped About New Serve, Kerber Cautiously Motivated
12th January 2019 - by Louis Kalinga
The world number two limped away from Melbourne Park a year ago, forced to retire in pain from his quarter-final with Marin Cilic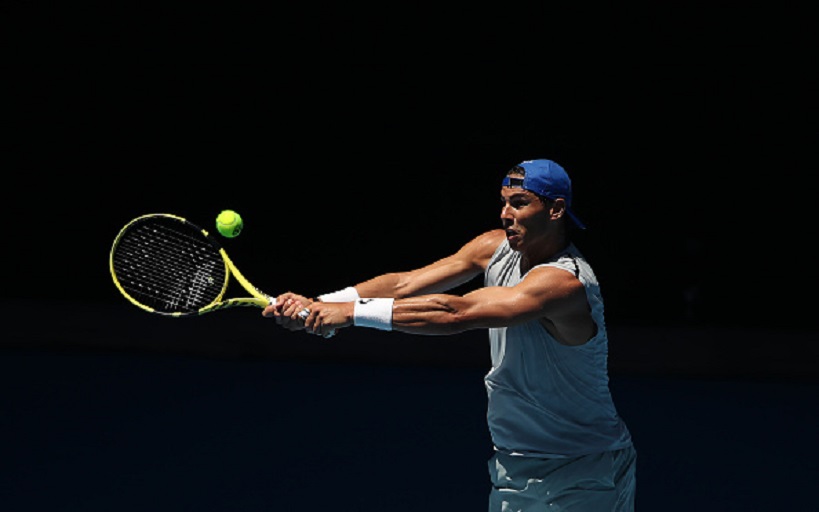 SUMMARY
Rafael Nadal revealed Saturday he was back to full fitness and has a brand new serve to unleash at the Australian Open
The 17-time Grand Slam champion missed most of the next three months and cut short his season to have surgery on a troublesome foot injury
Nadal said he was sad to hear another member of tennis fabled 'big four', Andy Murray, was to quit tennis this year, possibly as early as next week, with chronic hip pain
Wimbledon champion Angelique Kerber Saturday said her confidence and motivation were sky high and her form good, but she is thinking no further than round one of the opening Grand Slam of the year

MELBOURNE, Australia- Rafael Nadal revealed Saturday he was back to full fitness and has a brand new serve to unleash at the Australian Open.
The world number two limped away from Melbourne Park a year ago, forced to retire in pain from his quarter-final with Marin Cilic.
The 17-time Grand Slam champion missed most of the next three months and cut short his season to have surgery on a troublesome foot injury.
He pulled out of a Brisbane warm-up event with a slight thigh strain but declared Saturday his troubles were behind him.
"I feel good. If I am not feeling good, I will not be here," Nadal told reporters two days before the start of the first Grand Slam of the year.
"I have good feelings in terms of the surgery. After surgery, after months without competing, having trouble practising, of course there are always issues when you come back.
"But it's nothing new for me," added Nadal who admits he has to manage the workload on his creaking 32-year-old body, battered by years of his all-action style.
To better cope, he has remodelled his serve to help extend his career.
"There are always things to improve," said the Spaniard, who faces Australian wildcard James Duckworth in the first round.
"The serve was always a thing that I tried to improve, and I think I did.
"I am happy with the motivation to do something new. If I am able to make that happen in a good way, that hopefully it will give me the chance to help me on my game longer term.
"I didn't compete with this new serve, so let's see how it works. I am confident it's going to work well."
His 2018 season ended with another injury retirement in the US Open semi-final but Nadal still managed to win five tournaments in a truncated season, including a record-extending 11th French Open to leave him just three Grand Slams behind Roger Federer's all-time record of 20 majors.
Nadal said he was sad to hear another member of tennis fabled 'big four', Andy Murray, was to quit tennis this year, possibly as early as next week, with chronic hip pain.
Nadal said he could relate to it having had his own succession of injury issues over the years, but he had always been focused on getting back on court if at all possible.
"My only goal is always to have been to keep going," he said. "That's the only way that you can keep having confidence and hope for a good comeback in terms of health.
"But I know that tennis is not forever. I want to do it as long as I can and give myself the best possibilities to fight for the things really I am passionate about, and to keep doing the things that I really enjoy doing.
"When the day arrives I cannot do it will be the day to go and do another thing."
Angelique Kerber
Wimbledon champion Angelique Kerber Saturday said her confidence and motivation were sky high and her form good, but she is thinking no further than round one of the opening Grand Slam of the year.
Despite her reticence to look too far forward, the world number two is seen as one of the favourites for the Australian Open crown, carrying good momentum into the tournament after a stellar 2018.
The 30-year-old has the experience to make another deep run at Melbourne Park, having won in 2016.
"Now we have a new season coming, and the motivation is really high again," she said ahead of her first round clash with Poland's Polona Hercog.
"You know, for me it's important to be going on court and trying to make the transit from my practice sessions to the match ones.
"I was really working hard in the pre-season, and now I'm really looking forward to having the competition and playing matches again," added the German star.
Kerber fell to world number one Simona Halep 9-7 in the third set of an epic semi-final battle last year but was not prepared to outline her aspirations for 2019.
"I'm not putting too much expectation on me, with the results and everything like that," she said.
"I'm here to, like always at the Grand Slams, find my rhythm, play the first round, try to do my best, then look day by day.
"I know that I am playing good right now, that I had good matches, that I have the confidence. But still it's not easy being here. The tournament starts from zero."
Kerber is working with new coach Rainer Schuttler, who reached the Australian Open final in 2003 where he lost to Andre Agassi.
German Tennis Association's Barbara Rittner, who helped develop Kerber as a teenager, said recently that Schuttler would add more "daring" to her game.
Kerber said he was her first coach who actually played at the top level, and this was proving invaluable.
"He knows how it is to being under pressure, to having emotions on court. He understands my thinking," she said.
"You know, on court he is also a hard worker. He loves the sport like me, we are both really trying to do our best. We have the passion."