Africa Games: Yego Reclaims Javelin Crown As Malkia Strikers Retain Volleyball Title
31st August 2019 - by Erick Ochieng
Kiprop Robert, Edward Pingua Zakayo and Richard Yator led a 1,2,3 sweep for Kenya in men's 5000m finals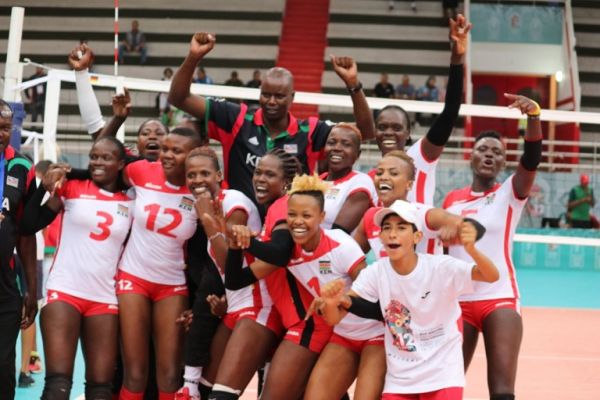 SUMMARY
Kenya lost the opening set to the  Cameroonians 12-25 but rose to win the next three 25-15, 26-24 and 25-21 in the nervy encounter
Yego was closely followed by countrymate Alexander Kiprotich who recorded 77.50 to win silver as bronze went to Nnamdi Prosper of Nigeria (73.24)
Kiprop Robert, Edward Pingua Zakayo and Richard Yator led a 1,2,3 sweep for Kenya in men's 5000m finals
RABAT, Morocco- Malkia Strikers rallied from behind to beat stubborn Cameroon 3-1 to retain the women's volleyball crown at the ongoing Africa Games in Rabat, Morocco on Friday night.

At the same time, former world javelin champion Julius Yego threw 87.73m to reclaim continental title in the games.
Kenya lost the opening set to the Cameroonians 12-25 but rose to win the next three 25-15, 26-24 and 25-21 in the nervy encounter.
READ MORE: Malkia Strikers Bury Nigeria To Storm Africa Games Volleyball Finals
"I'm happy with the victory, the girls played according to instruction to deliver the gold. I urge them to keep focus as we have many battles ahead including the Olympics qualifiers," underlined newly appointed Malkia Strikers head coach Paul Bitok.
Yego was closely followed by countrymate Alexander Kiprotich who recorded 77.50m to win silver as bronze went to Nnamdi Prosper of Nigeria (73.24m).
"It was a special day for me wining gold for the second time in the games here in Rabat. I thank God for the good health after battling with injuries in the last two years," underlined Yego who is also the Team Kenya captain.
READ MORE: World Record-Holder Chepkoech Rules Zurich Diamond League
"I can't forget the support from my family and the fans who contributed to this victory, see you in Doha World Championships next month," he underscored.
Kiprop Robert, Edward Pingua Zakayo and Richard Yator led a 1,2,3 sweep for Kenya in men's 5000m finals.
World U-18 champion George Manangoi and Charles Cheboi bagged gold and bronze in men's 1500m in that order as Kiprop Jebiwott and Mary Kuria won gold and silver in the women's category.
Mathew Kiplagat Sawe won silver in men's high jump.