AFC Leopards Officially Launch Much-Awaited New Umbro Kit
8th July 2019 - by Mutwiri Mutuota
Fans to get a chance to purchase original merchandise when commercial distribution rolls out soon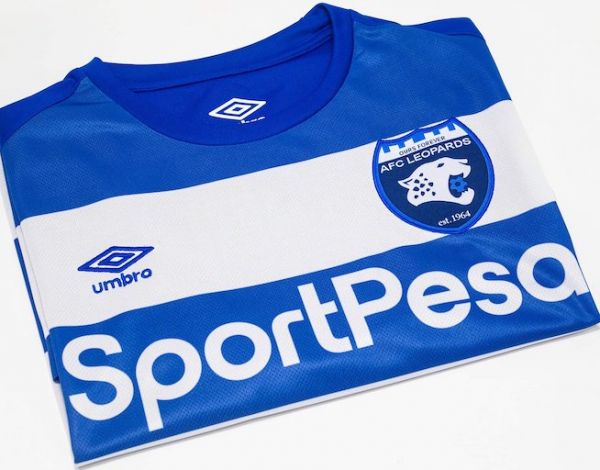 SUMMARY
Umbro and Leopards, who won the 2017 SportPesa Shield domestic cup title for their latest silverware, entered into partnership in January this year
Leopards will take on Kakamega Homeboyz FC in their 2019/20 SPL opener at the Bukhungu Stadium in Kakamega in a 'western derby' on September 1 to kick off their charge for a first league title since 1998

NAIROBI, Kenya- SportPesa Premier League (SPL) outfit, AFC Leopards SC launched their new kit on Monday as they seek a fresh start in the forthcoming 2019/20 season.
The 12-time league and 10-time cup winners unveiled their new uniform in Nairobi on Monday with the commercial distribution set to start soon across the country where fans will get the chance to purchase original merchandise.
"Out kit is finally here. Our new home jersey is finally here. In partnership with UK's kitting giants Umbro we will don the traditional blue and white hooped jerseys famously known as 'Rio Tinto'," the club announced on Monday.
RECOMMENDED READ: Thank You Kenya: Everton Boss Silva, Captain Baines Hail Sharks Performance
Umbro and Leopards, who won the 2017 SportPesa Shield domestic cup title for their latest silverware, entered into partnership in January this year where the British kit manufacturer becoming the exclusive technical partner of the club, supplying the playing squad with high performance competition, training, and off field apparel.
Club resurgence
The Leopards' technical and management staff will be supplied with branded apparel, equipment, and luggage with the products also available for fans to purchase.
"We feel AFC Leopards is the perfect club to partner with for our first deal in Kenya. It goes without saying that we are excited to be associated with a club that has had so much success on the pitch.
"We hope the partnership will be the start of the club's resurgence to the top of Kenyan football," Donothan Bell of Umbro South Africa remarked at the time.
RECOMMENDED READ: Seasoned Forward Allan Wanga Retires From International Football
On June 23rd, Leopards members elected, Dr. Dan Shikanda as their new chairman with retired club hero promising to help the SPL crown and a first league title in over 20 years.
"To achieve that, I will be speaking to the coach next week so that he can share with me a list of five quality signings. I see that the club accounts are in tatters and thus we will have to look for money from somewhere," Shikanda pledged.
Leopards will take on Kakamega Homeboyz FC in their 2019/20 SPL opener at the Bukhungu Stadium in Kakamega on September 1 in a 'western derby' to kick off their charge for a first league title since 1998.