Seasoned Forward Allan Wanga Retires From International Football
8th July 2019 - by Louis Kalinga
Since his debut in 2007, the seasoned forward went on to make 44 appearances for Kenya and scored a respectable 22 goals in that time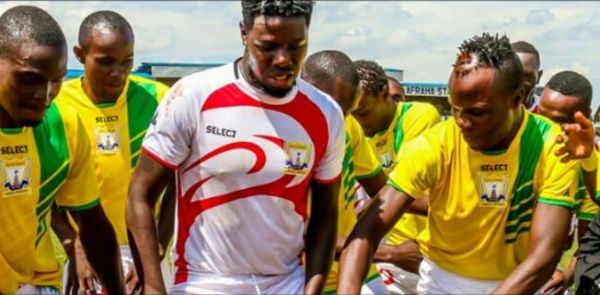 SUMMARY
Harambee Stars striker Allan Wanga announced his decision to retire from international football, one month after he was excluded from the final squad that took part in the Africa Cup of Nations tournament
Wanga has been a part of the national team for 12 years and his recent omission from the squad raised eyebrows as Kenyans wondered why Coach Migne would leave out the second highest scorer in the recently concluded SPL
Wanga, who is also the Kakamega County Sports Director, has stated that he will shift his focus to his job as well as helping his SPL side Homeboyz FC achieve greater heights

NAIROBI, Kenya- Harambee Stars striker Allan Wanga announced his decision to retire from international football, one month after he was excluded from the final squad that took part in the Africa Cup of Nations tournament in Cairo, Egypt.
Wanga has been a part of the national team for 12 years and his recent omission from the final squad raised many eyebrows as Kenyans wondered why Coach Sebastian Migne would leave out the second highest scorer in the recently concluded SportPesa Premier League (SPL) season.
The Kakamega Homeboyz FC captain scored 18 goals in the 2018/19 campaign, beaten only by eventual Golden Boot winner Enosh Ochieng' of Ulinzi Stars.
MUST READ: Sharks, Everton Gift Kenya Festival To Remember In Fitting Tribute To Kadenge
"For 12 years, I have had the singular privilege and great honour to represent my country on the football pitch.
"Together with the support of the team, the management and the fans at large, I believe I have represented my country to the best of my ability," Wanga explained.
Since his debut in 2007, Wanga went on to make 44 appearances for Kenya and scored a respectable 22 goals in that time.
Wanga, who is also the Kakamega County Sports Director, has stated that he will shift his focus to his job as well as helping his SPL side Homeboyz FC achieve greater heights.
READ ALSO: Overjoyed 'Flying Sikh' Chager Wraps Dramatic Safari Rally Triumph
"It's now time for me to pave way for other players who I believe will embody the spirit of Harambee as I trust I did. I wish the National Team the very best in their future endeavours and now transition from the pitch to the terrace as the team's biggest cheerleader.
"I will now dedicate my time to my county Kakamega and my club. Thank you FKF, thank you Kenya for the decade plus of togetherness," he concluded in a letter sent out to selected people from the Kenyan football fraternity.