Wounded Harambee Starlets In Tanzania Eager To Clinch CECAFA Title
14th November 2019 - by Louis Kalinga
The national women's football team arrived in Dar es Salaam, Tanzania on Wednesday afternoon for the senior championships slated for November 14-23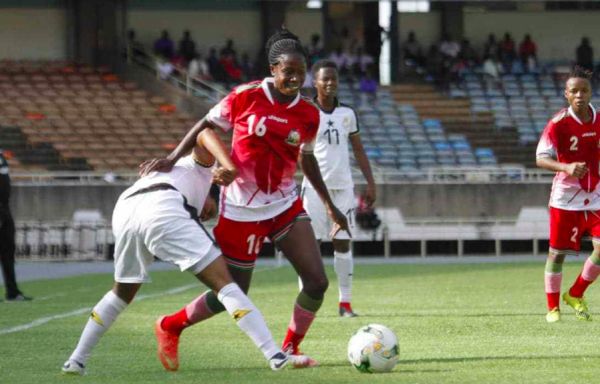 SUMMARY
Harambee Starlets coach David Ouma made it clear that the team will use the heartbreak of not making it to the Tokyo 2020 Olympics as motivation in their quest for a maiden CECAFA title
This comes barely three days after Starlets lost 1-0 in Zambia to make an aggregate score of 3-2 to stumble out of the Olympics qualifiers

NAIROBI, Kenya- Harambee Starlets coach David Ouma made it clear that the team will use the heartbreak of not making it to the Tokyo 2020 Olympics as motivation in their quest for a maiden CECAFA title.
The national women's football team arrived in Dar es Salaam, Tanzania on Wednesday afternoon for the senior championships slated for November 14-23.
This comes barely three days after Starlets lost 1-0 in Zambia to make an aggregate score of 3-2 to stumble out of the Olympics qualifiers.
"We must use the disappointment as a motivator when we launch our CECAFA challenge. We have to try redeem ourselves because we have played well against teams from different regions and we are a better side now.
"We have planned accordingly and we are confident that things will go well for us," Ouma stated.
With the absence of the more experienced players such as Neddy Atieno and Corazone Aquino, younger players have had to step up and a perfect example is Mwanahalima Adam.
Adam scored in the thrilling 2-2 home draw against Zambia and she echoed her coaches sentiments stating that they have gathered enough confidence to come home with the CECAFA title.
"We have learnt a lot from our Olympics qualifying campaign and we will put that all into our next assignment.
"I want to assure all Kenyans that we are ready and we will do our best not to let them down," Adam asserted.
In the 2016 edition of the tournament, Starlets put on a great performance to reach the final where they lost to neighbours Tanzania, before they finished fourth in Kigali last year.