US Open: Nadal Through To Third Round, Williams Sisters Out Of Doubles
2nd September 2022 - by Louis Kalinga
Nadal overcame a freak injury scare when he accidentally hit himself with his own racquet on Thursday as Serena Williams saw one chapter of her epic tennis journey close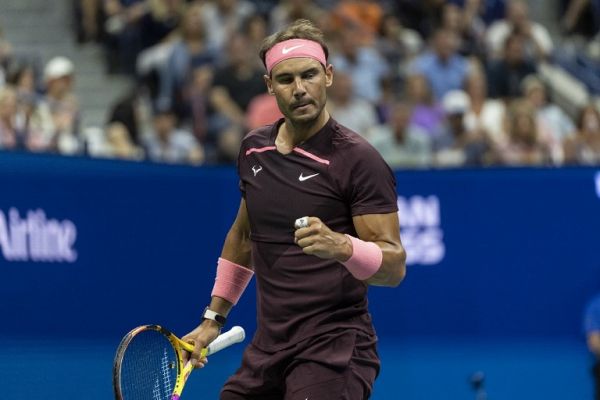 SUMMARY
Rafael Nadal defeated Italy's Fabio Fognini 2-6, 6-4, 6-2, 6-1 but only after suffering a bizarre self-inflicted injury to progress to the third round of the ongoing US Open
The four-time champion, and holder of a men's record 22 Grand Slam titles, was hurt when his racquet bounced back off the court as he stretched for a ball and hit him squarely on the nose
For the first time since 2018, Serena and Venus Williams revived a partnership which has brought them 14 doubles titles at the majors
Rafael Nadal defeated Italy's Fabio Fognini 2-6, 6-4, 6-2, 6-1 but only after suffering a bizarre self-inflicted injury to progress to the third round of the ongoing US Open.

Nadal overcame a freak injury scare when he accidentally hit himself with his own racquet on Thursday as Serena Williams saw one chapter of her epic tennis journey close.
The four-time champion, and holder of a men's record 22 Grand Slam titles, was hurt when his racquet bounced back off the court as he stretched for a ball and hit him squarely on the nose.

The 36-year-old Australian and French Open champion dropped his racquet to the Arthur Ashe Stadium floor and sprinted to the sidelines where he lay on his back with his nose bloodied.

He required a medical timeout to have the wound tended before resuming with a bandage across the bridge of his nose.

"I was a little bit dizzy and it was a little bit painful," said Nadal, who said he had suffered a similar injury in the past caused by a golf club.

For the first time since 2018, Serena and Venus Williams revived a partnership which has brought them 14 doubles titles at the majors.
However, their hopes of collecting a third crown in New York were dashed in a 7-6 (7/5), 6-4 defeat to Czech pairing Linda Noskova and Lucie Hradecka.

The loss leaves 40-year-old Serena free to focus on what is widely expected to be the final singles campaign of her landmark 27-year career before retirement.
On Friday, the 23-time Slam singles winner will face Australia's Ajla Tomljanovic for a place in the fourth round.

Serena and her 42-year-old sister went down fighting, clawing back from 1-4 down in the second set before the Czech pair steadied the ship.