Two Hospitals In Kasarani Boosted By Generous SportPesa Foundation Donation
10th February 2022 - by Louis Kalinga
SportPesa through its foundation has stepped up maternal health care donations in Nairobi, handing the two facilities in the county with equipment to improve the quality and accessibility of services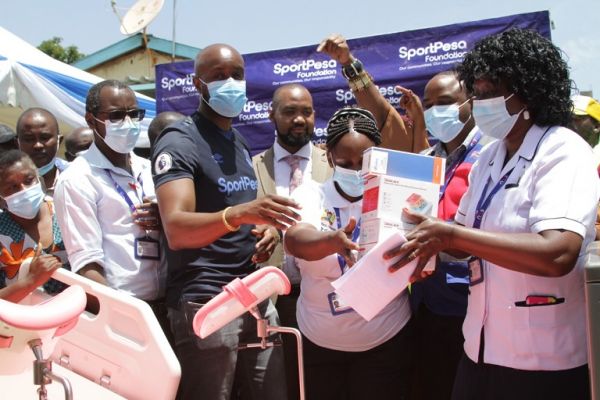 SUMMARY
Yet another two healthcare facilities, this time in Kasarani received hearty donations from the SportPesa Foundation on a sunny Wednesday morning
Led by the CEO Captain Ronald Karauri, the foundation pledged their continued support to maternal healthcare in the country, with 8 counties already beneficiaries of the initiative
At Njiru, the SportPesa Foundation gave a haemogram machine, an electric delivery bed, a patient monitor, commercial washing machine and BP monitors to the hospital's maternity wing

Yet another two healthcare facilities, this time in Kasarani received hearty donations from the SportPesa Foundation on a sunny Wednesday morning.
SportPesa through its foundation has stepped up maternal health care donations in Nairobi, handing the two facilities in the county with equipment to improve the quality and accessibility of services.
Led by the CEO Captain Ronald Karauri, the foundation pledged their continued support to maternal healthcare in the country, with 8 counties already beneficiaries of the initiative.
"We are doing our part as a corporate to enhance maternal health care which we feel is a very crucial area in health and needs all the support it can get from both the public and health sector.
"We all know how crucial our mothers are in this society and just being able to provide such basic needs to ease their load, is more than enough for us," Karauri stated.
At Njiru, the SportPesa Foundation gave a haemogram machine, an electric delivery bed, a patient monitor, commercial washing machine and BP monitors to the hospital's maternity wing.

"We were elevated to a level 4 facility in December, this means that we need to be offering all round basic medical services without referring patients elsewhere, to do this we need a well-equipped hospital so this is a very great gesture from SportPesa," said Rosemary Mideva, the head nurse at Njiru Level Four's maternity wing.
The company extended support to Kasarani Health Centre's Maternal and Child Health care section by donating a refrigerator, oxygen cylinder, salter scale, BP machines, height board, a cooker, delivery pack, a bed for emergency deliveries, surgical gloves and masks.

"This is a great day for this facility. The visit and donations from SportPesa means more than we can express. We are very grateful for all of this.
"This facility caters to hundreds of women monthly and now with the equipment received we can do more to offer adequate services to the community," Dennis Nthiga, the Facility in Charge stated.
This event comes two weeks after the SportPesa Foundation, together with brand ambassador Fatuma Zarika donated delivery beds, patient trolleys, procedure trolleys, patient monitors, pulse oxymeters and vital sign monitors were part of the donation given to the Kilifi County Teaching and Referral hospital.
Last year, SportPesa Foundation donated equipment to several public and mission hospitals in seven counties across the nation.
Homabay, Narok, Kiambu, Meru, Nairobi, Bomet and Tharaka Nithi were the counties that have benefitted from the noble initiative thus far.