The Government Inspector: Cheruiyot Now Inspired For Doha Gold After Work Promotion
19th September 2019 - by Erick Ochieng
The Commonwealth Games silver medalist says his strategy to realise his ambition will be to run the expected cutthroat race at the front in all laps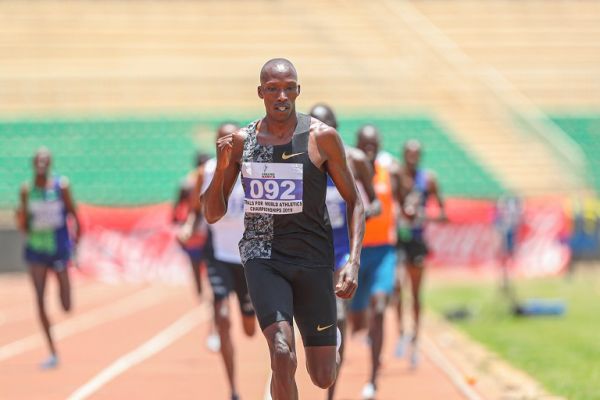 SUMMARY
Cheruiyot who until this week was a Constable, says his promotion at work has come with a lot of responsibilities
The 23-year-old believes Kenya has a strong squad for Qatar in the category despite the absence of Manangoi
While in Doha, the Diamond League triple champion will be joined by Manangoi's younger brother George who is  also the world U-20 champion, world junior record holder Ronald Kwemoi and 2016 world U-20 champion Kumari Taki who has replaced Manangoi in Team Kenya
NAIROBI, Kenya- World 1500m silver medalist Timothy Cheruiyot is inspired to go for gold at the forthcoming Doha World Championship in Qatar after being promoted to the rank of Inspector of Prisons by the Commissioner-General of Kenya Prisons Wycliffe Ogalo.

The Commonwealth Games silver medalist says his strategy to realise his ambition will be to run the expected cutthroat race at the front in all laps.
"Even though the defending champion Elijah Manangoi is out with injury, the contest will be tough due to the caliber of athletes who have qualified.
READ MORE: Sensational Cheruiyot Completes IAAF Diamond League Hat-Trick In Brussels
"I'm confident my current amazing form will help Kenya to retain the medal in Doha," he underscored.
Cheruiyot who until this week was a Constable, says his promotion at work has come with a lot of responsibilities.
"I want to thank my bosses for the raise. I'm motivated to work even harder to win more titles for the country," he underlined.
The 23-year-old believes Kenya has a strong squad for Qatar in the category despite the absence of Manangoi.
READ MORE: Coach Kirwa: Kenya Is Out To Improve Rankings In Doha
While in Doha, the Diamond League triple champion will be joined by Manangoi's younger brother George who is also the world U-20 champion, world junior record holder Ronald Kwemoi and 2016 world U-20 champion Kumari Taki who has replaced Manangoi in the Team Kenya.
Cheruiyot's promotion comes three months after Kenya Prisons promoted African Boxing Union middleweight champion Rayton 'Boom Boom' Okwiri to the rank of Sergeant on June 27 for bagging the continental title.