SportPesa's Kits For Africa Gives Hope For A Second Chance At Kamiti Maximum
3rd December 2019 - by Louis Kalinga
Former Mathare United FC player Tedium Rogers, who recently completed a 19-year stint at the prison for a robbery gone wrong in 2000, was part of the team that visited the inmates, much to their elation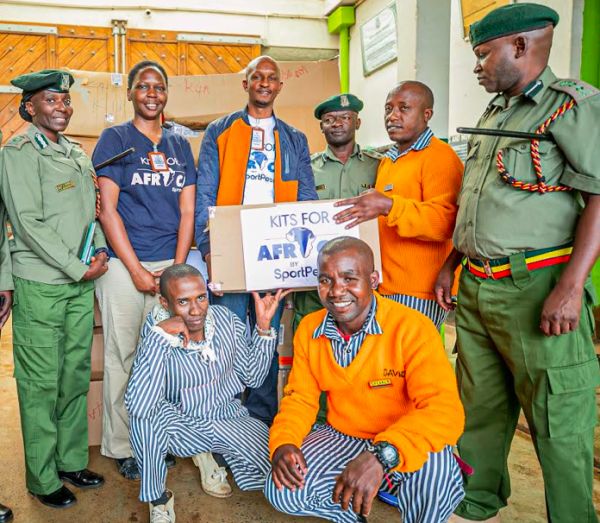 SUMMARY
As the year comes to a close in the spirit of giving, the inmates at the Kamiti Maximum Prison were treated to a visit by global technology and entertainment company SportPesa on Monday afternoon
The purpose of the visit was to donate football kits, boots and balls courtesy of the admirable Kits For Africa initiative in-conjunction with international partners Everton FC, Southampton FC and Hull City FC
Kamiti Prison boasts inter-cell football competitions that keep the inmates occupied and gives them something to look forward to throughout their duration behind bars

NAIROBI, Kenya- As the year comes to a close in the spirit of giving, the inmates at the Kamiti Maximum Prison were treated to a visit by global technology and entertainment company SportPesa on Monday afternoon.
The purpose of the visit was to donate football kits, boots and balls courtesy of the admirable Kits For Africa initiative in-conjunction with international partners Everton FC, Southampton FC and Hull City FC.
The program launched in 2016 aims to provide donated kits to help teams in the region as they train and strive to make something out of the passion they all share for the beautiful game.
Former Mathare United FC player Tedium Rogers, who recently completed a 19-year stint at the prison for a robbery gone wrong in 2000, was part of the team that visited the inmates, much to their elation.
Teddy, as he is popularly known by his peers and former inmates, was the founder of the football program currently running at the facility and the hope his appearance offered was priceless.
"I am very happy that I can come back here and offer hope to all of you through these donations courtesy of SportPesa.
"This was my home for almost two decades and I cannot forget you. As you can see, it's not only me who remembers you and it makes me happy to see that all of you are still actively involved in football even after I left," Rogers stated.
The prison has seen massive improvement since the football program was introduced and have since started rugby and volleyball leagues that go a long way in helping with the rehabilitation.
Just at the sight of the jerseys and balls, lots of the faces of the inmates lit up and they expressed utmost gratitude and appreciation for the gifts that will continue to provide a constructive distraction as they continue to serve their time.
"I hope that all of you seeing me here today makes you not lose sight of what is important in life. Being in here doesn't mean it's the end of the world.
"I pray that all of you will keep playing football and getting encouraged because you never know what the future holds for any of us," Rogers added.
Kamiti Prison boasts inter-cell football competitions that keep the inmates occupied and gives them something to look forward to throughout their duration behind bars.
"I am so grateful to SportPesa for remembering that there are also people in here who appreciate the game and they chose to come and gift us with all this football kits.
"Life in here can really take the best out of you but with programs such as football and well wishers like SportPesa, we have something to look forward to and this is the best day we have had in a very long time," Stitches, an inmate serving a life sentence offered.
Former Athletics ace now turned Kenya Prisons Service Sports Co-ordinator, Catherine Ndereba led the SportPesa team in the kit donation and was well pleased with the efforts made in ensuring the inmates feel rehabilitated in a commendable manner.
"It's days like these that make me very proud of the work that we do. Seeing Teddy come back and provide hope to all of you is something that should not be taken lightly.
"I'm grateful to SportPesa for choosing to come and provide to the teams here and ensure that they have proper kits and even shoes as they continue their football rivalry," Ndereba added.