SportPesa's Kits For Africa Campaign Makes A Stop In Thika Town
30th November 2019 - by Louis Kalinga
The program launched in 2016 sees international football partners such as Everton FC, Southampton FC and Hull City FC donate kits that can used for training and in matches by upcoming football teams across the country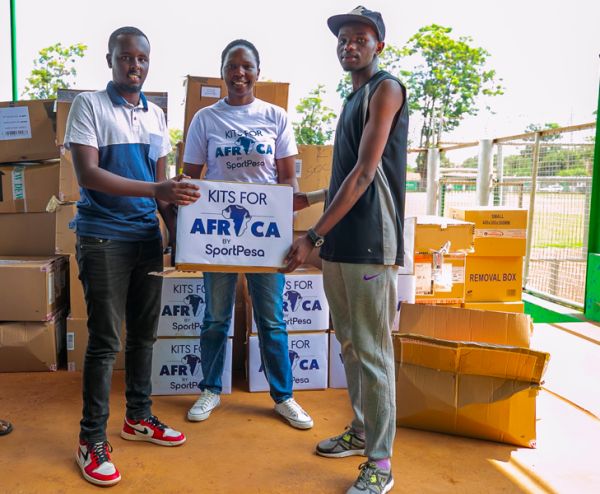 SUMMARY
The commendable Kits For Africa campaign by global entertainment and technology firm SportPesa made yet another stop to provide football attire to teams from Thika Town, in the outskirts of the city centre
After a successful outing that saw over 25 teams receive kits on Wednesday at the Umeme Grounds in Ziwani, yet another area known for nurturing young football talent as the teams gathered at the Thika Municipal Stadium

NAIROBI, Kenya- The commendable Kits For Africa campaign by global entertainment and technology firm SportPesa made yet another stop to provide football attire to teams from Thika Town, in the outskirts of the city centre.
The program launched in 2016 sees international football partners such as Everton FC, Southampton FC and Hull City FC donate kits that can used for training and in matches by upcoming football teams across the country.
After a successful outing that saw over 25 teams receive kits on Wednesday at the Umeme Grounds in Ziwani, yet another area known for nurturing young football talent as the teams gathered at the Thika Municipal Stadium.
"I am so happy that SportPesa remembered us and decided to come and give us kits to help us train.
"It is no secret that the football in Kenya is going through a tough time and it's things like these that make us want to continue trying. Many young players lack proper playing attire and this will go a long way for everyone here today," Bob Kariuki, a coach from Thika All Stars FC told SportPesa News.
The community berthed Kenya international and Simba SC midfielder Francis Kahata and the home of former SportPesa Premier League (SPL) side Thika United FC was filled with excitement as the SportPesa team rolled through.
A total of 50 teams were well represented and were fortunate enough to benefit from the donation which will see them don new training kit whenever they step out onto the pitch in the hope of making their dreams a reality.
"It has always been very important to SportPesa to nurture and help develop football talent in the country and these donations are a way of showing we still care about all of you.
"We are happy to be able to provide these kits that we received from our partners because we know that there are many players who don't have and we are pleased to help in the ways that we can," Lola Okulo, SportPesa's Head of Public Relations stated.
The campaign is set to make a monumental visit to the Kamiti Maximum Prison next week, where they plan to offer hope and put a smile on inmates faces with the provision of football kits and balls to aid in their rehabilitation.