SportPesa Mega Jackpot Winner Korir To Launch Mashinani Cup
11th December 2018 - by Erick Ochieng
Gor-supporting aspiring MP who won over KSh208m throws thanks giving party in Litein to open his new palatial home as hundreds gather to witness and feast the occassion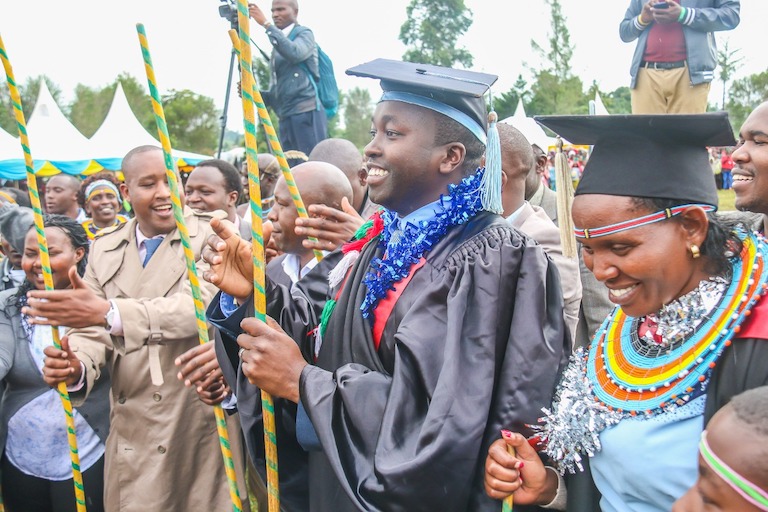 SUMMARY
On Tuesday morning, hundreds congregated at the home of Cosmas Korir - who hit instant fame when he became the third SportPesa Mega Jackpot winner- when he threw a grand party to open his new imposing home in Litein, Bomet County, some 264km from the capital Nairobi
Besides launching a tournament and kitting participating teams, Korir wants to go a step further to ensure it shall all not be just an exercise in kicking a football for token cash and a trophy
The only thing he has splashed the cash on since becoming the latest multi-millionaire in town is the 2016 Toyota Land Cruiser V8 he recently acquired for KSh12m
LITEIN, Kenya- In the scenic and vast Kenyan rift valley, victorious home coming parties are reserved from globe-conquering athletes, victorious politicians and those fortunate enough to earn appointments to plum positions in Government.
On Tuesday morning, hundreds congregated at the home of Cosmas Korir - who hit instant fame when he became the third SportPesa Mega Jackpot winner- when he threw a grand party to open his new imposing home in Litein, Bomet County, some 264km from the capital Nairobi.
It was an occasion marked by pomp, colour, flair, religious prayers and above all a feast fit for a king as he gave his neighbours a glimpse of what winning KSh208m (over USD2m) can do to transform life.
Having hit the jackpot by gaming on his favourite sport- football- Korir told the congregation that gathered to witness the fanfare of his intention to use some of his windfall to develop the game in his home area.
His ultimate aim is to further the professional career of aspiring footballers from Bomet, a region better known for tea farming with vast company-owned estates sprawling all the way to neighbouring Kericho County.
Unlike other parts of the rift valley such as Uasin Gishu, Nandi and Elgeyo Marakwet counties his home is not a catchment of long distance running talent either but through his winnings, Korir is determined to sow the seeds of sporting excellence in Bomet.
"I'm very passionate about local football and with the good fortune that God blessed me with, I plan on using some of it to try and make a difference.
"There are football teams around this area and early next year I want to host a Mashinani Cup," Korir told after taking a break from the festivities where he was accorded the recognition reserved for a returning conquering hero.
"We are targeting 45 teams and I want to acquire uniforms and balls to provide for the boys as they prepare for the tournament," he emphasised.
Korir became the third winner of the biggest football jackpot in the land when he correctly predicted 17 games in September, with his total winnings amounting to KShs 208,733,619.
Spot talent
Besides launching a tournament and kitting participating teams, Korir wants to go a step further to ensure it shall all not be just an exercise in kicking a football for token cash and a trophy.
"I'm planning to get a scout who can spot talent in the area and maybe help some progress and hopefully get the chance to become professionals," Korir underlined.
An ardent fan of SportPesa Premier League champions, Gor Mahia FC, the latest Mega Jackpot winner rued missed out on a chance to watch his beloved team take on the might of Everton FC at Goodison Park.
"I had planned to attend the match in the UK but I have no regrets because I got the opportunity to watch the game from back home.
"It was a great experience for the team and every Kenyan, all that matters is that they picked the positives to bring home with them," Korir who was caught up with other engagements with the fixture coming on short notice for him held.
"With exposure like this, I know football in the country will definitely improve," as he tipped the record 17-time domestic league winners to bounce back from their opening day 1-2 defeat to Bandari FC last weekend.
"Every team loses but what's important is how they react. I have no doubt that we will be crowned champions once again this season to make it three in a row," the fan remarked.
Having failed to clinch a parliamentary seat at the last General Election in August 2017, Korir explained how his windfall has elevated his family's living status with the gleaming palatial home a visible testament.
The Mega Jackpot winner also made sure his parents are only a few steps away, building them a house adjacent to his and a few steps further down the green compound is yet another for his brother.
As it is tradition in his part of the world, the clergy took centre stage as several pastors presided over a thanksgiving service with high-ranking county officials also in attendance in a nod to his days as an aspiring politician.
According to Korir, the public display of largesse is not a case of 'toss my money' since he is determined to make most of the opportunity that came his way to make it count as a nobleman in his society.
Steady income
"I have a couple of investments that I want to make so I ensure that I remain a millionaire. I bought a few flats and this will help generate a steady income aside from the money that I have won," Korir revealed.
"I'm still the same person and the money has not changed me one bit, I'm still a servant of the people and I will continue to be."
Besides the jackpot, Korir and his spouse completed their Masters studies last week at the University of Kabyanga in another memorable milestone of a rip-roaring 2018.
"I graduated with my wife the exact same day on Friday. I'm certain it will help me in the future as I plan my family's life accordingly," Korir added.
The only thing he has splashed the cash on since becoming the latest multi-millionaire in town is the 2016 Toyota Land Cruiser V8 he recently acquired for KSh12m.
He went on to reveal he is not done with trying his luck on the Mega Jacpot and in fact, he has a well-furnished office in his new home dedicated to playing on his favourite platform.
"I always wanted a (Toyota) Prado but I opted to buy the V8 and you can see from the terrain in the rainy season that it is necessary.
"The office in my home is for my alone time. When I need to focus on the games I'm choosing to play, I need not be disturbed," he emphasised as he hopes lightening will strike twice
"I'm hoping that God may grant me favour once again, very soon I might be the first two-time mega jackpot winner," Korir explained.
With that, he was off to entertain his guests, with luminaries such as former Bomet Governor, Dr. Isaac Ruto, expected to pop by later to join the feasting and making merry that went deep into the evening.