Shikangwa Brace Gifts Vihiga Queens CAF Womens Champions League Debut
10th September 2021 - by Louis Kalinga
A last gasp penalty ensured that Vihiga earned a ticket to the inaugural CAF Womens Champions League, after revenge to the side they lost to in the group stage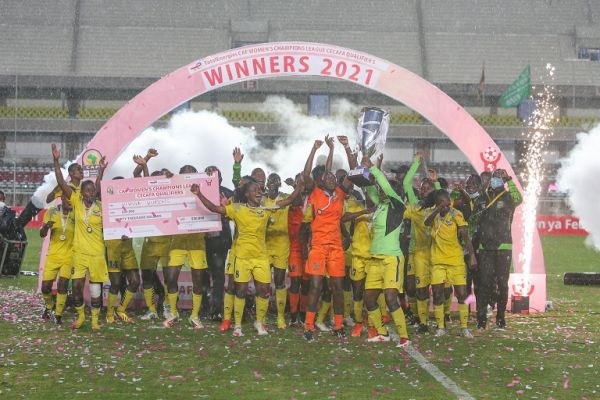 SUMMARY
Jentrix Shikangwa scored a brace to gift Vihiga Queens a 2-1 victory over Ethiopia's Commercial Bank at the Kasarani Stadium on Thursday afternoon
The former FKF Women Premier League champions will participate in the CAF Women's Champions League set for Cairo, Egypt later in the year

Jentrix Shikangwa scored a brace to gift Vihiga Queens a 2-1 victory over Ethiopia's Commercial Bank at the Kasarani Stadium on Thursday afternoon.

A last gasp penalty ensured that Vihiga earned a ticket to the inaugural CAF Womens Champions League, after revenge to the side they lost to in the group stages.
The brace also saw Shikangwa crowned the Most Valuable Player in front of their County Governor Wilber Otichillo.
The former FKF Women Premier League champions will participate in the CAF Women's Champions League set for Cairo, Egypt later in the year.
Shikangwa got the ball rolling with the opening goal just before the half hour mark but her effort was undone by her teammate Vivian Makokha heading the ball into her own net.
As the second half progressed, Vihiga saw chances go begging and the frustrations oncreased as they hit the bar three times in search for a winning goal.
They were finally gifted a penalty and the 19-year old Shikangwa stepped up to calmly slot the ball past the Ethiopian custodian to secure a historic win for the queens.