RedBull's Verstappen Extends F1 Championship Lead After US GP Victory
25th October 2021 - by Louis Kalinga
The win was his first in America and now has 287.5 points, 12 ahead of Mercedes' ace Hamilton with five races left in the 2021 calendar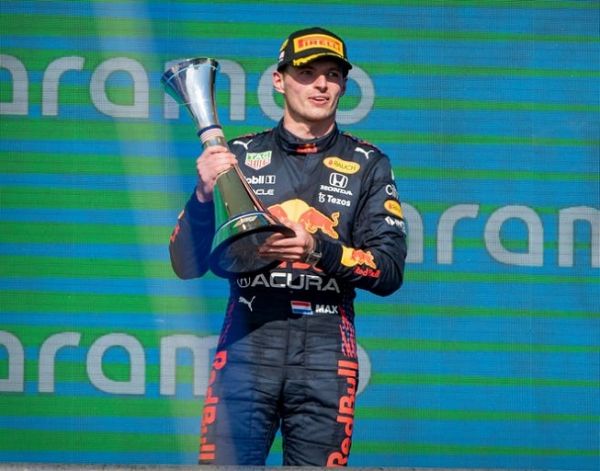 SUMMARY
Max Verstappen held off a late fightback from Lewis Hamilton to cruise to victory in the United States GP on Sunday, increasing his world championship lead
Verstappen claimed Red Bull's first win at the Texan venue since their last title triumph in 2013.

The championship battle continues in two weeks time at the Mexico GP, which is usually a great track for RedBull, meaning Mercedes have to be wary

Max Verstappen held off a late fightback from Lewis Hamilton to cruise to victory in the United States GP on Sunday, increasing his world championship lead.
The win was his first in America and now has 287.5 points, 12 ahead of Mercedes' ace Hamilton with five races left in the 2021 calendar.
Verstappen claimed Red Bull's first win at the Texan venue since their last title triumph in 2013.

Hamilton took the lead at the start, lost it when Verstappen made an early first pit stop and tried an off-set strategy aimed at fighting for the win in the final laps.
"It was an exciting race and it feels incredible to win here in front of all the fans. The pressure was on for the whole race and not knowing how quickly Lewis would catch up.
"I actually thought I had a decent start, but Lewis had an even better one. So we went for an aggressive strategy after losing the lead into turn one and we pitted early in the first stint," Verstappen stated after the race.
Charles Leclerc drove a fabulous race to take home fourth for Ferrari, finishing closer to Perez's Red Bull (10s) than fifth-placed Daniel Ricciardo (24s) from constructors' championship rivals McLaren.
The championship battle continues in two weeks time at the Mexico GP, which is usually a great track for RedBull, meaning Mercedes have to be wary.