Record-Breaking Tanui Dedicates Amsterdam Marathon Win To Deceased Agnes Tirop
18th October 2021 - by Louis Kalinga
Tanui shaved off one minute and 29seconds off the previous mark to set a new Course Record, finishing in 2hrs, 17mins, 57secs to win the race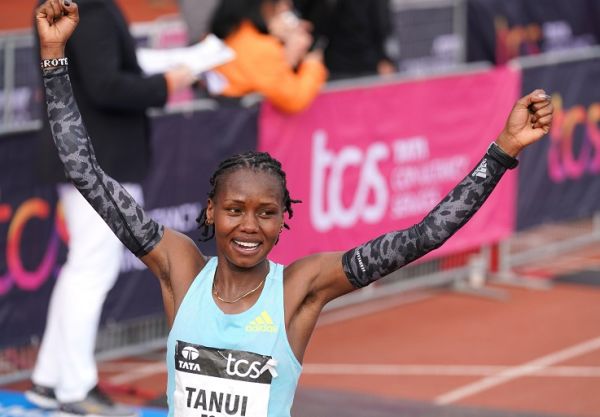 SUMMARY
Kenya's Angela Tanui dedicated her resounding Amsterdam Marathon victory to deceased teammate Angela Tirop on Sunday
Tanui, who was a last minute entrant, ran with a white ribbon and dedicated the effort to fallen teammate Agnes Tirop who passed on earlier in the week at her Iten home
Chepkemoi came through to take second place in 2:20:18, overtaking Hailu shortly before the finish. Hailu finished one second adrift in third, while Ayele was further behind in fourth (2:21:22)

Kenya's Angela Tanui dedicated her resounding Amsterdam Marathon victory to deceased teammate Agnes Tirop on Sunday.
Tanui shaved off one minute and 29seconds off the previous mark to set a new Course Record, finishing in 2hrs, 17mins, 57secs to win the race.

Tanui, who was a last minute entrant, ran with a white ribbon and dedicated the effort to fallen teammate Agnes Tirop who passed on earlier in the week at her Iten home.

"I am remembering my friend Agnes Tirop who died a terrible death. This ribbon was for me to remember Agnes.
"I came here, ran a course record and my new personal best. This is my dedication for Agnes Tirop," Tanui said after the race.

Ethiopia's Shasho Insermu dropped back from the lead pack, leaving Tanui, fellow Kenyan Maureen Chepkemoi and Ethiopia's Haven Hailu, Gabiyanesh Ayele and Worknesh Alemu out in front.

They covered 15km in 49:48 before reaching the half-way point in 1:10:07, suggesting a sub-2:20 finish was possible with a slightly faster second half.
Tanui, Hailu, Ayele and Chepkemoi stuck together through 30km (1:39:37), but Tanui then put in a surge and covered the next five-kilometre section in 15:51, giving her an 11-second lead over her opponents at 35km.
She continued to pull away from her pursuers in the closing stages and went on to cross the finish line in 2:17:57, smashing the previous course record of 2:19:26.

She also chopped more than two minutes from her previous best of 2:20:08 set earlier this year, and now moves to 10th on the world all-time list.

Chepkemoi came through to take second place in 2:20:18, overtaking Hailu shortly before the finish. Hailu finished one second adrift in third, while Ayele was further behind in fourth (2:21:22).