Novak Djokovic Gets Alcaraz Revenge To Win ATP Cincinnati Open
21st August 2023 - by Louis Kalinga
Djokovic needed five match points and nearly four hours to pull off a gritty victory over Alcaraz and claim a third Cincinnati Open title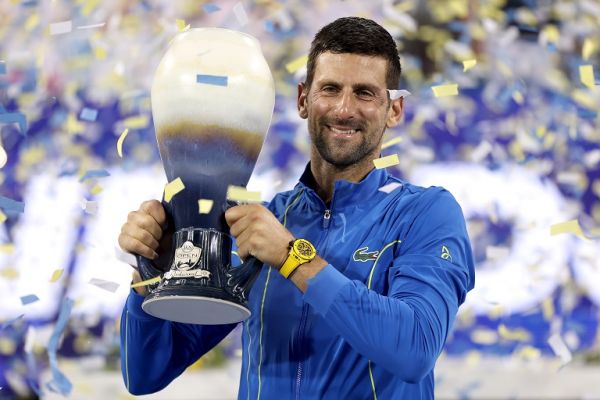 SUMMARY
Novak Djokovic got his revenge over World Number One Carlos Alacaraz, beating him 5-7, 7-6 (9/7), 7-6 (7/4) to win the ATP Cincinnati Open title on Sunday
A titanic struggle between the world's top two players saw Djokovic -- who looked out on his feet in the second set -- save a match point before coming through on his own fifth match point for a 5-7, 7-6 (9/7), 7-6 (7/4) triumph
It was another epic chapter to the budding rivalry between 20-year-old top-ranked Alcaraz and the 36-year-old Serb star, who avenged his loss to the Spaniard in a five-set Wimbledon final last month
Novak Djokovic got his revenge over World Number One Carlos Alacaraz, beating him 5-7, 7-6 (9/7), 7-6 (7/4) to win the ATP Cincinnati Open title on Sunday.
Djokovic needed five match points and nearly four hours to pull off a gritty victory over Alcaraz and claim a third Cincinnati Open title.
A titanic struggle between the world's top two players saw Djokovic -- who looked out on his feet in the second set -- save a match point before coming through on his own fifth match point for a 5-7, 7-6 (9/7), 7-6 (7/4) triumph.

"It's crazy, I don't know what I can say," said 23-time Grand Slam champion Djokovic, who was seen by the doctors early in the second set for heat illness in a battle that lasted three hours and 44 minutes.

"It's tough to describe. It was the toughest I've ever played in my life.

"From start to finish we both went through highs, lows, incredible points, bad games, heatstroke, comebacks.

"Overrall this was the toughest and most exciting match I've ever been a part of.

"It's matches like these that I continue to work for."

It was another epic chapter to the budding rivalry between 20-year-old top-ranked Alcaraz and the 36-year-old Serb star, who avenged his loss to the Spaniard in a five-set Wimbledon final last month.
The two -- who have traded the number one ranking six times this year -- are now level on two wins apiece in their head-to-head rivalry.

"I feel proud of myself, honestly. I don't know why I was crying because I fight until the last ball," Alcaraz said.

"I almost beat one of the greatest of all time in our sport. I left the court really happy with what I did."

The 20-year-old unleashed everything he had at Djokovic and found it wasn't enough.

"It was really, really difficult playing. Novak returns five, six, seven balls on every point," Alcaraz said.

"So fighting and running from one corner to the other one on every point is really tough to deal with for almost the whole match.

"I left everything on court. I'm working very well. But today, it was tough to deal with everything that Novak had."

Djokovic, who earned a record-extending 39th victory at the elite Masters 1000 level, secured the first break of the opening set at love for a 4-2 lead.
Alcaraz broke back and broke again for a 6-5 lead then held to take the set before Djokovic left the court for a seven-minute change of clothes.

Djokovic, clearly affected by the hot, muggy conditions, was visited by the trainer and doctor in the second set.

He was broken to trail 2-1, Alcaraz grabbing a 4-2 edge with a drop shot that Djokovic couldn't touch.

But the 23-time Grand Slam winner broke Alcaraz to pull level 4-4 on the way to a tie-breaker.

Djokovic saved a match point at 5-6 and forced a third set when Alcaraz dumped a shot into the net on Djokovic's second set point.