Norah Jeruto, Daniel Simiyu Secure Kenyan Double At Valencia Marathon
10th January 2022 - by Louis Kalinga
Simiyu clocked a new Personal best time of 26:58 to move to seventh on the world all-time list, while Jeruto ran 30:35 for a three-second victory ahead of Karoline Bjerkeli Grovdal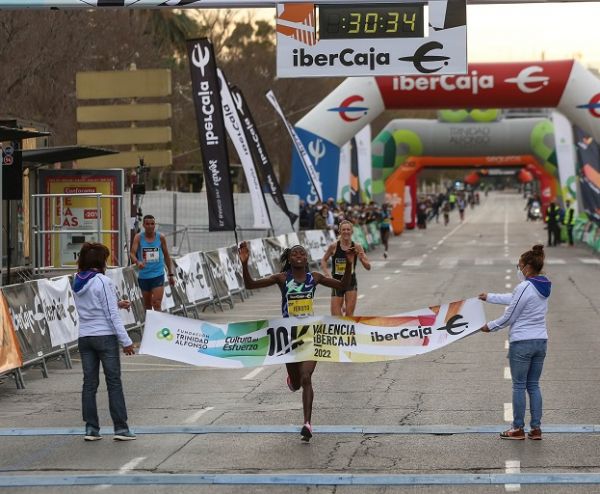 SUMMARY
Norah Jeruto and Daniel Simiyu secured a Kenyan double at the 10K Valencia Ibercaja held in the Spanish coastal city on a windy Sunday
The World Athletics Label Road Race somewhat hampered athletes' performances due to the extreme weather conditions
Over the closing kilometres the big questions were how close to 30 minutes Jeruto could be, and whether Grovdal would approach the European record

Norah Jeruto and Daniel Simiyu secured a Kenyan double at the 10K Valencia Ibercaja held in the Spanish coastal city on a windy Sunday.
The World Athletics Label Road Race somewhat hampered athletes' performances due to the extreme weather conditions.

Simiyu clocked a new Personal best time of 26:58 to move to seventh on the world all-time list, while Jeruto ran 30:35 for a three-second victory ahead of Karoline Bjerkeli Grovdal.

Jeruto had claimed podium places on her three previous appearances in Valencia but the 26-year-old had never been the victor. The 2011 world U18 2000m steeplechase champion confirmed her role of hot favourite and dominated the race from the gun.

Paced by two male pacemakers, Mourad El Bannouri and Luis Agustin, the women's event opened at a steady 3:03/3:04 pace, with a leading quintet featuring Jeruto, her fellow Kenyan Gladys Chepkurui, Ethiopian debutante Anchinalu Dessie Genaneh, Norway's European cross country champion Grovdal and Sweden's Meraf Bahta, the silver medallist at the European event in Dublin.

The first casualty was Bahta, who began to lose ground just before the fifth kilometre, which was reached in 15:18 to dash any hope of the world record being broken. Grovdal's split of 15:19 was also outside Paula Radcliffe's European record pace.

The toughest section of the competition came between the fifth and seventh kilometres, because of an annoying headwind.
Despite that barrier, Jeruto clearly pulled away from the lead pack, always following the pacemaker. Way back, Chepkurui was a lonesome second ahead of Genaneh, herself clear of Grovdal.

Over the closing kilometres the big questions were how close to 30 minutes Jeruto could be, and whether Grovdal would approach the European record.

The 31-year-old Norwegian first moved into third place and by the eighth kilometre she had joined Chepkurui in second place, while Jeruto's successive 3:05 kilometres meant she was off the pace needed to break 30:00.
-Material from World Athletics