Nairobi Fight Night 2: Rayton 'Boom Boom' Okwiri, The Kenyan Rising Warrior
18th March 2019 - by Erick Ochieng
He first came to the limelight three years ago when he punched his way to the Rio 2016 Olympics Games in Brazil in style at the Africa Boxing Championships held in Yaounde, Cameroon in March 2016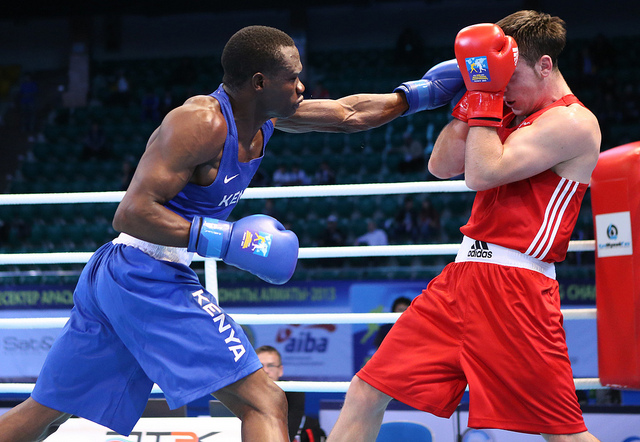 SUMMARY
 

Kenya Prisons boxer Rayton 'Boom Boom' Okwiri is one of the most consistent pugilist in his career that has earned him both amateur and professional accolades
The 32- year old was the only fighter, out of 13 that had been taken by Kenya to Yaounde to take part in the qualifiers, who made the cut for Rio at the event
Okwiri relocated to the United States for a high profile training in Washington DC. Feeling fit, he took part in his second professional bout while in the US against American Moshea Aleem which also controversially ended in a draw even though spectators felt the Kenyan had won clean

NAIROBI,Kenya- Kenya Prisons boxer Rayton 'Boom Boom' Okwiri is one of the most consistent pugilists in his career that has earned him both amateur and professional accolades.

He first came to the limelight three years ago when he punched his way to the Rio 2016 Olympics Games in Brazil in style at the Africa Boxing Championships held in Yaounde, Cameroon in March 2016.
He defeated Mohameed Azumah of Ghana in the welterweight semifinals to cut the ticket before going a head to outclass Walid Sedik Mohamed of Egypt in the final to win gold.
MUST READ: Zarika, Mwakinyo Arrive From The UK In Style For Nairobi Fight Night
The 32- year old was the only fighter, out of 13 that had been taken by Kenya to Yaounde to take part in the qualifiers, who made the cut for Rio at the event.
He was later joined by Police boxer Benson Gicharu and Peter Mungai who proceeded to book Olympic berth in other AIBA sanctioned competitions.
The sweet victory in Cameroon saw Okwiri declared the Africa welterweight champion, his highest achievement in the amateur ranks.
"I missed the London 2012 Olympics by a whisker so I could not let the second chance to pass me. I trained well and I'm glad it paid off," Okwiri noted.
Spirited Okwiri staged a great show in Brazil before he was controversially eliminated 3-0 by Moroccan Mohammed Rabii, this drew hue and cry from his fans who believed the 2011 All Africa Games bronze medalist was robed in the Olympics.
MUST READ: Nine-Man Gor Mahia Claw Atletico To Qualify For CAF Confed Cup Quarters
He opted to turn professional after Rio, making his debut against Tanzanian Salehe Mkalekwa in Nairobi on February 4, 2017.
Okwiri, who was perfect in all departments, was in a class of his own as he knocked out the much experienced Mkalekwa in the third round of the six round Super Welterweight contest to carry the night.
After the victory, Okwiri relocated to the United States for a high profile training in Washington DC. Feeling fit, he took part in his second professional bout while in the US against American Moshea Aleem which also controversially ended in a draw even though spectators felt the Kenyan had won clean.
He later returned home that year for his third fight against Imani Daudi held at the Carnivore Grounds in Nairobi on December 2 , 2017 which he won on unanimous point decision.
His recent battle was against Patrick Amote in the Nairobi Fight Night held in September 2018. He knocked Amote in the second round to stretch his unbeaten run to four.
MUST READ: Italian Sensation Migliozzi Is The 2019 Magical Kenya Open Champion
Kenya's Rayton Okwiri stands over Ugandan opponent Patrick Amote after sending him to the canvas in the second round of their non- title fight at the KICC on September 8, 2018. PHOTO/ SPN
Okwiri believes his decision to join the paid ranks was timely as it has opened for him a window to gun for continental and global belts.
Even though he is a title fight material, he says he will tread slowly until he is properly grounded before he challenge for any belt.
"My aim is to do eight non title fights before I challenge for any belt , I will be rearing to go once my records are impressive," the 2014 King Lion Cup (Sri Lanka) gold medalist underlined.
Okwiri admits professional boxing is tough and so the need to keep fit and improve his skills and techniques daily as he is on the road to slug it off with some of the world's finest boxers.
"I do a lot of training every other day. From early morning run to sparring and gym work. I also work on my diet to give me energy and stamina," he says.
MUST READ: Derby Drama: Inter Edge AC Milan In Five-Goal Thriller
Okwiri whose current tale of the tape stands at four fights including three wins (two knock-outs) and a draw, is already stepping up practice in Dubai ahead of his fifth professional fight against Pascal Kimaru Bruno of Tanzania in the second Nairobi Fight Night slated for Kenyatta International Convention Center in Nairobi on March 23, 2019.
"I'm preparing for the forthcoming fight under Romanian coach Morovon Viorel. We chose Round 10 Boxing Club in Dubai because the gym is very good.
"It also has very competitive sparring partners including upcoming Kenyan boxers like Nick Makaveli and Mwangi Melvin Bulinda," Okwiri highlighted.
OKWIRI'S AMATEUR ACHIEVEMENTS
2016: Rio Olympics in Brazil
2016: Africa Boxing Championship- Gold
2014: King Lion Cup (Sri Lanka)-Gold
2011: All Africa Games- Bronze
TALE OF THE TAPE (PROFESSIONAL)
Fights: 4
Wins: 3 (2 knockouts)
Draw:1
Loss:0