NBA Playoffs: Curry's Warriors Discipline Mavericks To Take 1-0 Finals Lead
19th May 2022 - by Louis Kalinga
Curry led the scoring with 21 points, 12 rebounds and four assists, while Jordan Poole and Andrew Wiggins had 19 points apiece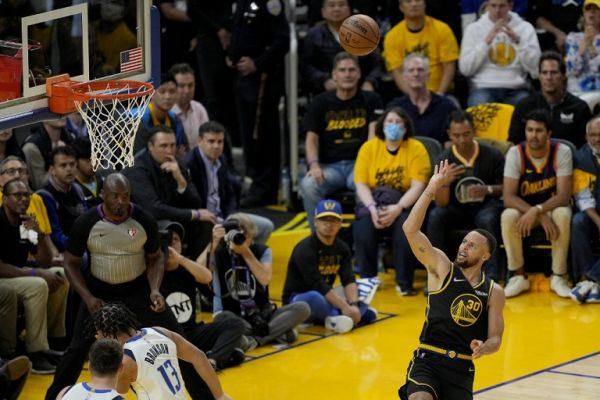 SUMMARY
Golden State Warriors outplayed the Dallas Mavericks in their Western Conference finals series opener to bag a 112-87 win, taking a well deserved 1-0 win
Stephen Curry scored 21 points as the Warriors bottled up Luka Doncic and the Mavericks who had rained in buckets against Phoenix in Arizona on Sunday, but the scoring dried up against the six-time NBA champions
Game two of the series takes place in San Francisco on Friday
Golden State Warriors outplayed the Dallas Mavericks in their Western Conference finals series opener to bag a 112-87 win, taking a well deserved 1-0 win.
Stephen Curry scored 21 points as the Warriors bottled up Luka Doncic and the Mavericks who had rained in buckets against Phoenix in Arizona on Sunday, but the scoring dried up against the six-time NBA champions.
Three days after Doncic destroyed the Phoenix Suns with a virtuoso performance, the Slovenian found the going harder against a ruthless Golden State at San Francisco's Chase Center.

The Warriors started slowly but pulled clear decisively in the second half after leading 54-45 at half-time.

With Doncic appearing to be nursing a sore shoulder, the Warriors outscored the visitors 34-24 in the third quarter to lead by 19 points heading into the final period.

An 8-0 start to the fourth quarter left the Warriors cruising 27 points clear at 96-69 to effectively put the game out of reach.

Warriors coach Steve Kerr was able to withdraw his starters with five minutes left in the game, earning valuable rest for what could be a long series.

Curry led the scoring with 21 points, 12 rebounds and four assists, while Jordan Poole and Andrew Wiggins had 19 points apiece.

Klay Thompson failed to score a point in the first two quarters but got into the groove in the second half with 15 points. Seven Warriors players finished in double figures.
Doncic led the Mavericks' scoring with 20 points, but cut a disconsolate figure after a defeat where Dallas trailed for almost the entirety of the game.

The 23-year-old insisted however that there was still time to turn the series around.

"It's one game. That's what the playoffs are about. If you lose by one point or 40 points, it's just a loss. We just have to get ready for game two now," the Slovenian stated.

Game two of the series takes place in San Francisco on Friday.
The winner of the Western Conference finals will play the winner of the Eastern Conference, either Boston or Miami, in the NBA Finals.