NBA Finals: Nuggets Lose At Home As Miami Turn Up The Heat To Level Series
5th June 2023 - by Louis Kalinga
This was the first home defeat inflicted on the Nuggets throughout the playoffs as they came into the game with a 9-0 record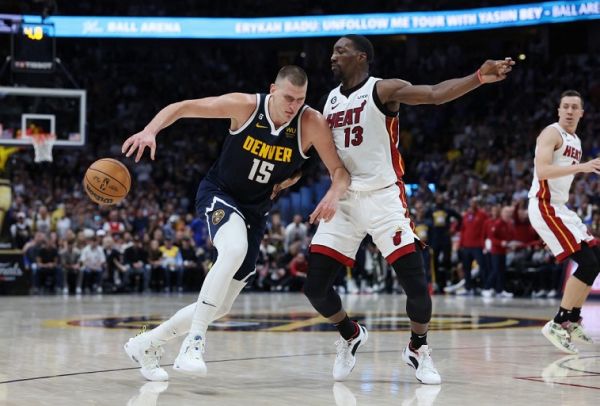 SUMMARY
The Miami Heat pulled off a remarkable road win in the NBA Finals against the Denver Nuggets to level the series after a narrow 111-108 victory
The Heat were 15 points down in the first half but outscored their opponents 36-25 in the final period with Bam Adebayo sealing the win with a couple of late free throws
The NBA Finals now move to Miami on Wednesday, June 7 as the Denver Nuggets continue their quest to be crowned champions for the first time in their franchise history

The Miami Heat pulled off a remarkable road win in the NBA Finals against the Denver Nuggets to level the series after a narrow 111-108 victory.
This was the first home defeat inflicted on the Nuggets throughout the playoffs as they came into the game with a 9-0 record.
The Heat were 15 points down in the first half but outscored their opponents 36-25 in the final period with Bam Adebayo sealing the win with a couple of late free throws.
The Heat, who are aiming to become the first eighth-seeded team to win the title, were led by Gabe Vincent (23 points). Adebayo and Jimmy Butler scored 21 apiece in the win.
Nikola Jokic top-scored with 41 points for the Nuggets, but the defeat - their first home loss since 30 March - left coach Michael Malone frustrated.
Duncan Robinson scored all of his 10 points to spark a rally in the fourth quarter to turn an 83-75 deficit into a 88-85 lead that Miami wouldn't relinquish in tying the series at one game apiece.
They took the lead for the first time since the first quarter on Vincent's three-pointer with 10:10 to play and never trailed again.
A Butler three-pointer pushed the lead to 95-89 and he followed up with a three-point play as the Heat connected on 17 of 35 from beyond the arc on Sunday.
Max Strus, who didn't score a basket in game one, led all scorers in the first half with 14 points - including 4 three-pointers.
The NBA Finals now move to Miami on Wednesday, June 7 as the Denver Nuggets continue their quest to be crowned champions for the first time in their franchise history.